Today is National Sewing Machine Day- and I almost missed it!  I thought I would take a moment to introduce you to my machine.  She is a Bernina 1008 that joined me in December of 2013 shortly after the Singer I learned to sew on as a child sewed her last stitches.  I am a big fan of the basic mechanical machines.  Most of the electronic machines I have used over the years seem fussy, but I also haven't been using high end electronic machines, so that could be part of it!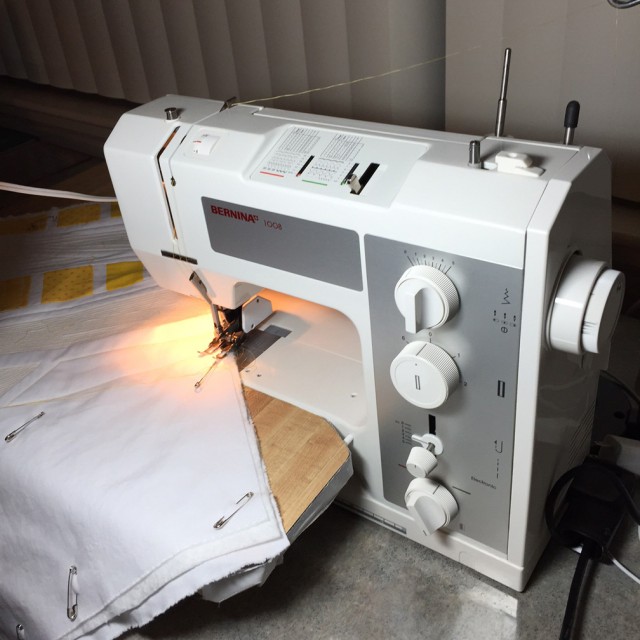 Recently, I have been thinking a lot about what it takes to get fabric to the point that we are ready to cut it up to make quilts, clothing, bags, etcetera.  I am working in Connecticut right now, and one of the things that fascinates me about New England is its rich history in textile manufacturing.  While I am here, I am trying to visit as many important places related to textile history as I can.  So far, this summer, I have visited Old Sturbridge Village, The National Quilt Museum, and The American Textile History Museum.  These are all wonderful places to visit, and I hope that you will make the time to go if you are ever in the area.  One of my next stops will hopefully be The Windham Textile and History Museum which is right down the road.  I have been there before, but it has been quite a few years.  Below are a few photos of very early equipment and machinery which has been developed over time to streamline the process of creating fabric.
Fiber Preparation
Spinning
Weaving
The American Textile History Museum has a room the demonstrates textile production.  Here is a panoramic shot of the space- I would love to see this in action!