When I first decided that I wanted to return to quilting, I wanted to create a piece which had been floating around in the back of my mind for awhile.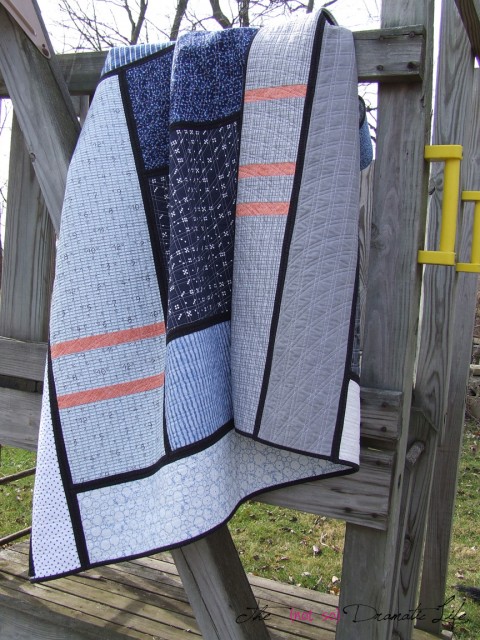 Several years ago I had been to an exhibit at The Wadsworth Atheneum in Hartford, Connecticut which included a "potholder" quilt from around the Civil War. A potholder quilt is created by quilting and binding individual blocks before whip stitching them together to form a quilt. This technique was popular during the US Civil War for group quilts made to send to soldiers. Each person working on the project could piece, quilt, and bind individual blocks. When the group would meet, they could whip stitch the blocks together and quickly produce a finished quilt.
This quilting technique would work well in a modern context because:
The individually bound blocks naturally create a quilt which has a design on both the front and back of the quilt- Its like getting two quilts for the work of one!
Since much of the design comes from the binding of the blocks, you can really show off some of those gorgeous fabrics that are available to us now.
It is completely plausible to quilt even the largest quilts on a domestic sewing machine using this technique since you are only quilting a small portion at a time.
I wanted my first project using this method to be fairly straightforward, but I didn't want to go with a super traditional layout of square blocks either. I landed on the idea of creating a modern Log Cabin block on a large scale. Each "log" is its own bound block.
First, I drafted the layout for the quilt. I planned accent strips (the orange stripes in the finished quilt) to add visual interest and create a natural place to seam fabric together for "logs" longer than the width of the fabric. (I always try to design in necessary seams when I can!)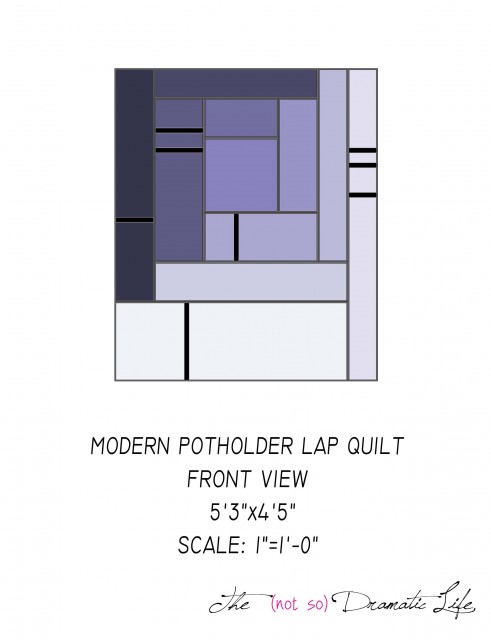 Originally, I planned to unite the front and back of the quilt by making the accent pieces the same color as the reverse side of the quilt. While selecting fabrics, I decided that both sides of the quilt wanted a jolt of color. I went with an orange from Carolyn Friedlander's collection since it worked well with both the grey and the blue sides of the quilt.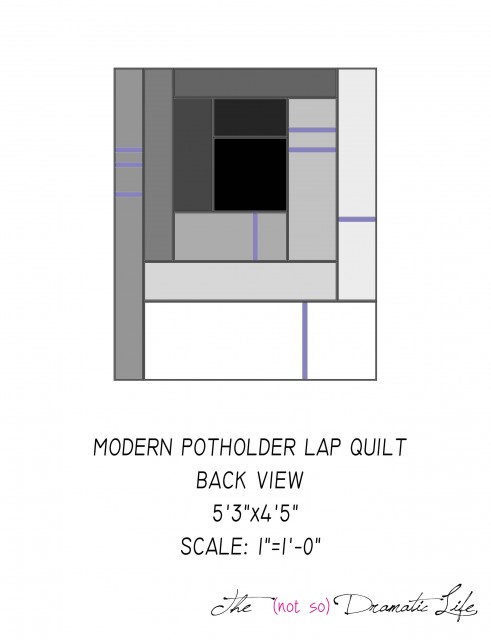 For the quilting design I used straight line quilting paired with radiating arcs.
The binding is cut on the straight grain and each side is bound individually (rather than with mitered corners) as a nod to how quilts were sometimes bound in potholder quilts. Side note- I still prefer doing bias with mitered corners. I seriously considered how to join the blocks. The traditional method would be hand whip stitching (I did this on the quilt Low Volume Fail, Pastel Win), but I wanted to experiment with using a sewing machine, so I selected a triple zig zag stitch.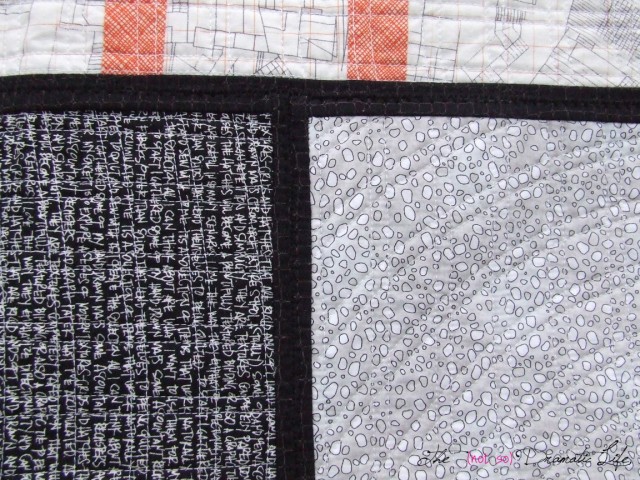 This quilt came together pretty easily, and I am really happy with the result. I finished this quilt back in September, but I hadn't gotten around to sharing it yet. Today seemed to be a good day to share because I recently found out that this quilt will be exhibited in the Modern Quilt Category at the American Quilter's Society Show in Paducah, Kentucky this April! I have been to this show a few times (and as a high school student had a couple of garments in the fashion show there), but this is the first time I have had a quilt in a major show. This was an awesome surprise since I almost didn't enter this quilt! (I had also entered Low Volume Fail, Pastel Win, which was not accepted even though I thought that it would have a much better chance. It is so hard to tell what each show is looking for in a given year. For now, I guess I will keep entering shows with a couple different style quilts and just see what happens- It can't hurt, right?)
Quilt Stats
Title: Modern Log Cabin
Size: 53″x63″
Techniques: Bound Blocks (Potholder Technique), Machine Pieced and Quilted
Quilting: Straight Line and Radiating Arcs
Fabric: Assorted Cotton Prints
Batting: Warm and Natural Cotton Batting
Thread: White Cotton Machine Quilting Thread
Binding: Cotton print, cut on grain in 2″ wide strips, machine stitched to the front, hand stitched to the back
What was new:
Bound block technique
On grain binding
Binding each side individually (no miters)
I'll be linking this quilt post up with Sew Cute Tuesday at Blossom Heart Quilts, Let's Bee Social at Sew Fresh Quilts, Needle and Thread Thursday at My Quilt Infatuation, and Whoop Whoop Friday at Confessions of a Fabric Addict. Please take a few moments to stop in and see all of the lovely projects being shared!