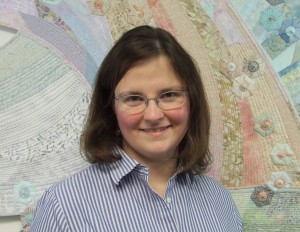 I love to create.  For me this takes many forms with this blog mostly focussing on my life as a fiber artist.  My mother taught me to sew starting around the age of three or four (the details are a bit fuzzy!)  I learned to quilt first, then I started sewing clothes, and quilted clothes.  After that I entered a career where I spent a lot of time sewing clothing as well as other things.  I have recently returned to the quilt world, and I am excited to share my adventures with you.
Why the not so dramatic life?  Almost my entire professional life has been spent in the theatre.  And no, I'm not an actress.  I am trained as a scenic and costume designer, and have also spent many years working in various technical roles behind the scenes.  These experiences inform my overall design aesthetic as well as helping me to develop skills which allow me to execute (almost) anything I can dream up.
Vital Stats: Name: Cassandra Ireland Beaver
Education: MFA in Theatre Design (Specifically Scenic and Costume Design)
BFA in Painting (the Fine Art kind) and Drama: Theatre Design and Technology
States in which I have Lived:  Ohio, Missouri, Utah, Kentucky, Connecticut, Indiana
Places I have Visited: 29 US States, Germany, France, Belgium (well, the bus tour I was on had a rest stop there so that counts, right?), South Korea
Q&A Time
What is your Quilting Style?  I identify myself as a contemporary quilter because I'm going to make whatever I feel like making, and I have no intention of plunking myself inside a box.  My quilts each have a particular style, but I do not.
Okay then, what style do your Quilts tend to have?  Most of the pieces I create would be classified as either Modern or Art quilts, although occasionally something more traditional may appear.
What is your Greatest Quilting Strength?  A rather neurotic tendency to insist on seams lining up perfectly and points being sharp
What is your Greatest Quilting Weakness?  Free motion quilting (remember the neurotic thing?)  I shall conquer this!  Or else you will discover me huddled in a corner muttering something about inconsistent stitch lengths.
Do you have any experience teaching what you discuss here?  I was a college professor teaching scenic and costume design for a few years, and I managed a university (theatre) costume shop for a couple of years before that.  I have taught a lot of people how to sew, but not as many how to quilt.  I hope to return to teaching soon in a more quilt-based capacity!
How can I contact you?  You can email me at:   cassandra(at)thenotsodramaticlife(dot)com
What about that theatre stuff you mentioned?  If you are so inclined, please check out some of my theatre designs at www.cassandraireland.com
What is the best piece of advice you can give to a fellow quilter?  Be fearless with your work!  Try a new technique!  Create an original design!  You are in control of the fabric!
Thank you so much for visiting!  Your comments are important to me, and I will make every effort to respond!