Late last week, I was finishing up the top for this starburst quilt, and I couldn't help saving some of the trimmings from squaring up the sides of the quilt. I combined these bits of fabric with the extra cut fabric from the quilt to create this mini quilt.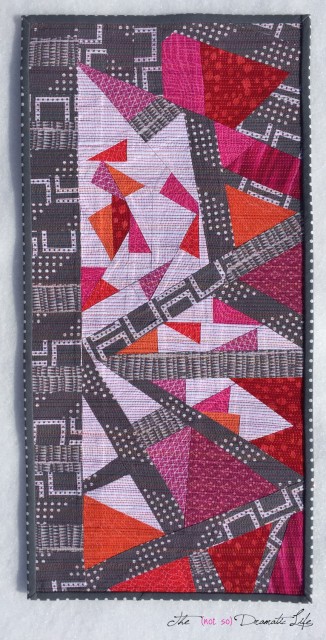 The back of the quilt is also made of scraps from creating the larger quilt.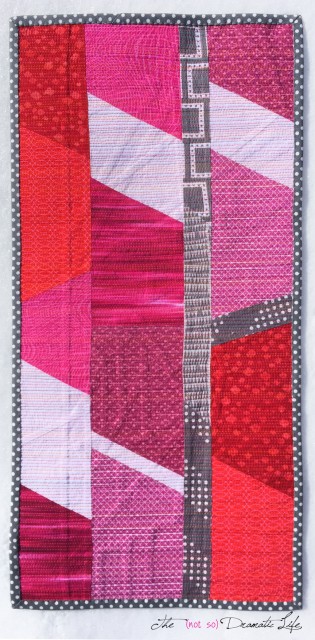 I have been wanting to do some matchstick quilting, and I thought that this type of quilting would look good with the design of both the front and back of the quilt. I wanted to use the stitching to draw the various colors throughout the piece, so I selected three different thread colors to help achieve this.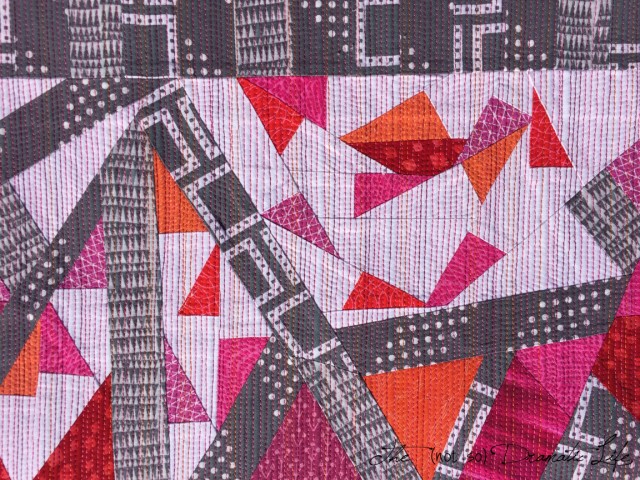 For the binding, I cut Cotton and Steel fabric on the bias so that one row of dots would show along the edge of the quilt front and the back would have a polka dot effect. While the binding was cut from left over fabric from the starburst quilt, it was the only part of the project not from extra cut pieces.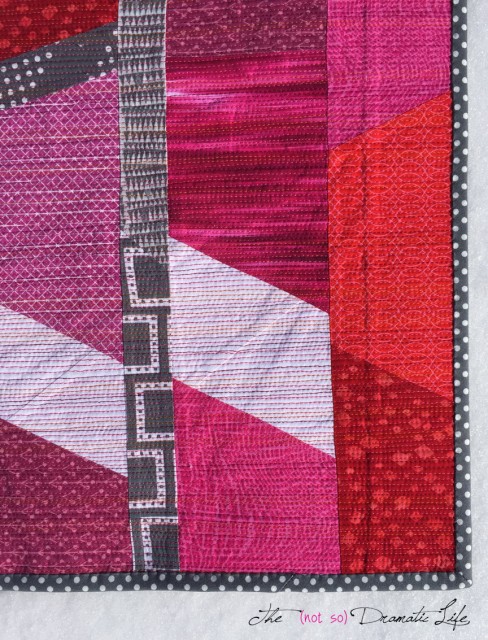 Quilt Stats
Title: Catch a Falling Star
Size: 11″x22.25″
Techniques: Improvisational Piecing
Quilting: Matchstick quilting done with a walking foot on a Bernina 1008
Fabrics: Scrap Prints and Batiks, white Kona Cotton
Batting: Warm and White cotton batting
Thread: Pieced using Gutermann Mara 100 in white. Quilted using Connecting Threads Essential cotton quilting thread in Magenta, Sangria, and Persimmon.
Binding: Cotton and Steel fabric, cut on the bias in 2″ wide strips, machine stitched to the front, hand stitched to the back
What was new:
Using scraps exclusively from one larger project
I'll be linking this post up with Oh Scrap! at Quilting is More Fun Than Housework and Scraptastic Tuesday at She Can Quilt. Please stop by to see all of the lovely projects being shared!