I have been busily paper piecing away on this quilt over the past couple weeks, and I am really excited to share the finished top. This quilt was one of my big goals (#16) for the First Quarter Finish Along, so I am really happy to be this far along. I was hoping to run outside to take a photo of the quilt top out in the snow, but the frigid wind kept trying to blow it away, so I had to settle for indoor photographs today.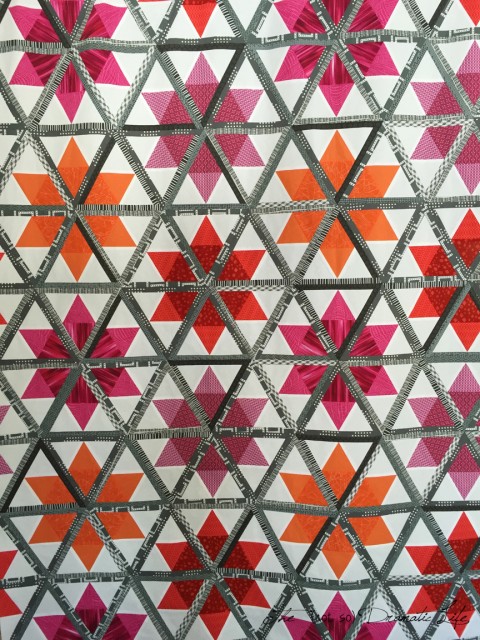 The close up photos do a slightly better job of showing off the fabrics and colors.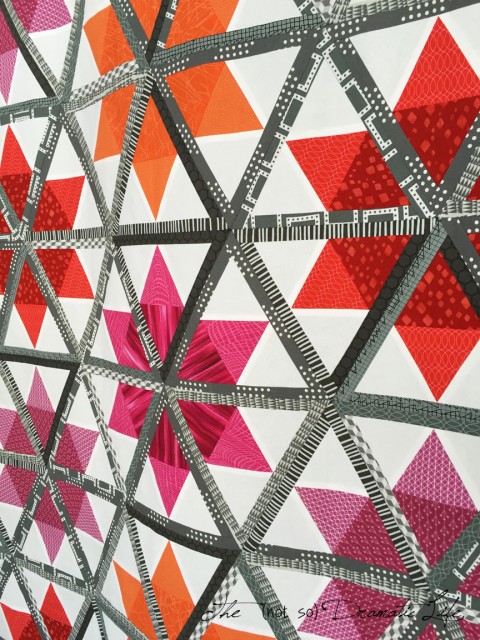 This quilt was inspired by the first mini quilt in my Mini Quilt Mania Series. I loved the pattern so much that I scaled up the blocks so I could do this generously sized lap quilt. At this point in the process the quilt top measures approximately 53″x64″ This is the original quilt which measured 12.5″ x 14.25″ when quilted and bound. I was a little concerned that I may not like my design as well with the scale adjusted, but I think that the size translation is working pretty well.
The fabric I ordered for the backing finally arrived yesterday so this afternoon I'll baste this up and start quilting. I'm hoping to share the finish in a week or two!
I'll be linking this post up to WIP Wednesday at Freshly Pieced, and Fresh Sewing Day at Lily's Quilts. Please check out all of the fantastic works in progress shared there!