Every year in early April many people in the creative community launch a 100 day project simultaneously. Prior to this year, I had never participated in the event because it typically overlaps before my personal 100 day project ends. This year that overlap was only two days, and with current social distancing efforts, I thought that it may be helpful to me to have a project that rewards continuity. It is also fun to be working on a project that has the same timeline as other peoples projects.
Awhile back, a friend mentioned that one of the "quilting rules" she had once heard was to only use yellow fabric sparingly. I'm not one to believe in these mythical rules, so of course I got it into my head that I needed to make a yellow quilt. I initially thought that I would do an improv project, but I wanted to give it a bit more structure than my 100 Day Improv Log Cabin Quilt. I contemplated a lot of different shapes, and as soon as I considered the hexagon, I knew it was perfect- A yellow honeycomb! There is still a lot of improv within each 4″ hexagon, but I always know the size and shape that I am going for.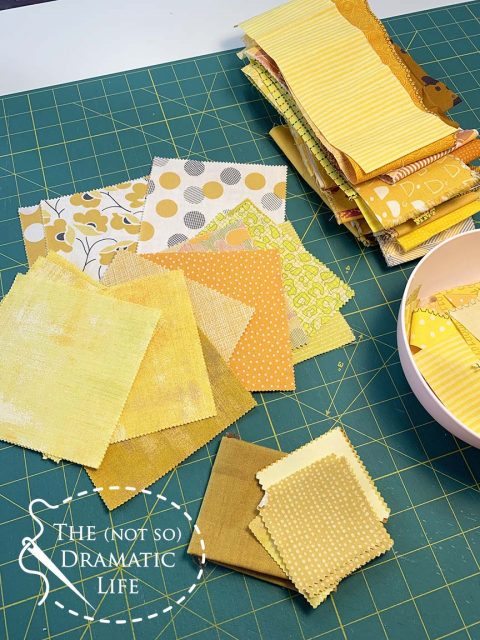 My stash is reasonably well balanced among all colors (except brown- I rarely use brown!), but yellow is a smaller stack than the rest. There tend to be fewer yellow prints that I like, so I actively seek out fun yellows at every quilt show I attend. To start this project, I went through my yellow fabrics and cut a strip approximately 3″ wide to use for hexagon production. I also picked out the yellows from charm packs and mini charm packs to add more interest to the quilt. One of the best parts about using charm packs is the fact that they contain prints that I wouldn't necessarily choose to buy yardage of, but have more personality than my go-to tone on tone prints. They really help to break things up and keep your eye moving around the design.
I hope you'll follow along with me as I construct these 100 blocks in 100 days! Here's some of what's coming up:
Foundation paper piecing hexagons
Using the elements of design in a monochrome palette
Maintaining Consistency
If you would like to see the block I make each day, check out my Instagram at cassandra.beaver
To see more 100 day projects from a variety of artists and makers, take a look at #the100dayproject