Who's heading to Paducah, Kentucky, next week? The 2023 American Quilter's Society QuiltWeek, Paducah, runs the last week of April, and I am currently planning my trip. While the QuiltWeek show is definitely the primary focus (I wrote about the AQS show last week), there are many other quilting-related activities around town. Today I'm sharing the top 5 Quilty attractions I plan to visit in Paducah (plus where to find more ideas!)
1. The National Quilt Museum
If you only have time for one attraction outside of the show, I suggest heading to the National Quilt Museum. Many of the top awards for Quilt Week in Paducah are purchase awards that add the quilts to the permanent collection of the museum. Each year during the show, many of these award-winning quilts are on display, and I love seeing how design, techniques, and trends have evolved over time.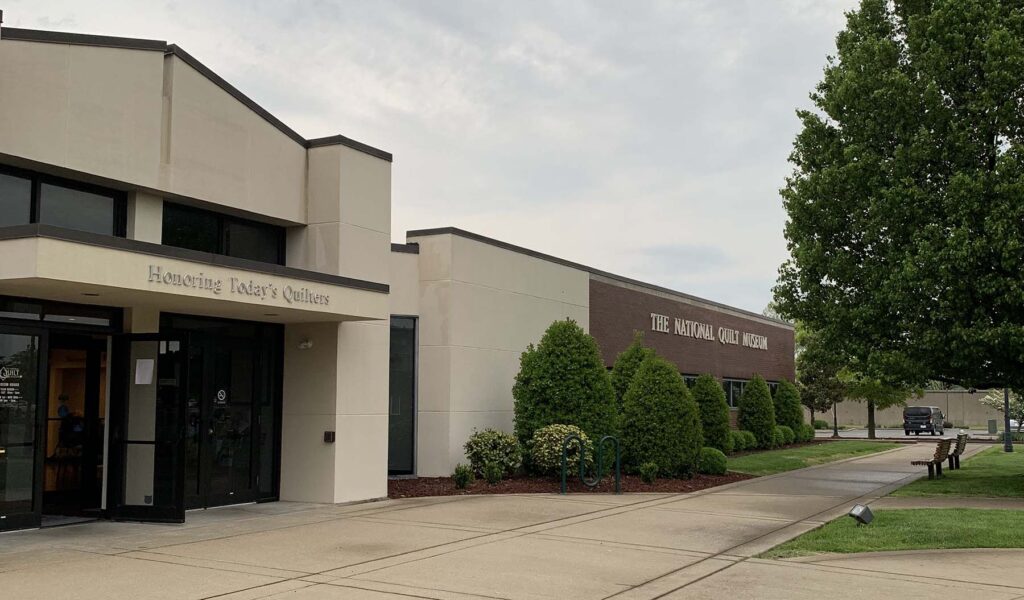 I love my yearly visits to the museum because the exhibits are different every time. It's always fun when a favorite quilt reappears, but most exhibits are new each year. In 2023 we can expect:
Larger Than Life by Velda Newman
Kaffe: 85 & Fabulous by Kaffe Fassett
Showstopper by Marilyn Badger
Justin Ming Yong: To fill a Field
Flora, Fauna, and Landscape
And, I just saw on Instagram that a Bisa Butler quilt is on a short-term loan to the museum, and it will be there during Quilt Week!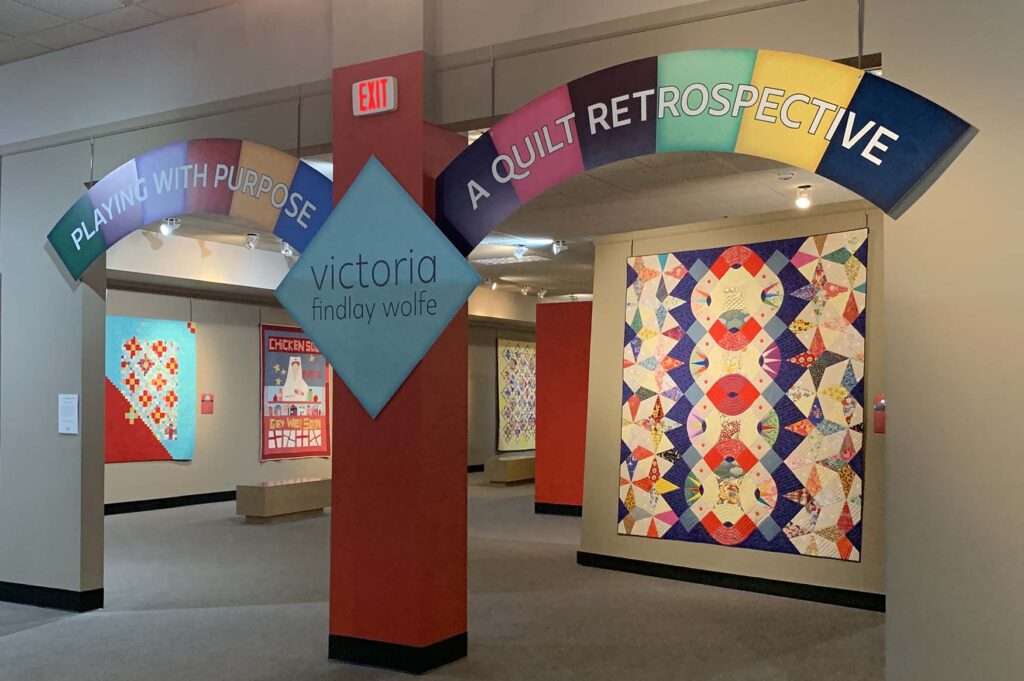 Special Quilt Week Activities are happening throughout the week, so make sure to check out the National Quilt Museum Website, Instagram, and Facebook to keep up with what's happening!
The National Quilt Museum is at 215 Jefferson Street in downtown Paducah.
2. Yeiser Center
Embracing the use of fiber in all forms, the Fantastic Fibers exhibition in the downtown Paducah gallery showcases quilts and so much more. This annual Yeiser Center juried show is a beautiful complement to the main QuiltWeek show because it includes Modern and Art quilts, but also other forms of traditional and not-so-traditional textile and fiber-based art forms. If you are longing to see work that has a bit more of an edge, you really won't want to miss this one!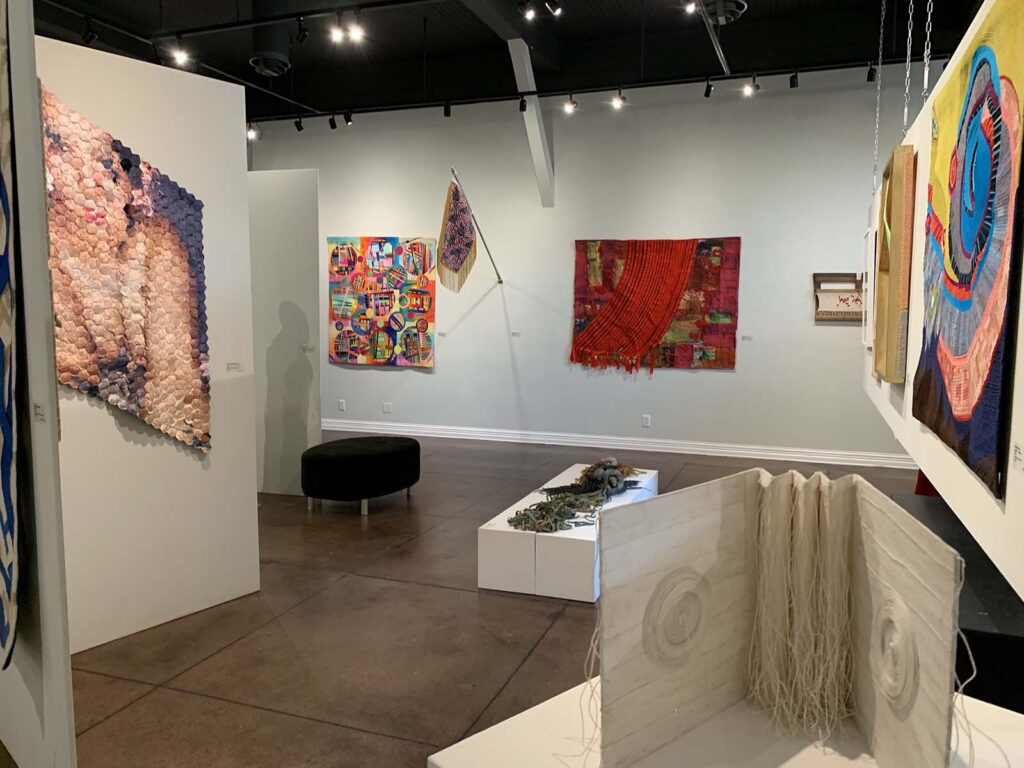 The Yeiser Center is at 200 Broadway in the historic Market House Building in downtown Paducah.
3. Hancock's of Paducah
What's a quilt show without some shopping? And what's a trip to Paducah without a visit to Hancock's of Paducah?
Before you pass by thinking that you used to have a Hancock's in your hometown- This is not the same Hancock's and never has been. This family-owned shop is one of the largest independent fabric stores in the US and a must-shop location for me.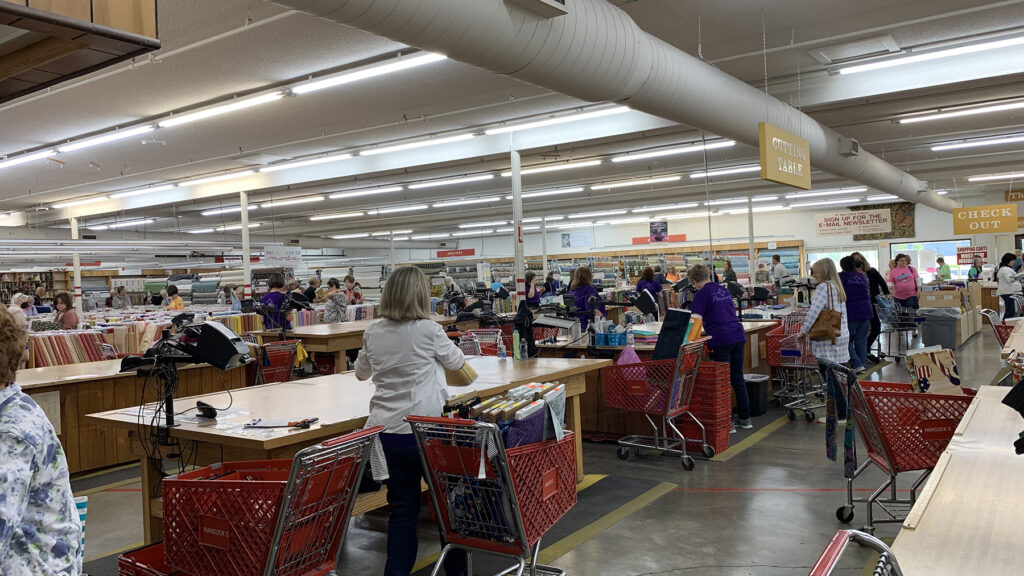 A few weeks ago, I wrote an entire post on shopping at Hancock's of Paducah, and you may want to check it out before heading to the store- it's a big enough place you may want to go in with a plan!
Hancock's of Paducah is located near the interstate at 3841 Hinkleville Road.
4. Muppin's Sewing Emporium
There is a new quilt shop and sewing boutique in downtown Paducah, Muppin's Sewing Emporium, and checking it out is one of my top priorities for the week. Designer and teacher, Cheryl Sleboda, opened the shop recently, so this will be my (and most people's) first visit.
In addition to what I'm sure will be a great curation of notions and fabrics at Muppin's Sewing Emporium, I'm excited to see her Quilt Week display of 300 of her mini quilts!
Muppin's Sewing Emporium is at 117 N 4th Street in Downtown Paducah.
5. Cherrywood Pop-Up Shop and Challenge Exhibit
The themed Cherrywood challenge is a hit wherever it goes, but most of the time, you only have a chance to see half of it at a time. This year the East Side Graffiti challenge is at the main Quilt Week show, but the other half, The Graffiti Cherrywood Challenge: West Side, is on display at the Harrison Street Gallery in Paducah.
If all of those challenge quilts have you inspired, Cherrywood is also having a pop-up shop at the Pinecone Gallery featuring their richly colored hand-dyed fabrics.
The Cherrywood Challenge: West Side is at the 720 Harrison Street Gallery, and the pop-up shop at the Pinecone Gallery is at 421 N. 7th Street.
Finding More to Do During Paducah Quilt Week 2023
There is always way more going on around town than anyone can do in the few days during the quilt show. If you are looking for other fun quilting (or non-quilting) things to do, try looking at the Paducah visitors' website.
Here are a few bonus events, some of which I'm hoping to hit while I'm in town:
Fiber Arts Exhibit at the Hotel 1857 featuring quilts by a few employees of the National Quilt Museum (This is also a great hotel to stay at if you are planning a future visit)
The Paducah Quilt Show is a new off-site show with some of the vendors that used to be at the Rotary Show.
The Paper Pieces pop-up shop is a must for any English Paper Piecing enthusiast and a great stop for anyone EPP-curious!