This week I managed another finish for my Second Quarter Finish Along. This purse was pretty far along already, so it really didn't take too long to finish, and I am thrilled with the result.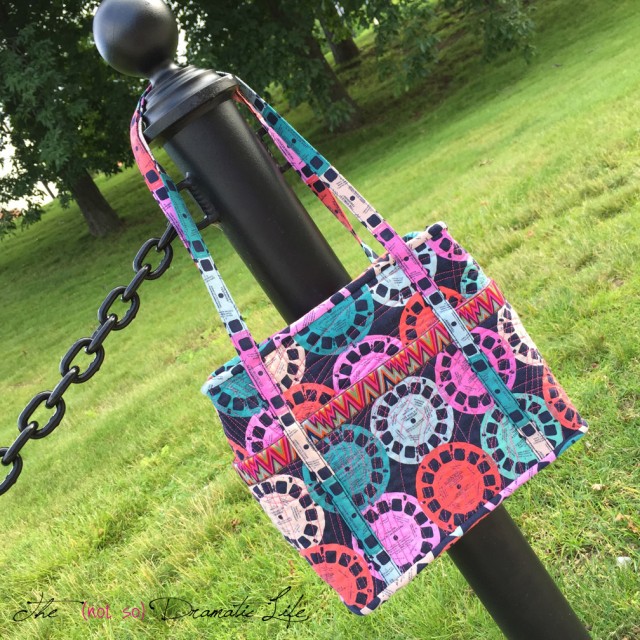 I had made a similar quilted bag last summer and have been carrying it ever since. I liked the design pretty well, but I did make a few modifications this time around. The new bag is slightly wider and deeper, although the height is the same. Depending on how things would shift within the previous purse, it could be difficult to remove larger items such as my wallet, so the size change has helped immensely. The last time around, I made the exterior pockets almost exactly the same size as the base bag, which meant that it was sometime a bit tight getting my keys or phone into those pockets. This time I allowed for more ease, and it seams to be working well- nothing is falling out, but is much more easily accessible. The interior pocket of the new bag is also sewn in so that there is an additional pocket created behind the zippered pouch.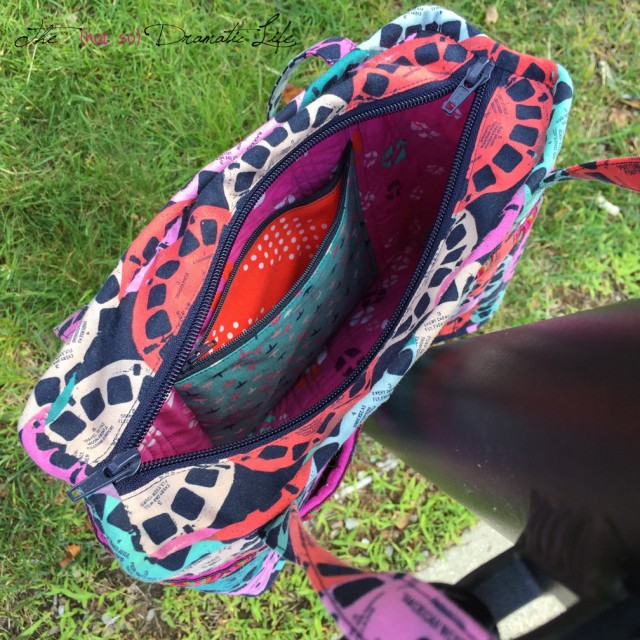 All of the fabrics are Cotton and Steel. I could hardly wait to get my hands on this Viewfinders fabric from Melody Miller's Playful line, and I paired it with the Hotcross Buns print from Rashida Coleman-Hale's Mochi line. The interior pocket is made of a Kimberly Kight Homebody print and lined with a red print from the Cotton and Steel Basics line. I found this fantastic trim at a quilt show to finish off the exterior pockets, but it had been cut and packaged, so I'm not sure who designed it. Does anyone recognize it? I love that it incorporates so many colors that are in the viewfinder print.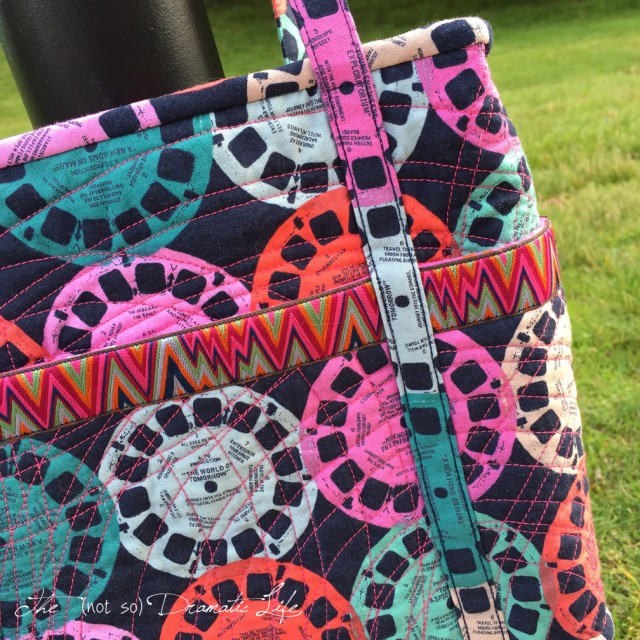 The quilting design is concentric circles which were randomly placed around a large fabric sandwich. Once the quilting was done, I then cut out the individual pieces for the purse. The main sides of the purse, the exterior pockets and the bottom of the bag are all quilted using Warm and White cotton batting. The handles are strengthened with woven iron on interfacing, and the top of the purse and interior pockets are lined, but have no additional support. The top and bottom edges of the bag are finished with bias tape which helps the bag keep its shape.
I have been carrying this bag for a few days now, and I am really loving it. There may be more bags like this in my sewing future!