Spring is finally here- and a couple days in the past week have actually felt like it around here! What a great time to start thinking about incorporating flowers into some projects. Large floral print fabric is becoming one of my favorite things to look for when I go to quilt shops or shows. I recently picked up some Amy Butler prints at a show, and I am so excited to embellish them with some hand embroidery!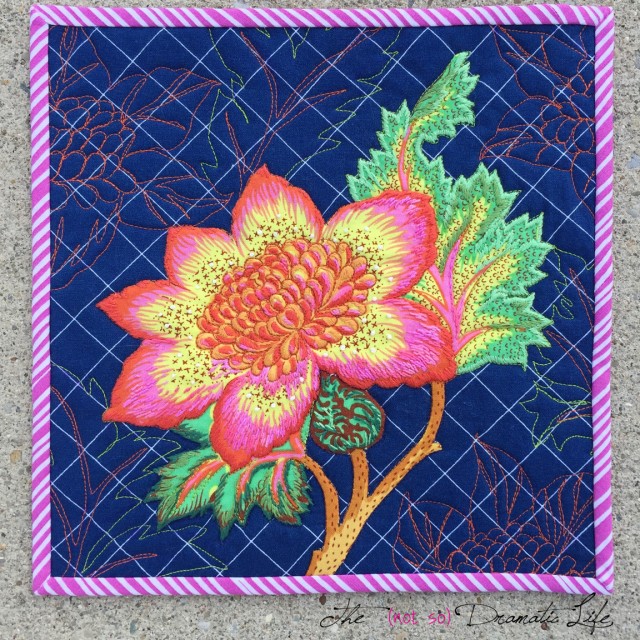 This flower is from the Organic Soul line, and I hand appliquéd it to a piece of Carolyn Friedlander fabric. I really liked placing such an organic shape against a highly linear pattern. The fun part was doing hand embroidery to enhance the dimension of the piece.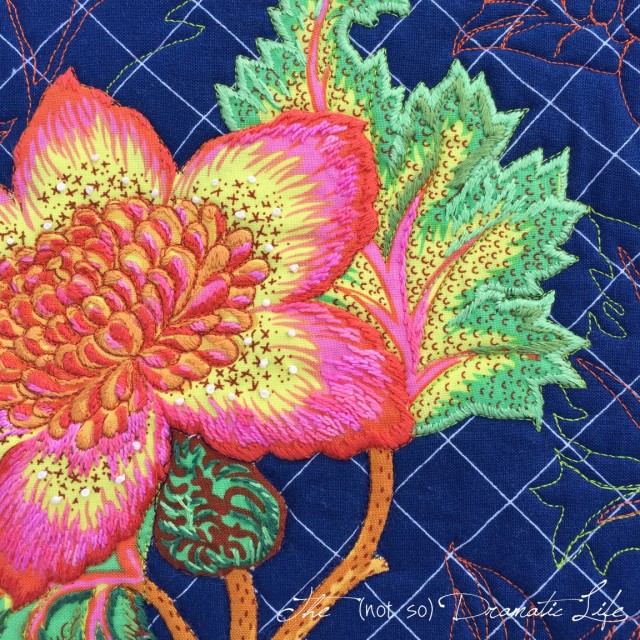 The backing is another Amy Butler print, and the quilting is a free motion design which loosely replicates the shape of the appliquéd flower. The uneven stripe fabric on the binding is a Lotta Jansdotter design cut on the bias.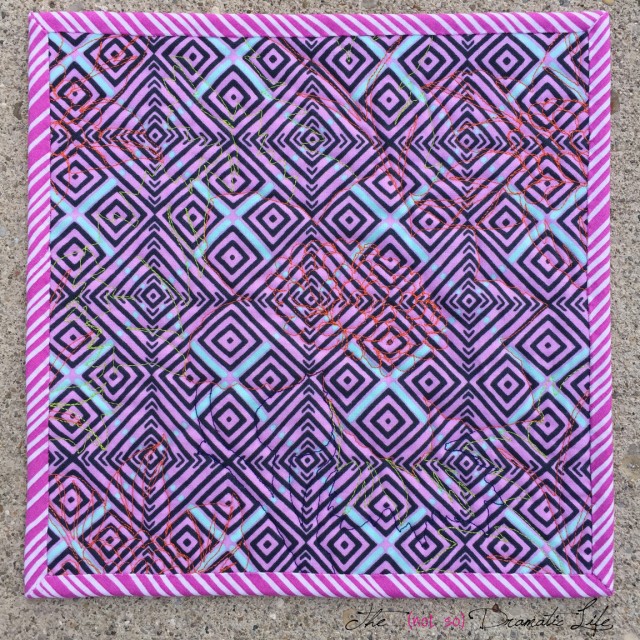 Quilt Stats
Title: Embellished Spring
Size: 10″x10″
Techniques: Hand appliqué, hand embroidery
Quilting: Free motion in a design mirroring the flower and leaves of the appliqué design
Fabrics: Flower appliqué and quilt backing are Amy Butler designs, Background by Carolyn Friedlander, binding by Lotta Jansdotter
Batting: Warm and White cotton batting
Thread: Appliqué done with navy Gutermann Mara 100; Quilting done with cotton Connecting Threads Essential in Peridot, Persian Blue, and Persimmon; Embroidery created with assorted DMC flosses and hand dyed floss from Artfabrik by Laura Wasilowski.
Binding: 2″ wide strips, cut on the bias, machine stitched to the front, hand stitched to the back
What was new:
Extensive embroidery used to create dimension on a pre-printed design.
I'm sharing this post at Show Off Saturday at Sew Can She, Fabric Tuesday at Quilt Story, Let's Bee Social at Sew Fresh Quilts, Whoop Whoop Friday at Confessions of a Fabric Addict, and Sew Cute Tuesday at Blossom Heart Quilts. Please stop by to see all of the lovely sewing being done!