Do you visit fabric shops while you travel? Do you ever make a shop a key destination for your travel itinerary? If there was ever a shop that deserved to be a destination, Hancock's of Paducah is it!
Hancock's of Paducah isn't just a terrific online store, it's a fabric shopping destination! My first Hancock's shopping experience was as a teenager in the '90s when I first joined my Mom for the April quilt show, and it continues to be one of my favorite fabric shops today. The building has grown significantly from my first visit, and the excitement grows each year!
We are also doing a fun giveaway, so keep reading to the end of the post!
[Please note that this is a sponsored post, but I have shopped at Hancock's of Paducah for many years. All information in this post is based on my personal shopping experiences and a brief behind the scenes tour.]
Before You Go
Unless you are one of those lucky people who have Hancock's as their local fabric shop, you are probably traveling to Paducah as a vacation or part of a road trip. Plan to spend at least an hour in the store- that time will fly by! The store is open Tuesday-Friday 9-5 and Saturday 9-3 central time, so plan your shopping time accordingly.
Know what you need
Do you have a specific project in mind? Hancock's is filled with tons of fabrics from a wide range of manufacturers, so it is a great place to find the perfect collection or mix and match to come up with a combination unique to you! If you don't have a project in mind, you may want to check out their extensive selection of quilt patterns.
If you are planning a stash building trip, take a few minutes to assess what you already have and make notes of any gaps in your stash you hope to fill. Taking a photo of your current fabric collection can serve as a helpful reminder of what you would like to look for while shopping
Know what you like
While looking through your fabric, check your selvages to see which manufacturers you gravitate towards. Hancock's of Paducah is organized mostly by manufacturer, so knowing the manufacturers and designers you love may help you locate your favorite part of the store.
When You Get There
Grab a cart!
This probably won't be like any other quilt fabric shopping trip you have been on before. I know you probably haven't used a cart outside of a big box fabric store, but you will probably need one here. I have been known to fill my cart with bolts more than once in a single visit!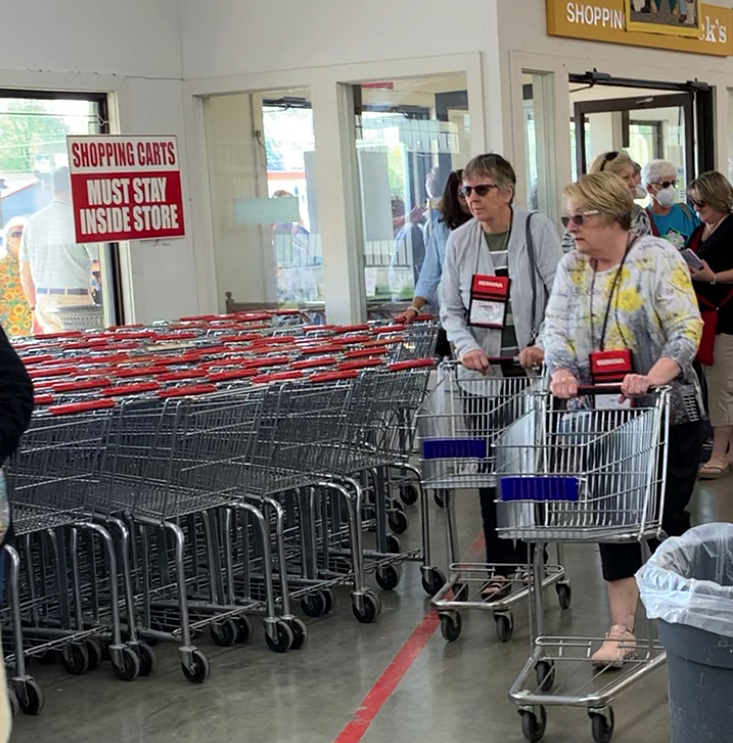 If you are visiting Hancock's of Paducah during QuiltWeek, make sure you get your cart quickly- they do run out!
Know your yardages
Hancock's of Paducah has a minimum cut size for all bolts of fabric. Look for the orange or yellow tag on each bolt to know what you will need to purchase. Orange tags have a 1 yard minimum and yellow tags have a ½ yard minimum. Each aisle has a sign indicating the fabric manufacturer included in that row along with a reminder of what each tag color means.
Know what you are buying
Hancock's of Paducah is an exciting place to shop in person, but they also among the best places to shop online. I try to take photos of the bolt ends as I shop. If I get home and realize I didn't purchase enough, this can help me know what I need to order to complete my project. (This is especially helpful with fabrics that don't have a printed selvage like solids or shot cottons) 
Cut as you go!
Your cart will fill up fast, but once you have decided what you want from your first batch of fabrics, you can have that fabric cut to make room for more bolts!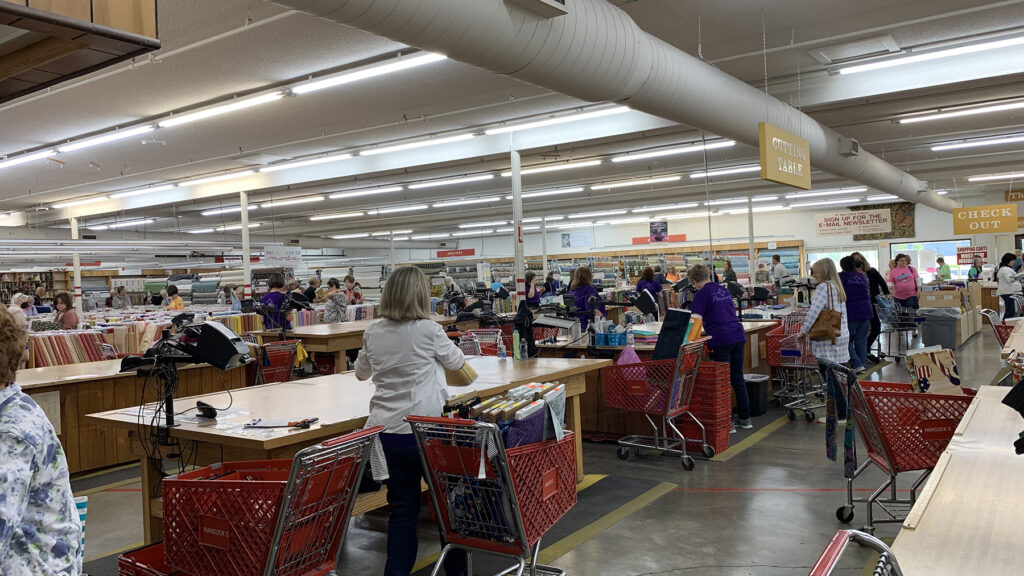 Does the fabric you love not have enough on the bolt?
If a full bolt isn't on the floor just ask one of the helpful staff members for assistance. There may be a new bolt available in the back!
Do you like your quilts to look just like the pattern?
Check out the extensive kit selection in the back room!
Don't forget to pick up batting!
Buying batting was one of the most memorable parts of shopping at Hancock's the week of the quilt show in the 90's. When I would visit with my Mom, we would order the batting inside the store and then head out to semi trailers in the parking lot to pick up the batting we purchased. During my most recent visit, I found out a couple of the people handing out the batting then are now the owners of the store. I love shopping at family owned businesses!
The store has expanded since then, so you can purchase your batting inside the store, and if you had something larger in mind just ask- You can get an entire roll of some of your favorites directly from the shop!
If You Go During QuiltWeek
The American Quilter's Society (AQS) show known as QuiltWeek takes place each April in Paducah, Kentucky (as well as other cities throughout the year). The entire city of Paducah welcomes quilters from around the world throughout the week, and Hancock's is one of the most popular destinations! Here are a few things to keep in mind if you are visiting during QuiltWeek:
When to go:
Hancock's of Paducah is typically open Monday-Saturday during Quilt Week. As you plan your Quilt Week schedule, remember that some key locations (like Hancock's and the National Quilt Museum) are open the days before the quilt show starts. Because people are not at the show, the places that are open tend to be busier. If having a less crowded shopping experience is important to you, consider shopping during the morning of the first day of the quilt show when most people are at the convention center.
Look for a store map
In 2022, Hancocks added a super helpful store map that tells you the approximate area each type/manufacturer is located. Hancocks receives frequent massive deliveries so the map may not be perfect, but it will get you very close to where you want to go.
Look for the color coded t-shirts
The Hancock's staff is extremely friendly and helpful. During Quilt Week they often wear the same color store t-shirt each day. This will help you find someone to help you if you need assistance.
Take your time
The store is set up to accommodate a large number of shoppers at once, but you still won't be setting a speed record for moving up and down the aisles. The good news is that (with one exception) two carts can pass each other in all of the shop aisles.
How to get there
The store is located near Exit 4, or the "Mall area," close to many of the hotels. This is less than five miles from downtown where the National Quilt Museum and the Convention Center are located, about a 10 minute drive. The large parking lot does occasionally fill up during QuiltWeek, but usually clears out enough for adequate parking by lunch time. Be sure to park only in the designated areas to leave room for tour busses bringing large groups to the store to get through.
Giveaway
What's my favorite fabric? Solids! And what is more useful than a good quality solid white fabric? It works with just about every style of quilting.
Hancock's and I are giving away a mini bolt of white Kona cotton! That is nine yards of fabric!
Here's how to enter:
Head to my Instagram: @cassandra.beaver and find this image:
Comment on the Instagram post telling me one thing you saw in this blog entry that you didn't know about shopping in person at Hancock's of Paducah OR one thing you learned while shopping in the store.
Make sure you are following both @hancockspaducah and @cassandra.beaver on Instagram. You need to follow both to win!
Enter by 11:59pm Eastern time on Friday, March 31, 2023.
This giveaway is available to US residents.
Winners will be selected by random drawing and will be contacted by Instagram direct message by Monday, April 3, 2023. The winner will need to respond via IG direct message with their shipping information within three days of the initial notification. If the first winner does not respond within that time frame, another winner will be selected. The mini bolt will be shipped by USPS or UPS within a week of the shipping information being received.
This giveaway is not sponsored, endorsed, administered by, or associated with Instagram.