Have you finished a quilt or project recently? We all want to see it!
This week I am hosting TGIFF (Thank Goodness It's Finished Friday), and you can share your recent finish in the link up at the end of this post.
My recent finish is a mini-quilt, Tipsy, that is inspired by the Pantone Color of the Year, Viva Magenta! You can read more about it, or keep scrolling to get to the awesome link up at the end of the post!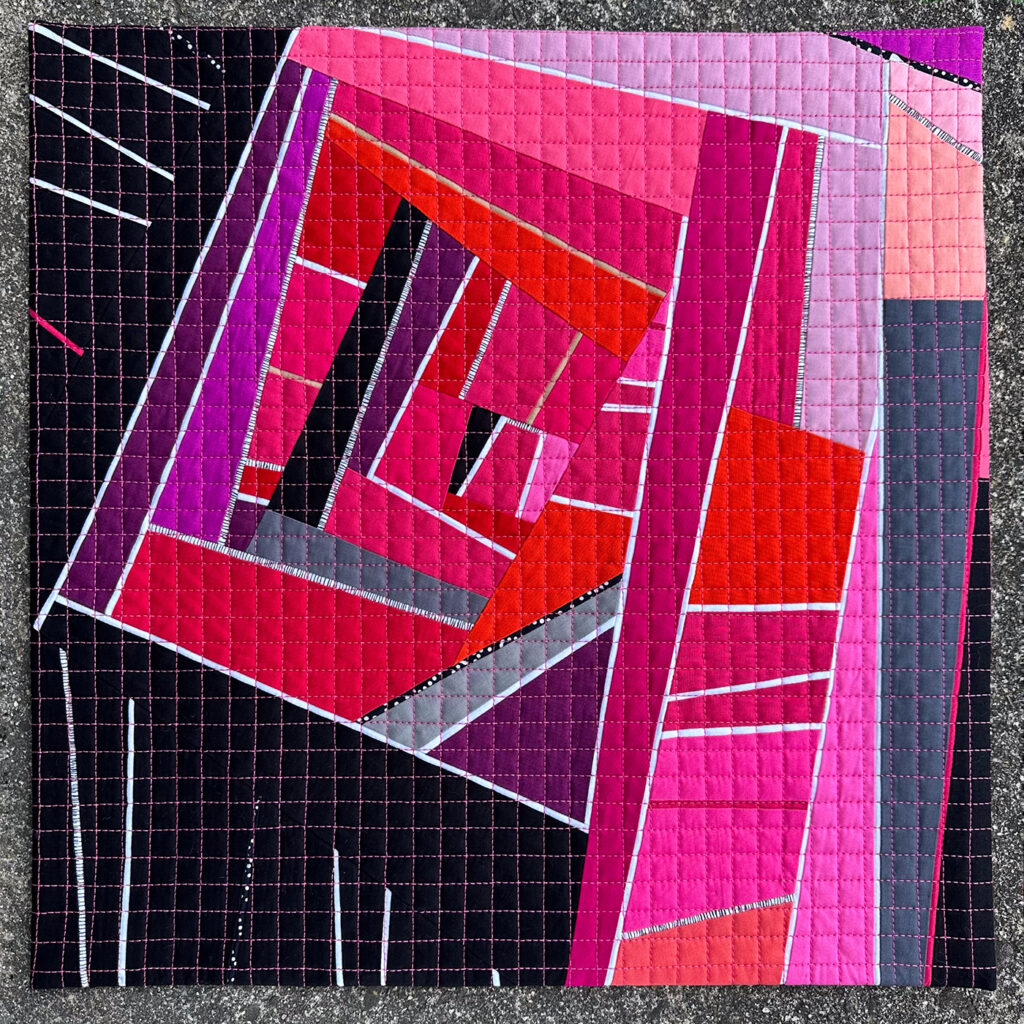 I do love a challenge! Inspiration for Tipsy
The Pantone Quilt Challenge is back this year and is now hosted by Sarah Ruiz and Elizabeth Ray. I love a challenge, and I really love working with trending colors, so this is the perfect combination. The Pantone Quilt Challenge is closed now, but you can still see all the amazing pieces created for it here.
I've been thinking a lot about our use of value in design, and for this quilt, I knew that I wanted strong value contrasts, improvisational piecing, and the incorporation of 1/8″ wide pieced sliver inserts.
In recent contemporary designs, we see a lot of dark lines on a light background. For Tipsy, I decided to turn our expectations around and focus on using mostly dark values in the background and white and light-colored lines for the sliver inserts.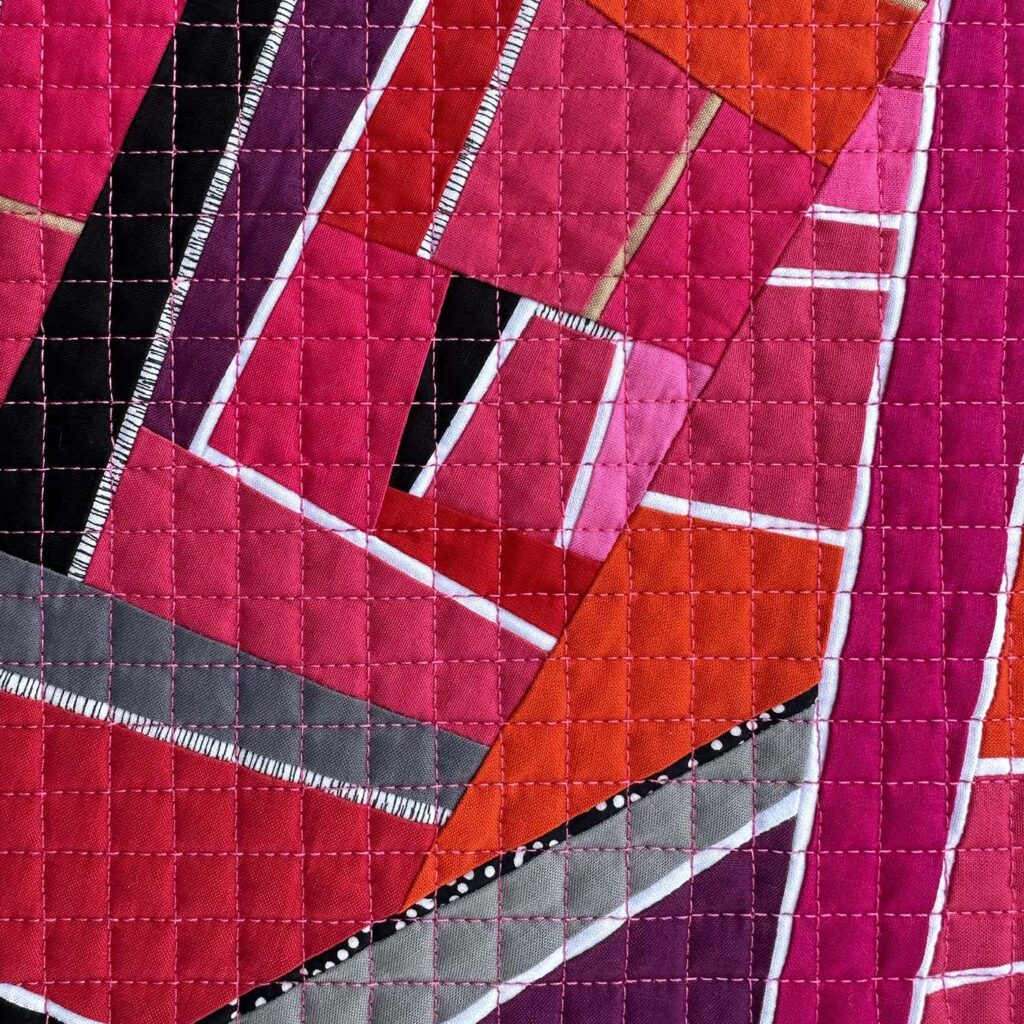 Solid fabrics dominate the design because I wanted the primary focus to fall on how the linear pieced slivers direct your eye around the design of the quilt. The palette focus is black, white, and various hues of pink that evoke the feel of Viva Magenta. However, if you look closely, various greys, violets, and even some brown (this is shocking if you have been following my work for long!) appear in the overall design. The all-solids rule also gets thrown out with the carefully selected black and white prints that pop up occasionally in the sliver inserts.
Want to learn more about pieced sliver inserts? Check out this tutorial I wrote for BERNINA on their We All Sew Blog!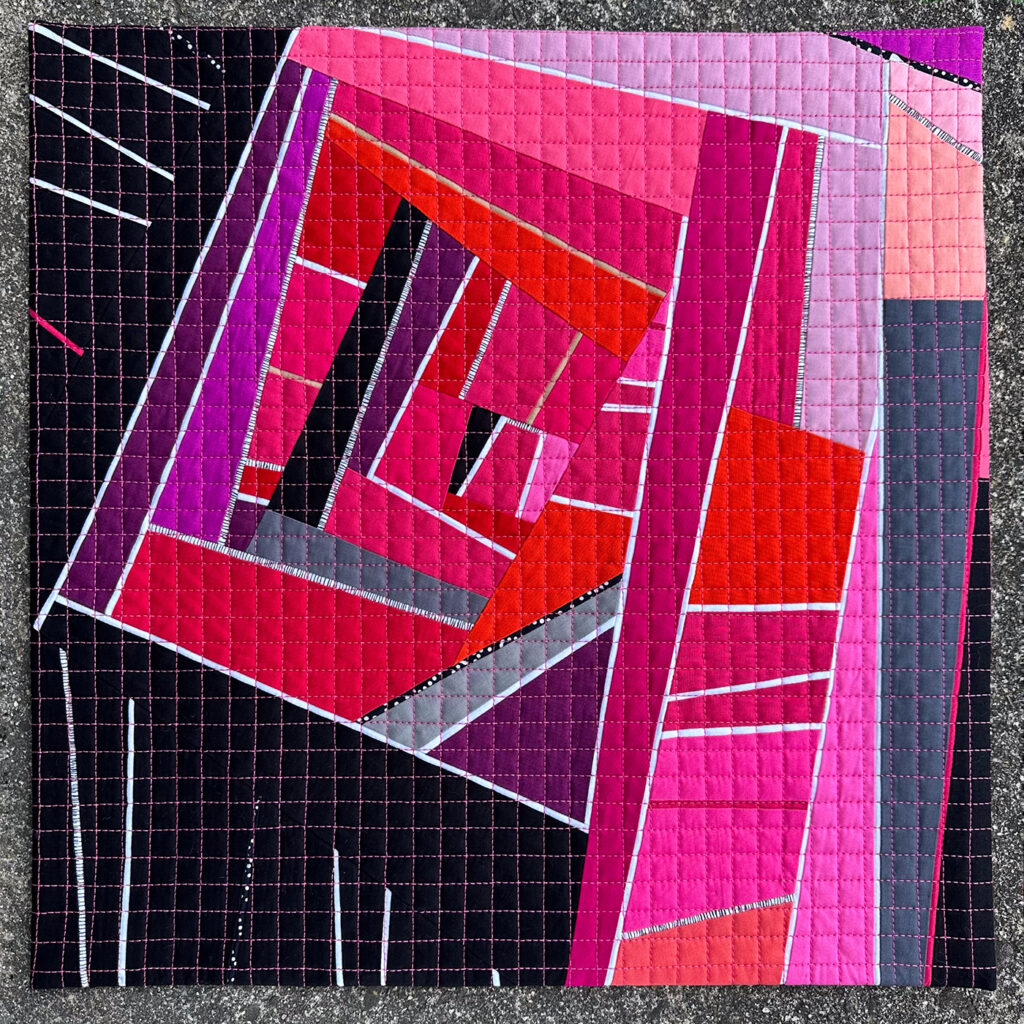 As the mini quilt grew, the improvisation took on a decidedly Log Cabin-like feel- not particularly surprising since the Log Cabin is my favorite quilt block. It was, however taking on a squared-off appearance even within the improv technique. To remedy this, I experimented with tipping the design and adding wedges of slivers inserted into a black background. By also adding black strips of fabric to the central motif, these inserts both appear to float and push the central log cabin-ish motif into a more active diagonal position.
Quilting the Tipsy Mini Quilt
I decided to enhance the tipping effect of the pieced design by juxtaposing it with a linear grid that runs parallel to the edges of the quilt. Walking foot quilting is my favorite method for this technique, and I used a 28-weight Aurifil thread in pink to give additional visual weight to the grid motif.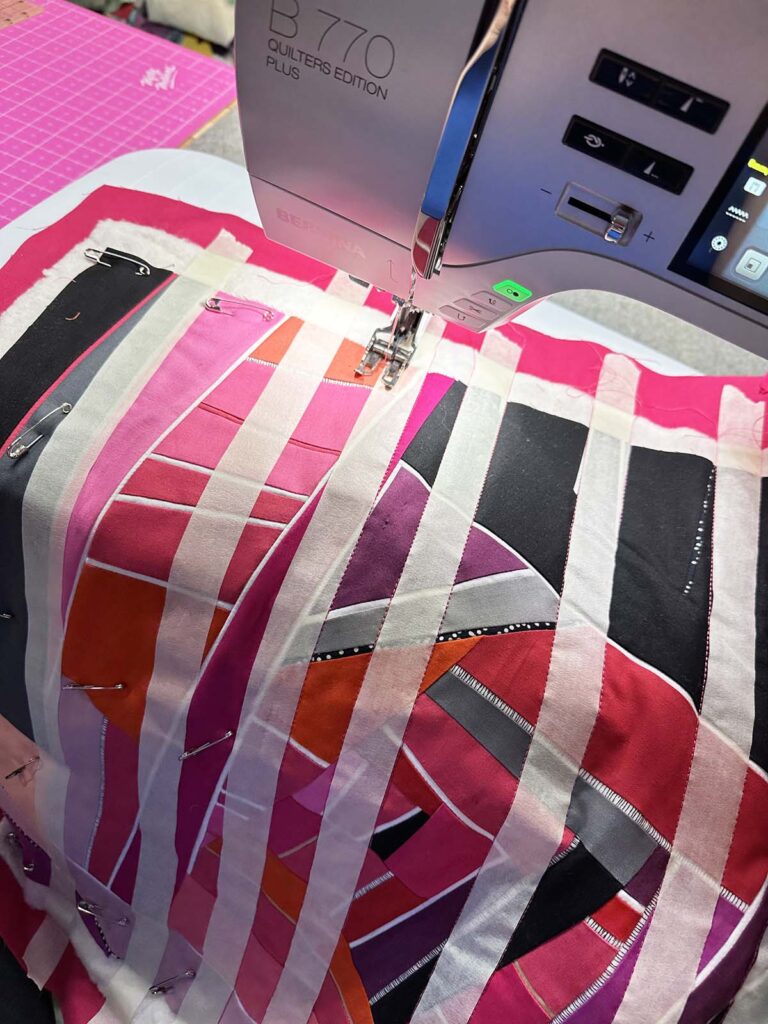 For straight-line quilting, my favorite marking method is masking tape. I keep lots of widths on hand, but my most used tape is 1″ wide. I get my masking tape from the art supply store because it's easier to work with. It shreds less coming off the roll and is less likely to torque which makes it easier to get straight lines. I have never cared for painter's tape for quilt marking- it peels off way too easily!
Thinking about Finishing
My background is in painting, so when I am deciding how I want the edge finished on a particular quilt, I ask myself if this is a design that wants to be framed (binding), or if this is a design that would want the edge wrapped around to the back of the frame (facing).
With its sliver piecing breaking through to the edges of the quilt, it screamed to me that a facing is required. I wanted the viewer's imagination to believe those slivers on the edges could extend infinitely without the barrier of a binding frame.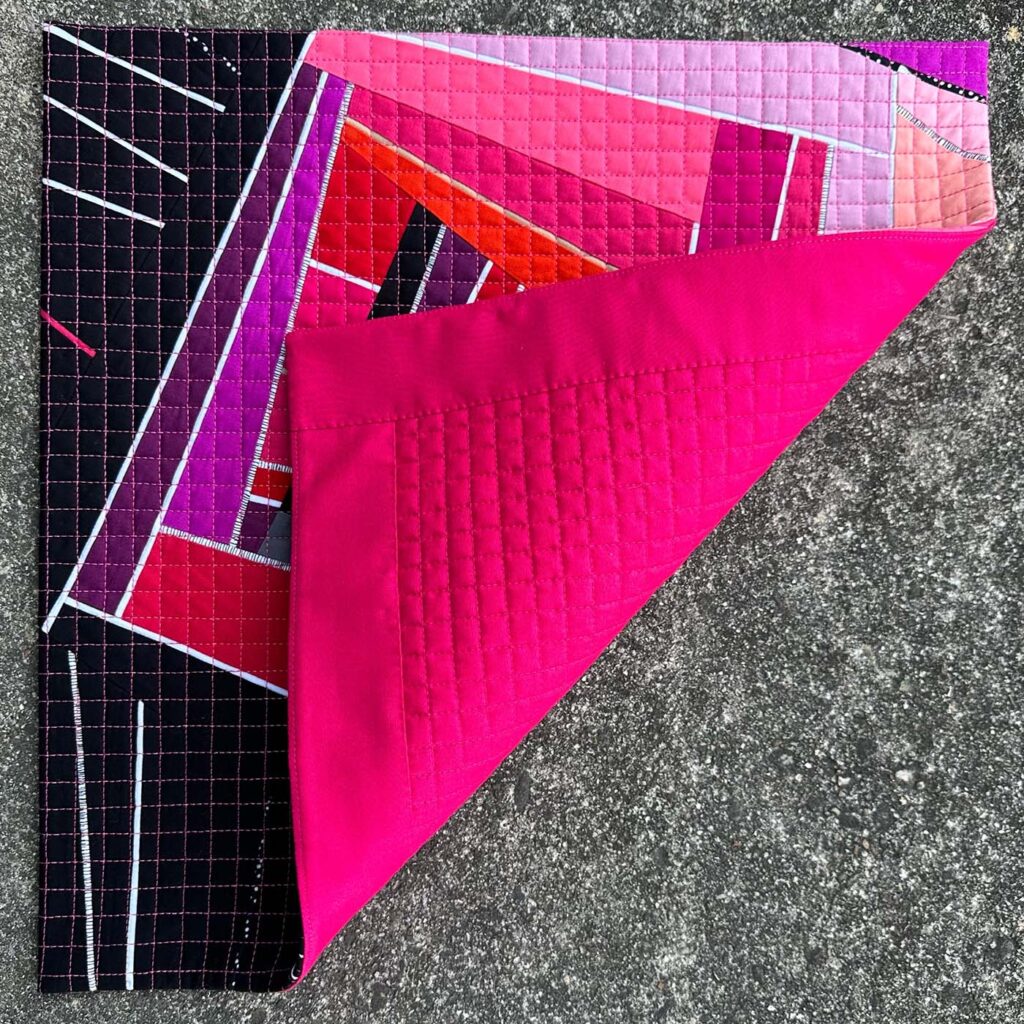 I like a relatively wide facing on my quilts. It gives the edges a little bit more heft and helps the edges to lay nicely.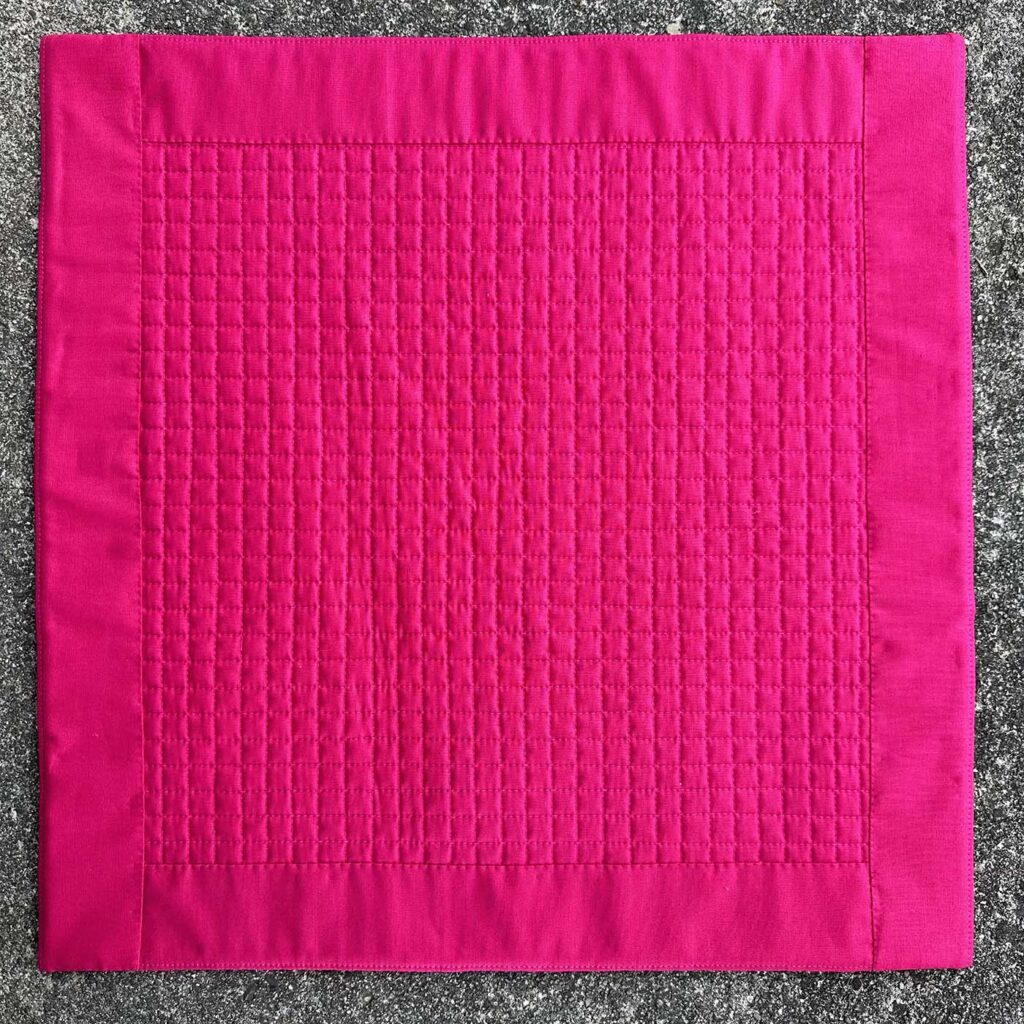 That's my finish for TGIFF! I can't wait to see what you've made, so please link up below!
Tipsy Mini Quilt Stats:
Title: Tipsy
Size: 18″ x 18″
Techniques: Improvisational piecing, 1/8″ Sliver Piecing
Quilting: 1/2″ spaced grid quilting
Fabric: Mostly Painter's Palette Solids with some prints and other solids mixed in
Batting: Hobbs Heirloom Premium 80/20 Cotton/Poly batting
Thread: Quilted with 28-weight pink thread on top and matching 50-weight thread in the bobbin
Edge Finish: Faced Edges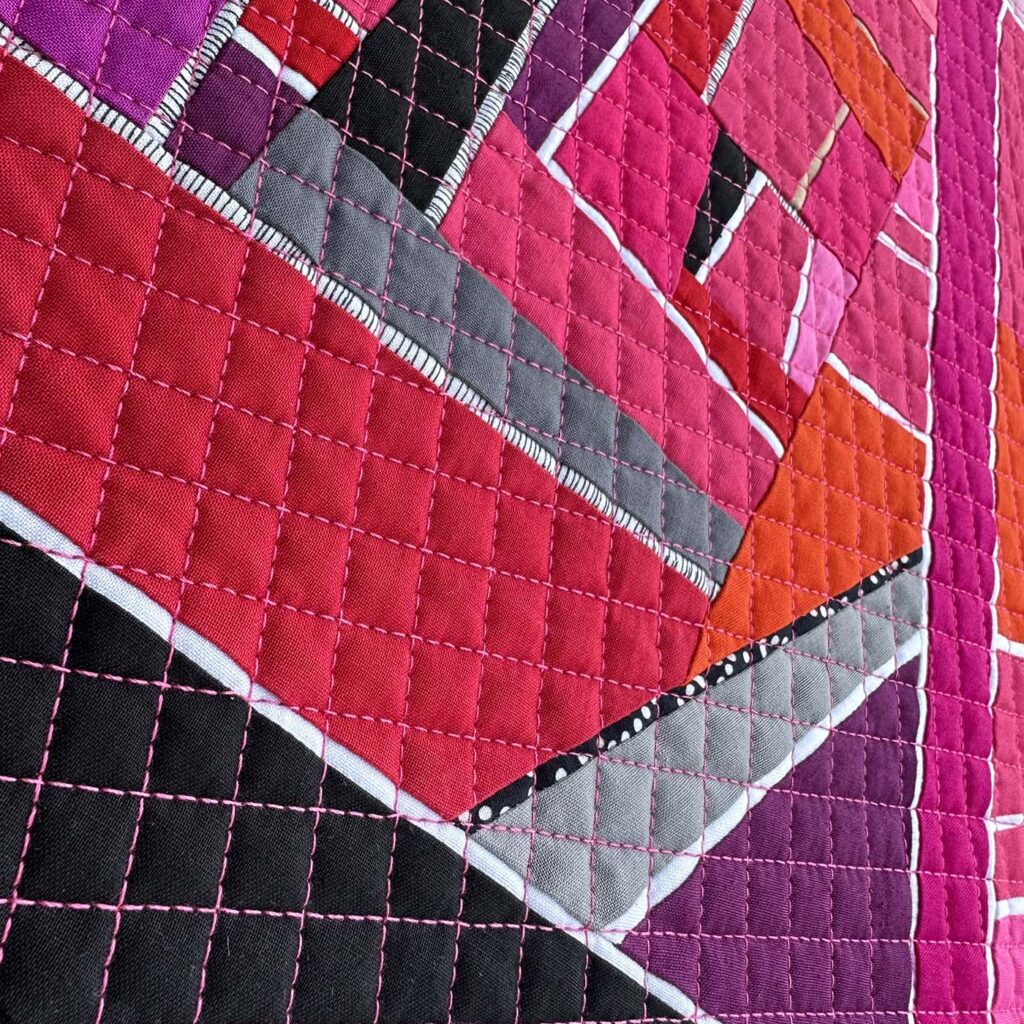 Show and Tell: Share Your Recent Finish!
It's TGIFF! We can't wait to see what you have been working on, so please link to your recent finish below. Thank you so much for sharing!
Link up those fabulous finishes here and don't forget to tour the other finishes and spread the comment love! Please include a link and/or button for TGIFF! (it's just up there) so your visitors can see other fab finishes.