A couple weeks ago Lovingly Lissa and I piled into her car and drove up to Madison, Wisconsin to visit a friend and take in The Great Wisconsin Quilt Show! I had been to this show a few years ago to work in a vendor booth, but this was my first time going just to enjoy the show.
One of the things I love most about this show is the variety of entries. Just about every quilting style and technique is represented. This show is a major fundraiser for Wisconsin PBS and used to be called the Nancy Zieman Quilt Expo.
The photo above was taken Saturday afternoon when the aisles were comparatively clear- this was a busy event! The Great Wisconsin Quilt Show is considered a regional show. While the majority of attendees were from areas not too far from the convention center, there were still plenty of people who traveled to the event. I like that there were notes tacked to the attendee map for people who came from areas outside of the US. (If you look closely I'm the pink dot in the west-central portion of Ohio.)
A few of us came into town for the show, so it was a lot of fun to see each other as well as the show. If I look a bit startled in this photo, its because Victoria found us right as the photo was being snapped! 😀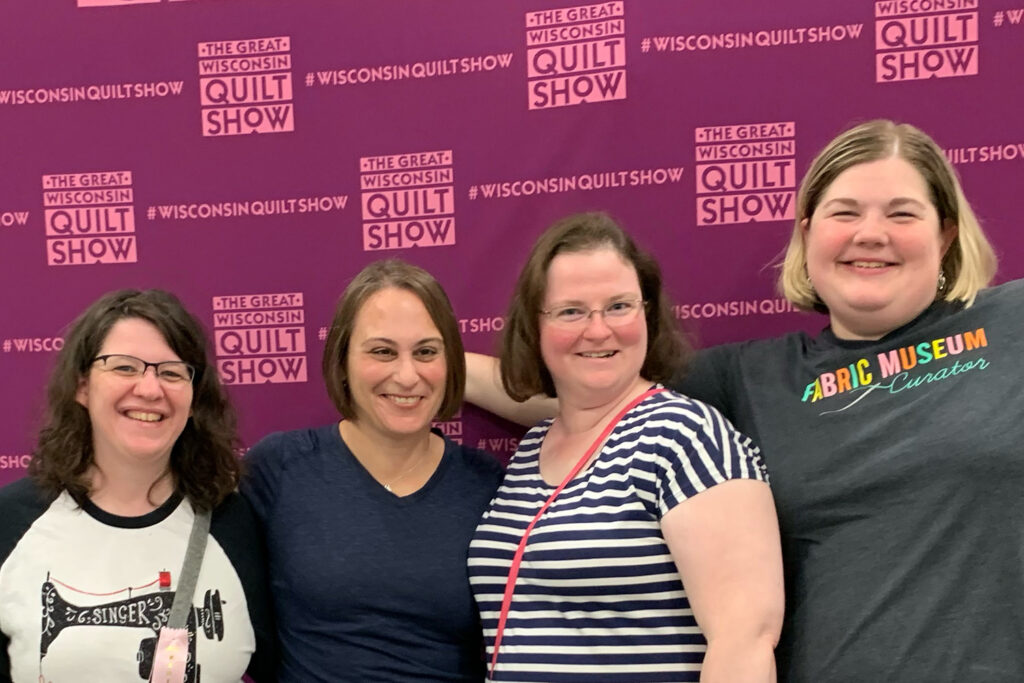 Our Quilts
Lissa and I both had quilts in the show, and the acceptance letters had asked us to stop by the main booth to have our photos taken with our quilts. We did this first thing, and I'm glad we did- we got really involved with our surroundings once we got started! (More on that later!)
We located Raise the Roof first, and I was really pleased that this quilt (and all of the others in the show) were hanging well with no visible fold marks. The staff and volunteers did a good job making sure all of the quilts looked great.
Lovingly Lissa's Intentionally Wonky was next, and in the same category as Raise the Roof. The wall quilts category was huge!
The pictorial category was towards the back of the show, so we came to Zoo Family Portrait last.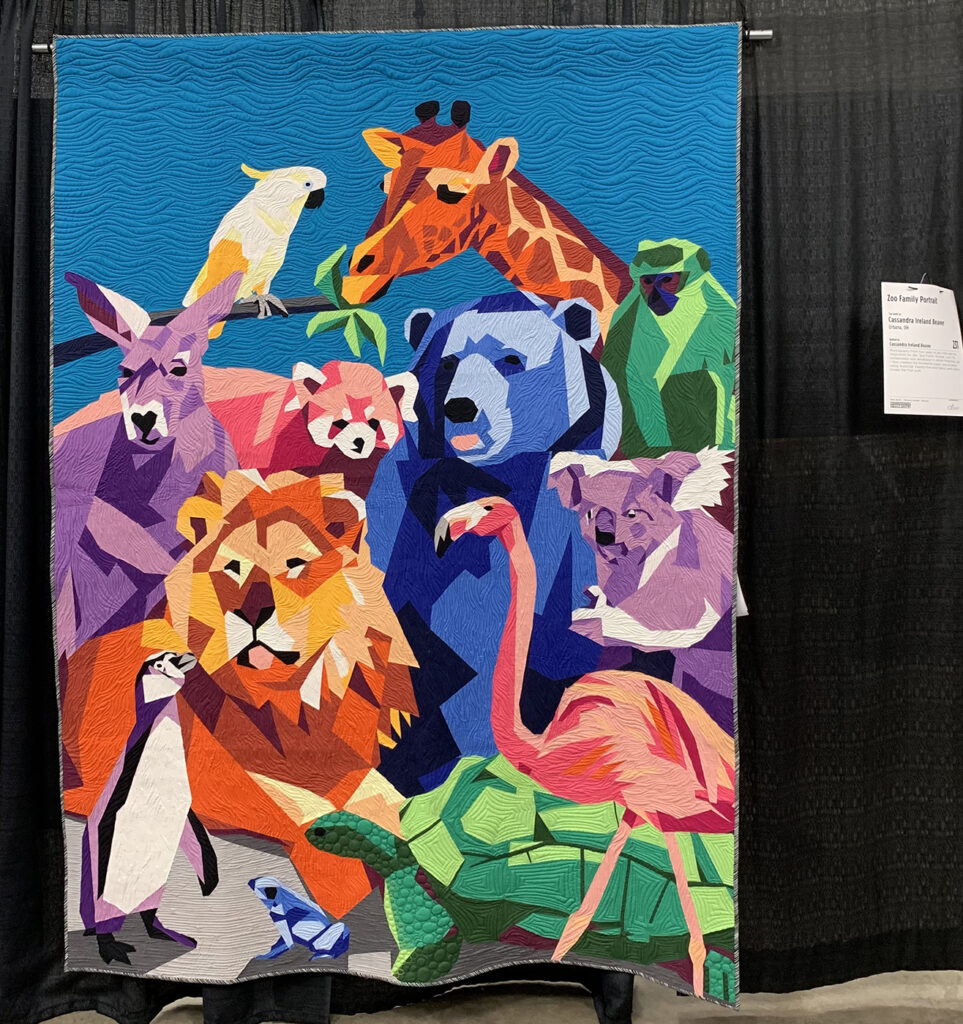 Special Exhibits
The Ken Burns Quilts
I was thrilled when the Great Wisconsin Quilt Show announced that there would be a special exhibit of quilts from the Ken Burns collection. When there was an exhibit of quilts from his collection at the International Quilt Museum, I kept trying to figure out how I could make the trip, but it never worked out. This was perfect timing!
There were several quilts that stood out as having what we could consider a surprisingly modern aesthetic for the era in which they were constructed. None of the quilts included the names of the makers, but they did give approximate dates. Here are a couple of my personal favorites:
This quilt from about 1880-1900 is called Joseph's Coat, and I am totally in love with all of those brightly colored graphic stripes.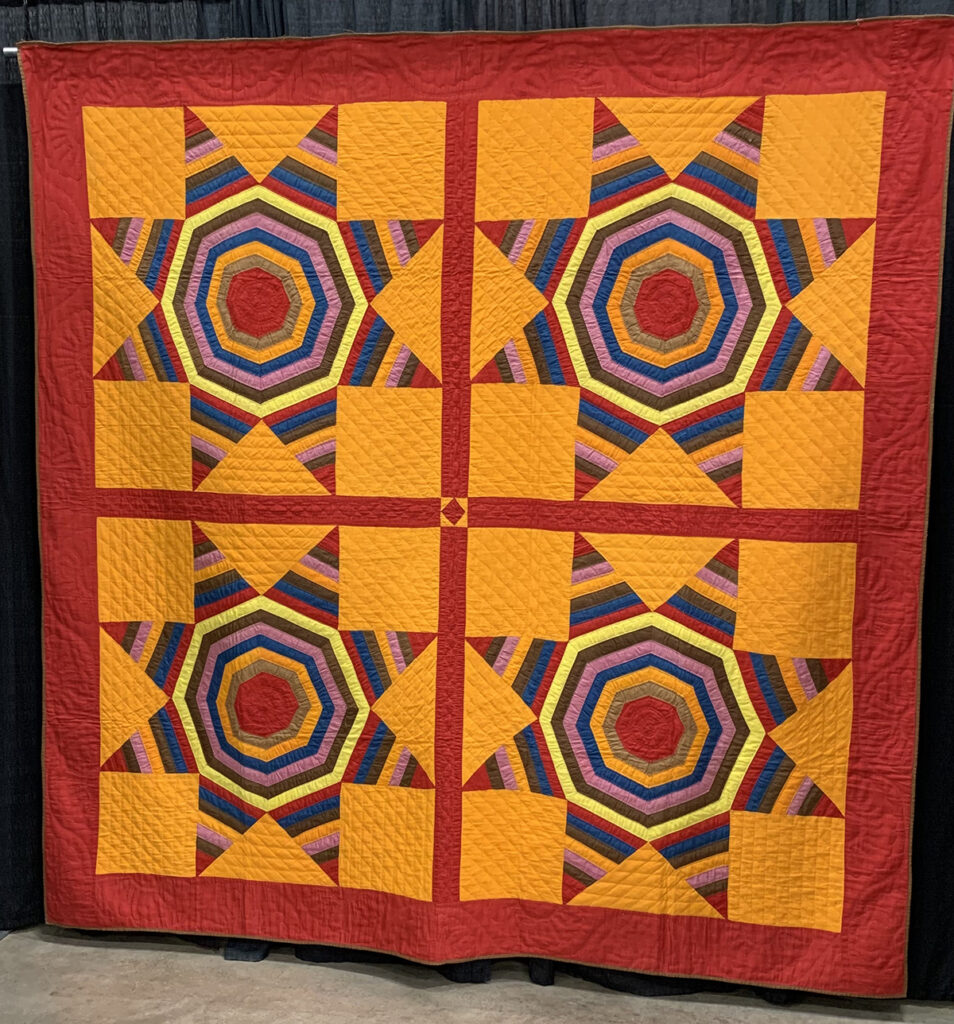 I tend to fall for all things "cheddar," and this was no exception. This String Star quilt was also from about 1880-1900.
The Quilts of Heidi Parkes
Heidi Parkes does amazing, thoughtful modern quilts with an emphasis on hand work. Heidi's use of varied stitching techniques and the unexpected ways she uses fabric makes her work stand out. She also teaches a range of quilting classes, as well as yoga classes aimed at quilters. If you aren't familiar with her work, I hope you will check out Heidi's website. For now, here is one of my favorite detail shots from her quilt exhibit: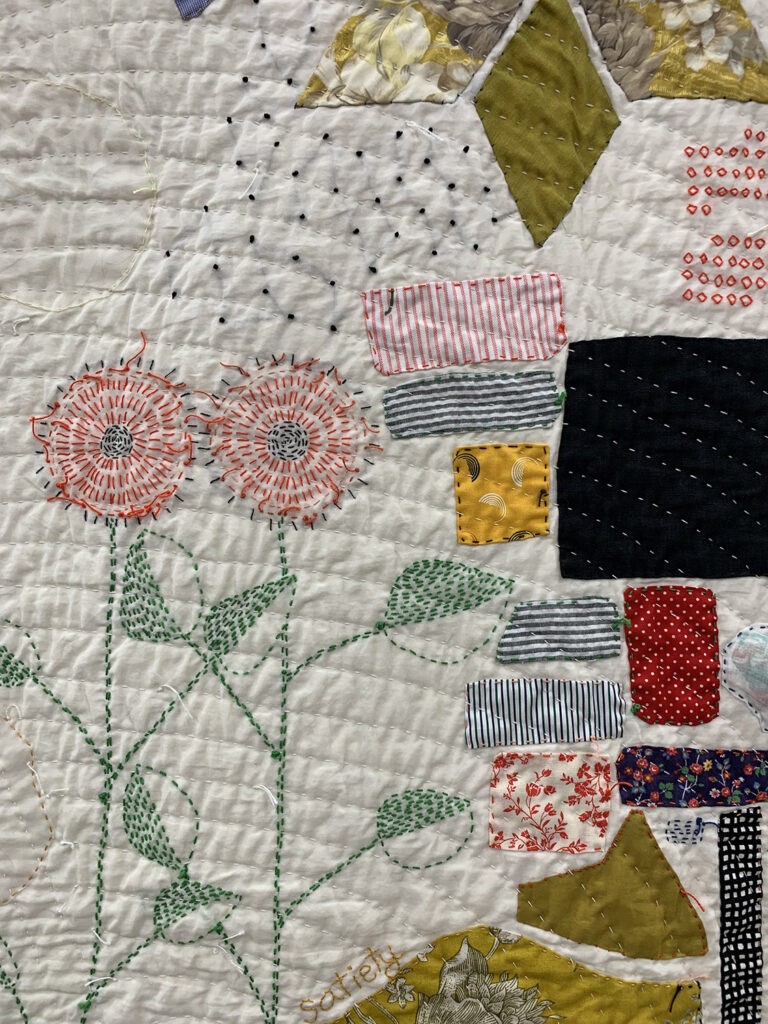 Modern Mini Quilts
Each year in the Spring, The Great Wisconsin Quilt Show does an online Modern Mini Quilt Challenge, and a lot of the entries are on display at the show. Below is this year's exhibit. I do wish they would label the quilts with their title and maker, but at least we get to see a bunch of fun Modern Quilts all together.
Lectures
I only ended up making it to one lecture, but it was a great one! TaMara Howard had a fantastic lecture on Kente inspired quilts. It was fascinating to hear how she has studied the techniques and traditions of Kente and translated it into modern quilting.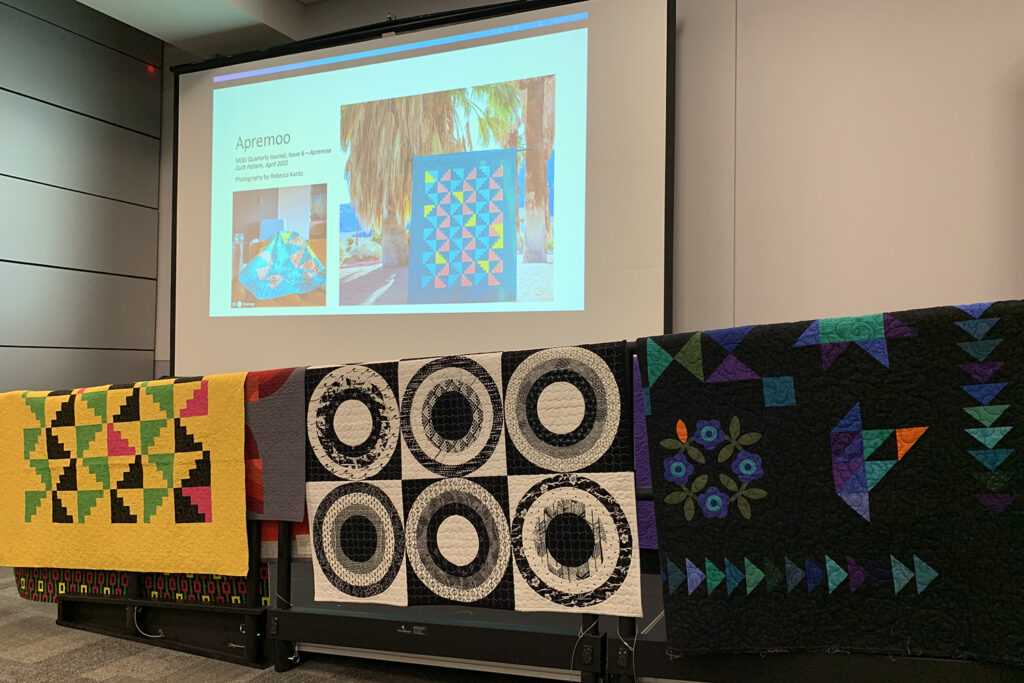 And one more thing…
What did we get so involved with that we tuned out a lot of the show for a large portion of the day?
Lissa bought a longarm! She purchased it from Terri of TLC Quilting out of Janesville, Wisconsin. We had both worked with Terri before, and I had purchased my longarm from the previous owners of same shop several years ago. It was so exciting to be there while Lissa made this big decision!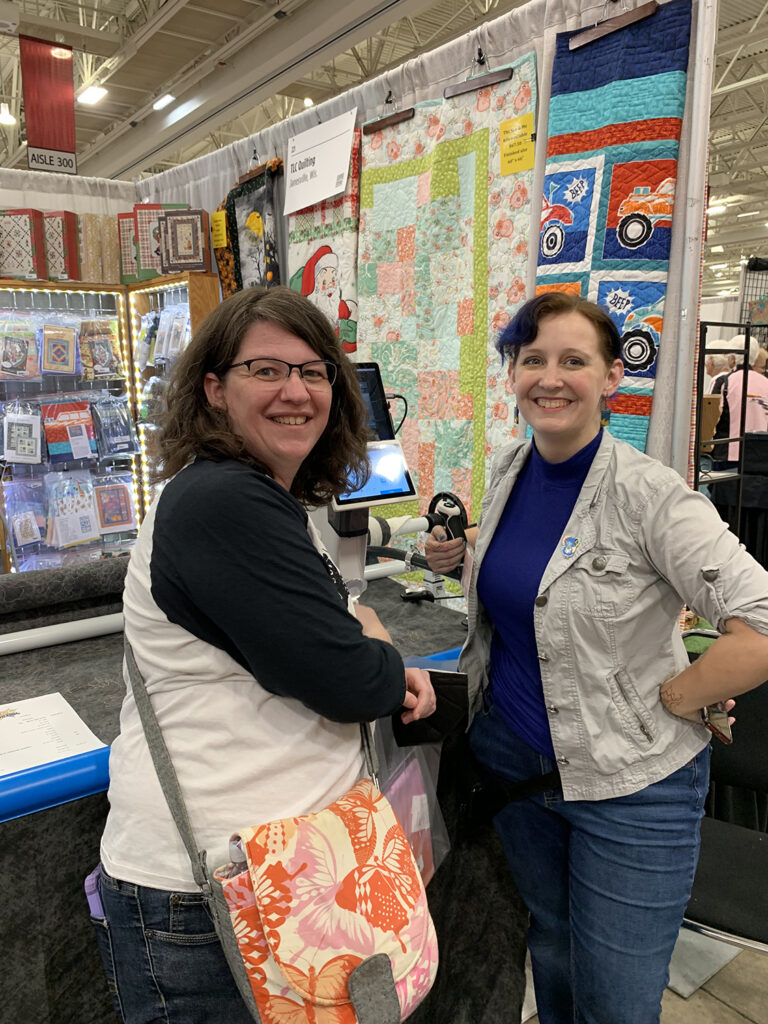 We are already planning our trip to the show next year! Who else is going?