From a $2 Stocking Stuffer to a several thousand dollar gift of a lifetime, this list has something for everyone! (Don't worry- almost everything is under $100!)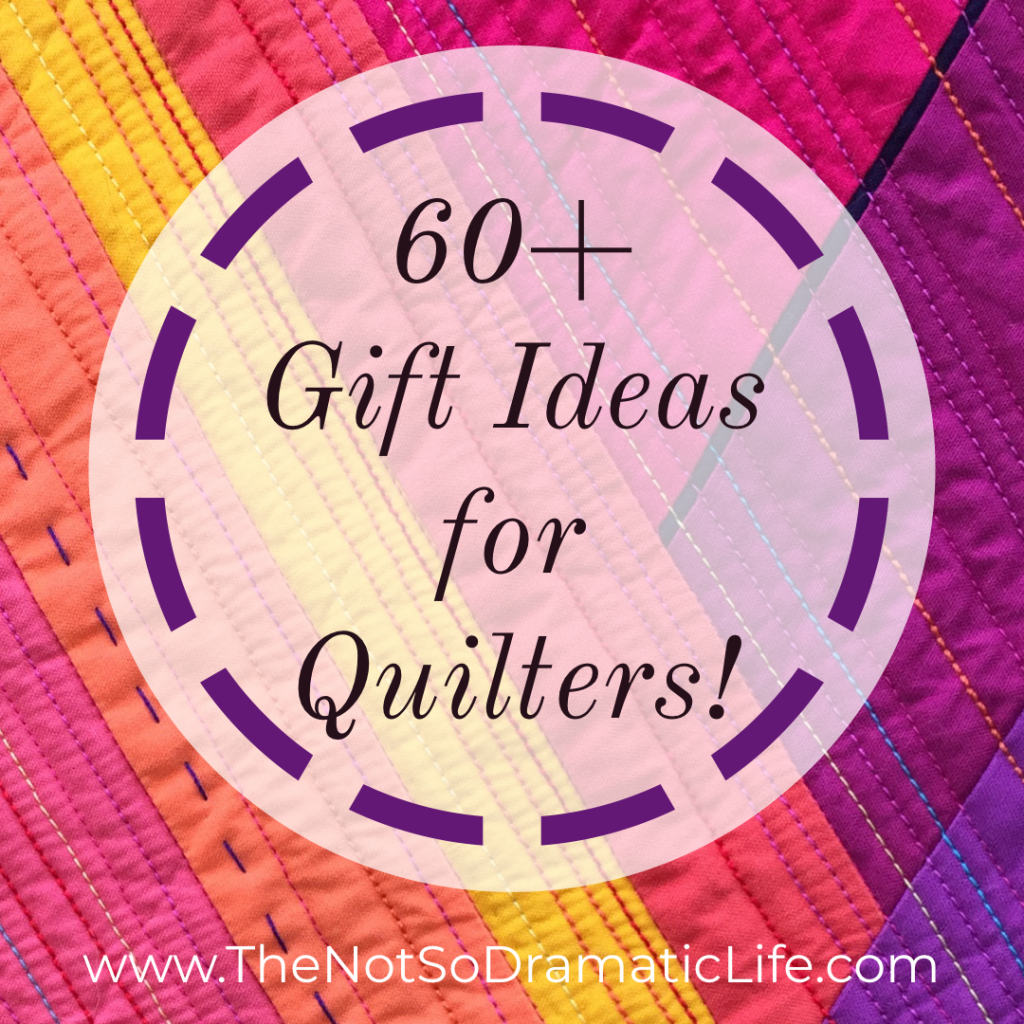 Rulers
Quilter's Select Rulers: These rulers have a translucent backing that grips the fabric as you cut and the lines are thin while still being easy to read
Classic Curves Ruler: Perfect for Quarter-circle curves and full circles!
Add-a-Quarter Plus Ruler: The ideal tool for foundation paper piecing. Get the "plus" version to make the folding part of the FPP process even easier.
Add-an-Eighth Plus Ruler: Great for a dedicated foundation paper piecer to do small scale projects or grade seam allowances
Add-Three-Eighths Ruler: I use this for inserting pieced "slivers" into my piecing, but I think it is originally intended for doing foundation paper piecing with flannel
Machine Quilting Rulers: These are thicker than cutting rulers and are used on longarm machines or sit-down machines equipped with a ruler work presser foot. Here's the longarm ruler I use the most. You do need to know which machine you are buying for to know which version to purchase.
Cutting
Pinning and Such
Fish Museum and Circus: Whimsical Ceramic pin cushions. She sells out quickly, so join her newsletter to find out when listings are added!
Storts Market: Fabulous repurposing of found vessels into gorgeous pin cushions! She also sells out quickly, so watch her Instagram account to find out about upcoming listings.
Magnetic Pin Cushion: You can't beat a magnetic pin cushion for the ease of dropping pins onto while you sew
Glass Headed Pins: The heads of the pins are easy to grab, and they won't melt if they get too close to an iron
Magic Pins: These are even easier to grab ahold of than the glass headed pins and also heat resistant
Clover Clips: I use these for binding, bag construction, and foundation paper piecing
Kwik Klips: Save your hands while speeding up the pin basting process
Safety Pins: I buy in large quantities so I don't run out at an inopportune moment
Marking Implements
Pressing
Lighting
Daylight or Ott Lamp: Good lighting is key to successful sewing!
Daylight Wafer Light Box: This Lightbox was designed with foundation paper piecing in mind, but it has so many other sewing related uses!
Strip light: Add this light to your sewing machine for an extra boost of light.
Other Sewing Tools
Bobbins: I have yet to meet a quilter that says they have too many bobbins. Just make sure you know the machine you are buying for!
Sew Fine: This is my all time favorite thread gloss, and I don't want to hand sew without it
Stiletto: Use this to guide fabric right up to the presser foot as you stitch without putting your fingers at risk!
That Purple Thang: You can use this in a similar manner to a stiletto, but it is also useful for other tasks. My favorite use it to push out corners in bags and other 3-D sewing
Consumable Supplies
A bolt of a favorite solid fabric: A bolt of white, black, or dark blue fabric works well for a lot of people, but a more bold choice may be appropriate for a lot of quilters. Having a bolt of a favorite color is a luxury!
Fat Quarter bundles are particularly great for quilters who like improv or scrappy aesthetics, enjoy experimenting with color, or have fun with mini quilt creation. (There are color focused bundles of Painter's Palette Solids in my shop!)
Backing Fabric: Wide back fabric is a luxury when it comes time to finish a quilt. I suggest a 3 yard cut, and you can often purchase this size pre-cut!
Thread: Aurifil is my top pick, and you can find spools or boxes at many local quilt shops. Aurifil now also offers an online shop for select items!
Batting: Having a roll of batting means you have a lot less waste and never having to wait until you have batting in hand to baste a quilt. I suggest asking a local quilt shop if they can do a special order for you!
Quilt Related Books
Quilting Magazines and other Publications
Gift Cards
Local Quilt Shop: Always a solid choice!
Etsy: Buy patterns from independent designers, supplies for an upcoming project, or a unique finished item for their sewing space
Longarm Quilting Services: Find out if your quilter's longarm quilter offers gift cards or certificates!
Sewing/Quilting Machines
Sewing Machine: For a first machine, an older, all metal, pre-owned machine may be the best choice. If you want to go with a new machine, try to buy from a small, local shop instead of a big box store so the recipient can get help from a real human being. Many shops even include an intro class with new machines. For a major machine upgrade, make sure the recipient is involved in selecting a machine that will fit their needs.
Longarm Machine: This is an amazing gift, and one that should definitely involve recipient participation. The feel of a machine is critical, so the new owner needs to be heavily involved with the selection.
Quilting Experiences
Classes: Virtual or in person, local or at an event
Quilting Retreat: Join an existing retreat, go with your guild, or gather a group of friends for a retreat of your own!
Vacation to a Quilt Show: Some options in the US include QuiltCon in Phoenix; American Quilter's Society shows in Daytona Beach, Branson, Paducah, Grand Rapids, or Des Moines; International Quilt Festival in Houston.
Museum Trip: Visit one of the many quilt museums throughout the US, or plan a major car trip to visit a bunch of them!
Quilt Cruise: Choose one with a teacher you have always wanted to work with, or select a destination you find fascinating!