Last summer, on an impulse, I decided I wanted to start quilting again. I had gotten away from quilting when I went off to college, and a trip to a fabric store with a phenomenal selection of quilting cotton re-inspired me. Having seen some lovely quilts with subtle tones, I decided I would give a low volume quilt a try. This quilt is the result.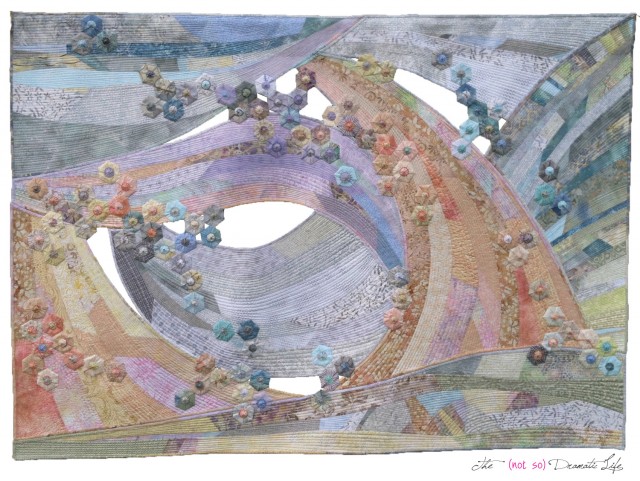 Starting out, I knew that I wanted to do something improvisational, and I wanted to include hexagons. The hexagons were the starting point for this project. Each one was created by cutting a circle of fabric and folding the sides to the center to create the hexagon. In the center of each hexagon I sewed a small fabric yo-yo. Then each piece was embellished with hand embroidery and glass beads.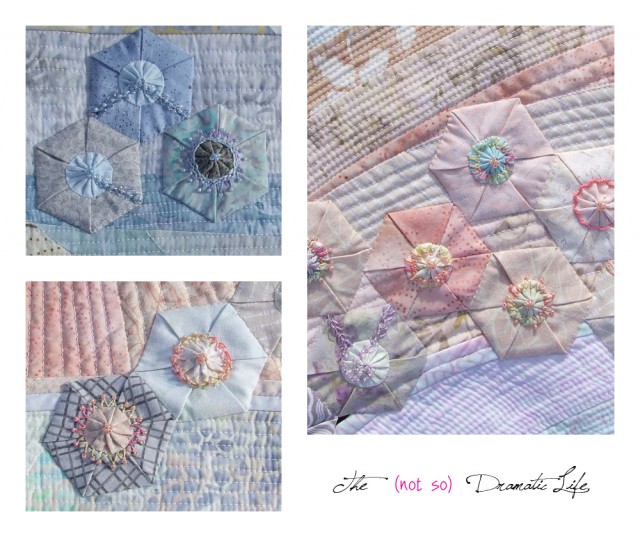 As I worked on these hexagons, which I knew would become appliqués on the quilt, I began thinking of them as flower petals blowing in the wind on a spring day. Now the big question: How do I create a feeling of wind in a quilt? I wanted to develop a sense of sweeping movement and an illusion of individual gusts rolling into one another. After a great deal of sketching and brain storming, I landed on the idea of having individual segments of irregular shapes coming together to form a quilt. I started with the section in the upper left section, and then moved to the piece spanning the bottom of the quilt. At this point, I realized I was going to need to create a more defined plan to develop the rest of the quilt layout. I took a snapshot of what I had completed so far, and printed out several copies on regular printer paper so I could easily draw on top of the image. This composition was ultimately the one I liked the best.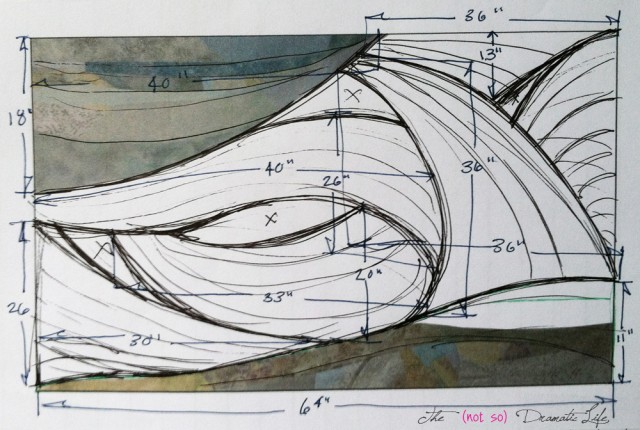 I used a flannel sheet on a wall to do the layout for this quilt, and to transfer the shape of each piece to the design wall I safety pinned 1/4″ wide fabric twill tape to the fabric to create an outline of each major area. Then I began piecing sections one at a time. Each segment is improvisationally pieced, quilted, and bound with bias strips prior to being connected to the adjoining segments. I used a walking foot on my domestic sewing machine to quilt each segment with lines reflecting the piecing of each area of the quilt.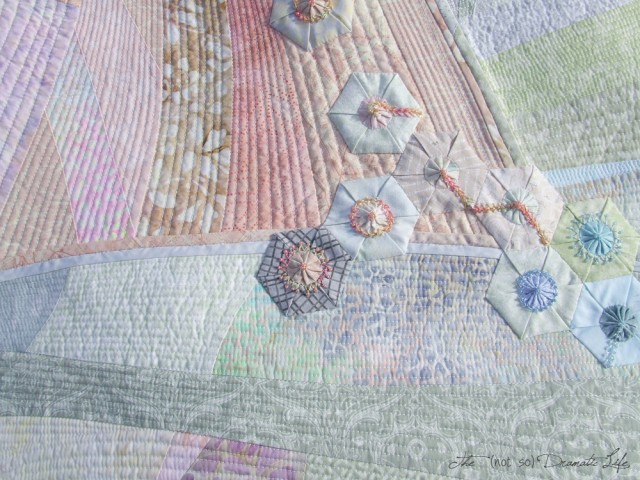 In keeping with the improvisational piecing, I chose to make the binding using a mix of fabrics cut into bias strips. The bias is machine stitched to the front of the quilt and hand slip stitched to the back. I used a very small hand slip stitch to connect the segments to one another.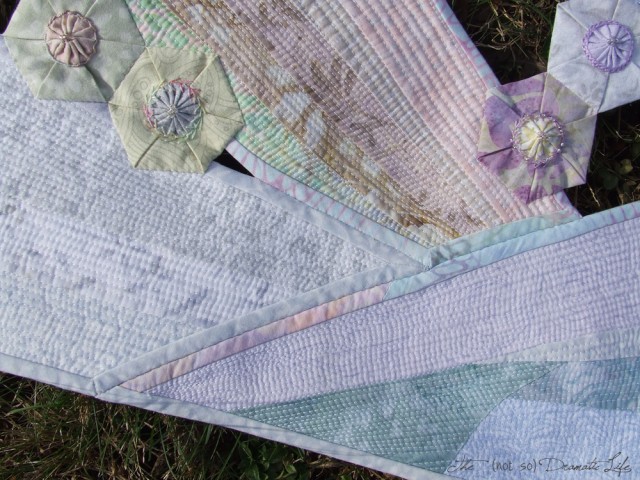 The hexagons were appliquéd onto the quilt following the assembly of the quilted panels. I knew that it was important to me to further a sense of movement with the hexagon placement, so I arranged the pieces to bridge the eight main segments of the quilt.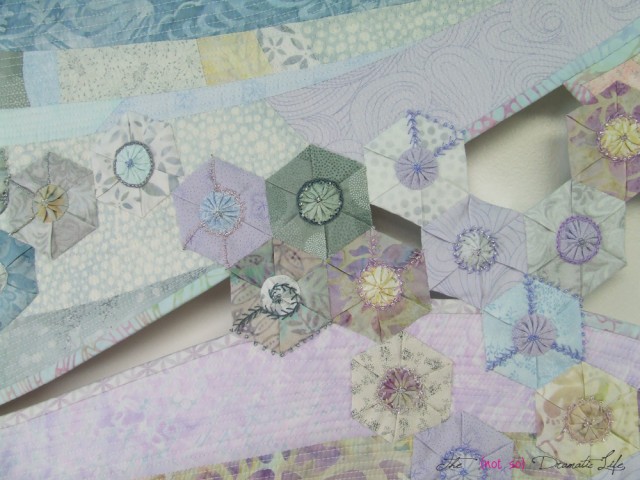 Ultimately, I did veer away from my initial goal of a low volume quilt, but in the process I have achieved a pastel success. Because of this, I have titled this quilt "Low Volume Fail, Pastel Win!"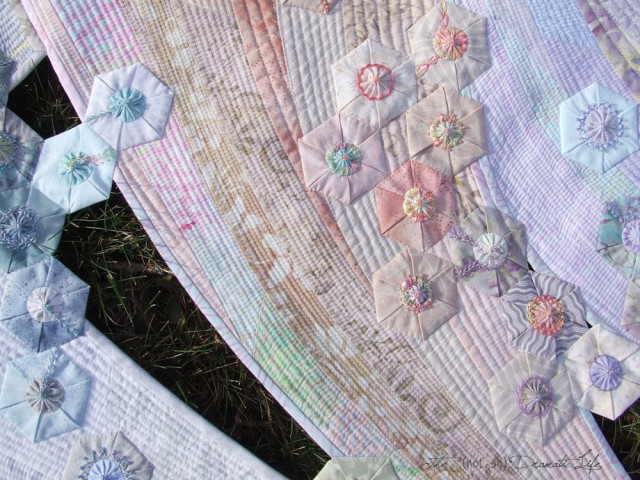 My only big remaining question is which direction the quilt should go. I originally designed this piece to hang horizontally, but once it was finished, I began thinking that a vertical orientation may be more appealing. What do you think? How would you hang this piece?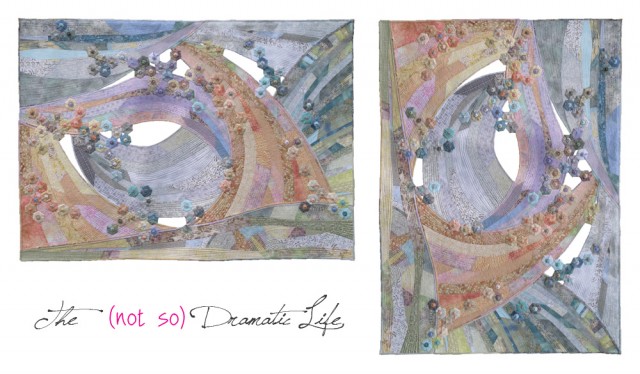 Quilt Stats
Title: Low Volume Fail, Pastel Win
Size: 66″w x 47″h
Techniques: Machine Improvisational Piecing, Hand Appliqué, Hand Embroidery, Glass Bead Details
Quilting: Machine quilted using a walking foot on a Bernina 1008
Fabrics: 100% cotton prints and batiks
Batting: Warm and Natural cotton batting
Thread: Cotton machine quilting thread
Binding: Bias, cut in 2″ strips from fabrics used in the quilt. Machine stitched to the front, and hand stitched to the back
This post is linked to "Let's Bee Social" at Sew Fresh Quilts, Needle and Thread Thursday at My Quilt Infatuation, Whoop Whoop Fridays at Confessions of a Fabric Addict, Finish It Up Friday at Crazy Mom Quilts, and Fresh Sewing Day at Lily's Quilts. Please stop by to see all of the wonderful work shared there!