My second entry to this Spring's Blogger's Quilt Festival is Petals in the Wind (also known as Low Volume Fail, Pastel Win!) This was the very first quilt I shared on this blog, and I am really happy to be able to show it again!
With this quilt, I was interested in creating a sense of movement and explore the use of negative space. In this instance, the idea of negative space has a very literal interpretation. Each area of the quilt was created as a separate segment. When these pieces combine, there are open area designed into the quilt.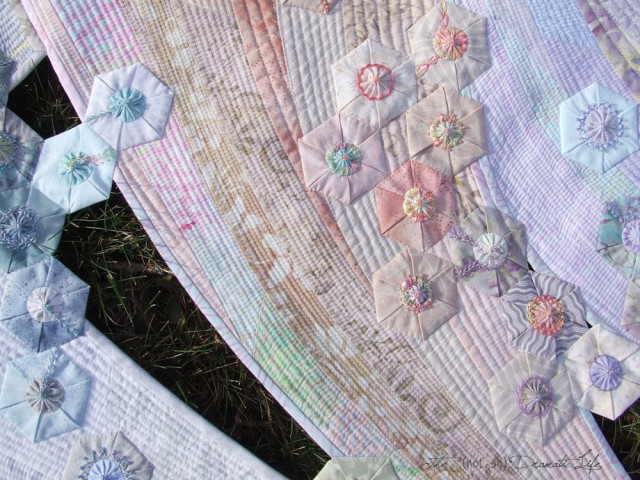 Each section is constructed using curved improvisational piecing, heavily quilted with lines that emphasize the curves of the piecing, and the edges bound prior to joining it with other sections of the quilt. If you are interested in reading more about the design process involved with this quilt, please stop by the original post for Petals in the Wind.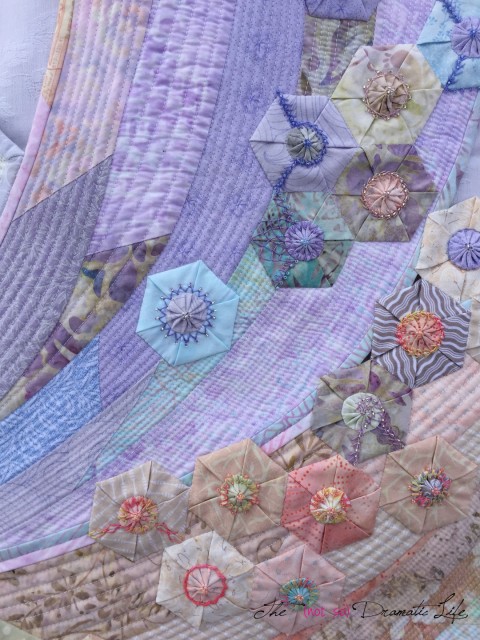 A Spring breeze has many small gusts which join together to gently rustle through young foliage and toss colorful petals through the air. By creating the quilt in sections, I hoped to add to the visual movement of the piece and create a feeling of that Spring breeze. The open spaces represent moments of calm on a windy day.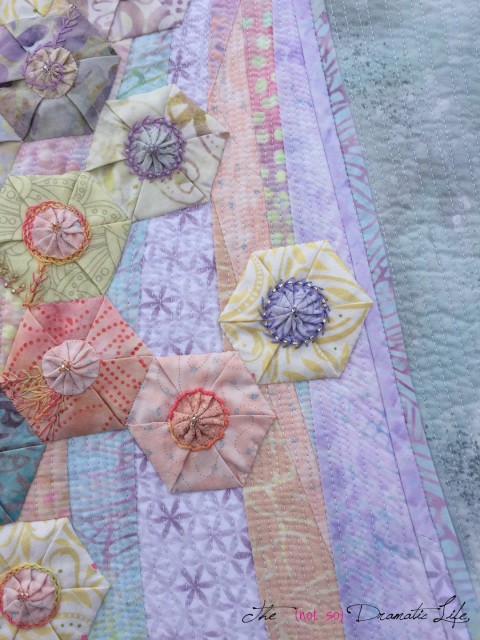 In this quilt, the petals are represented by hexagons appliquéd throughout the quilt and in the spaces between segments. The hexagons are created by folding a circle (I have shown a very similar technique in this post), then embellishing the shape with a fabric yo-yo, cotton and silk threads, and glass beads.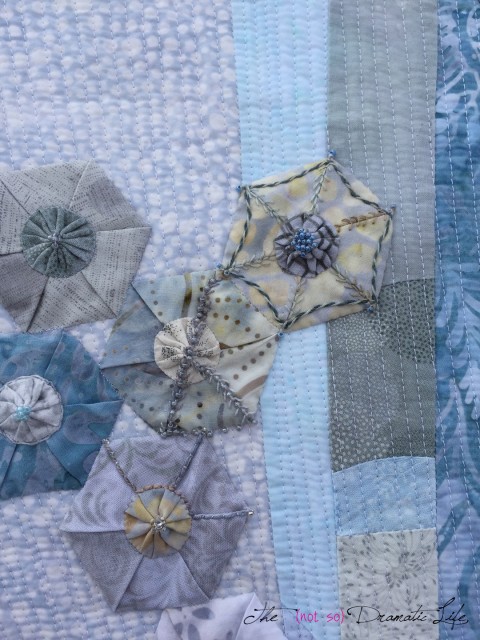 This quilt will be in the Art Quilt Category of the Blogger's Quilt Festival. The Festival is currently open for entries and nominations for viewer's choice. Please stop by to see all of the lovely quilts that have been entered, and come back between May 22-29 to vote for your favorites in every category!
Quilt Stats
Title: Petals in the Wind
Size: 66″w x 47″h
Techniques: Machine Improvisational Piecing, Hand Appliqué, Hand Embroidery, Glass Bead Details
Quilting: Machine quilted using a walking foot on a Bernina 1008
Fabrics: 100% cotton prints and batiks
Batting: Warm and Natural cotton batting
Thread: Cotton machine quilting thread
Binding: Bias, cut in 2″ strips from fabrics used in the quilt. Machine stitched to the front, and hand stitched to the back
What's Next for this Quilt? Look for this quilt at the American Quilter's Society show in Syracuse, NY later this year!