Today, I am so excited to announce the winners of the two Sew Mama Sew Giveaway Day prizes I offered this time around!  The first giveaway was for a PDF pattern of Rainbow Rotary that is for sale on Craftsy.  The second giveaway was for an edge to edge longarm quilting service.  I do have a few openings for edge to edge quilting before Christmas, so please email me if you would like help finishing up those last minute gifts!
Comments were numbered in the order they were submitted, and then the random number generator did the work.
The winner of the PDF Pattern of Rainbow Rotary is Margaret!  I hope that this pattern inspires you to give a mini a try, or I would love to see how you incorporate it into a larger quilt.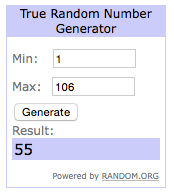 Free edge to edge longarm quilting is headed to Lauren and her mom!  I am looking forward to working on either one of your quilts!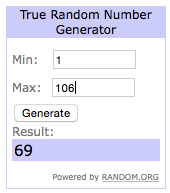 Congratulations ladies!  I have sent you each an email as well.
Thank you all so much for all of your suggestions for tutorials you would like to see in the coming year!  A lot of people are interested in seeing more on various types of machine quilting, so I will plan to incorporate some more posts on that topic in 2016!