As 2015 draws to a close, it is natural to look toward 2016 and to where we would like to be at this time next year. I am looking forward to what the coming year has in store and excited to share my Quilty Goals!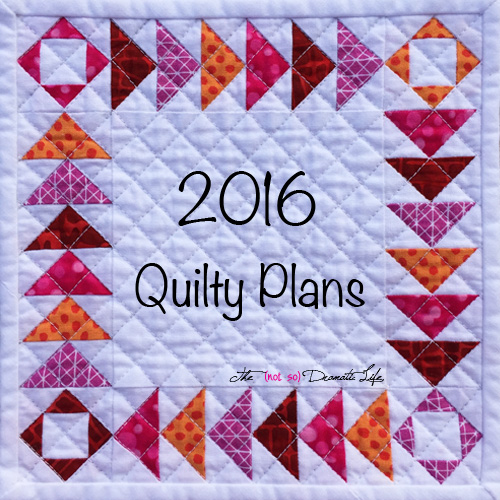 Yvonne at Quilting Jetgirl is hosting a fantastic 2016 Planning Linky Party, and I am excited to share my main goals for the coming year!

1. Write and Publish Quilt Patterns:
In 2015, I made two patterns available on Craftsy: A free block pattern, Summer Starburst, created for the New Bloggers Block Hop, and a pattern for Rainbow Rotary in three different sizes. I have several more quilts designed that I am looking forward to turning into full patterns to sell. I will also be looking into the ins and outs of printing paper patterns.
2. Grow My Longarm Quilting Business:
Quilting for customers is just as much fun as quilting as my own work! I have started taking on customer quilts in the past couple of months, and I am looking forward to growing my customer base both locally and online. Most people have selected edge to edge designs, but I enjoy doing free motion and semi custom work a great deal so I hope to see more of that in the coming year.
3. Teach Quilting Classes:
My first quilting class is scheduled, and I couldn't be more excited to be teaching Carolyn Friedlander's "The Collection Quilt" as a block of the month style class running from January to October of 2016 at Sew to Speak in Columbus, Ohio.
4. Develop an Etsy Store:
I have set up my Etsy store name, but my "store" is in desperate need of attention. I want this to be a place to sell patterns (PDF and eventually paper), mini quilt kits, and some finished goods.
5. Enter and Attend Quilt Shows:
Entries and responses for 2016 shows have already started, and so far I know I will have quilts in two shows. "The Whole is Greater Than the Sum of Its Parts" (full post coming soon) is heading to QuiltCon very soon, and "Petals in the Wind" will be making its way to the American Quilter's Society (AQS) Show in Daytona Beach. I have also made entries in the AQS shows in Lancaster and Paducah, but the jury results haven't been sent out yet. I am thrilled that I will be attending QuiltCon for the first time this year, and in April my Mom and I will be going to the AQS Paducah show. Hopefully I will make it to a couple other shows as well. It is so inspiring to see the amazing work of so many talented quilters!
6. Publish Work in Magazines:
I have had one quilt accepted for publication, so if all goes well we will see it this year. I would like to continue to submit, and maybe see some more of my work in print.
7. Create a Consistent Blogging Schedule:
This has been one of my big challenges this year, and I'm hoping to develop a consistent schedule that works for me in the coming months. As part of this I am going to try to incorporate more process posts of projects rather than doing one major write-up for each big project.