A little to the left. Now a little to the right.
This two-color block flips, merges, and nests together to connect in this take on the traditional block, Left and Right.
Left and Right Block Pattern
The February, we are embracing the theme of connections for Quilt Block Mania 2023.
This foundation paper pieced pattern plays with a light and dark value scheme, but feel free to focus on color more than value or use more than two fabrics.
Color and Fabric
I used Painter's Palette Solids from PBS fabrics to create this block. The Petunia (light pink) is the same pink used in my January Ice Cream Cone Block, and I added Raspberry to hint at the Pantone color of the year. A quarter yard of each fabric will easily make one block, and if you are careful, you may get two blocks from that amount.
Spinning Seams
In this pattern, I suggest spinning your seam allowances at the central point. This technique makes your seam allowances lay super flat. Here is a video on how to do it!
Quilt Block Mania
Quilt Block Mania brings free 12″ quilt blocks to you with a new theme each month. The designers vary each month. This month's designers are:
Heart and Star
Woven Heart by Inquiring Quilter
Puzzle Block by Inflorescnece
Connected Hearts by BoBerry Design Co.
Mardi Gras Geese
Chain Link by Sugar Sand Quilt Co.
Linked by QuiltFabrication
Irish Chain
DNA by Palm Creations
Hello at Patti's Patchwork
Lover's Knot at Lovingly, Lissa
Double Hearts by Appliques Quilts and More
Key to my Heart
Connections by Penny Spool Quilts
WiFi Signal by Crafty Staci
With Love By Sew Cute And Quirky
Text Me!
Braided Love by Kaye Collins
Celtic Tree of Life By Sallys' Sewing Circle
Hearts Together Block by Sew Worthy Mama
Sunshine Village Church by Sarah Marcina
Braille Block
Left and Right Block at The (not so) Dramatic Life
Love Encircled by Jessica of Blue Sky Modern Craft
Celtic Hearts by A Piece of Quiet Quilts
Half Friendship Star with Heart by Blue Bear Quilts

Want more Foundation Paper Piecing?
The Left and Right Block uses "rough cut" shapes to make the foundation paper piecing process easier, and so does Raise the Roof!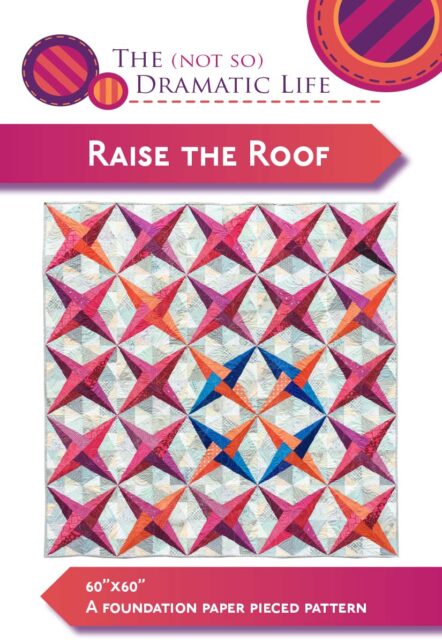 This foundation paper pieced design is inspired by the rafters and oversized ceiling fans in the Horticulture Building at the Ohio State Fair.