Concert (verb) Arrange by mutual coordination
Concert (noun) Public performance typically given by multiple performers
Lissa of Lovingly Lissa and Cassandra of The (not so) Dramatic Life invite you to attend the second annual Quilt Concert!
This year's FREE* quilt along features a shortened timeline that means you will have a completed quilt top by the end of August!
*Patterns are available for free for a limited period of time. More details below.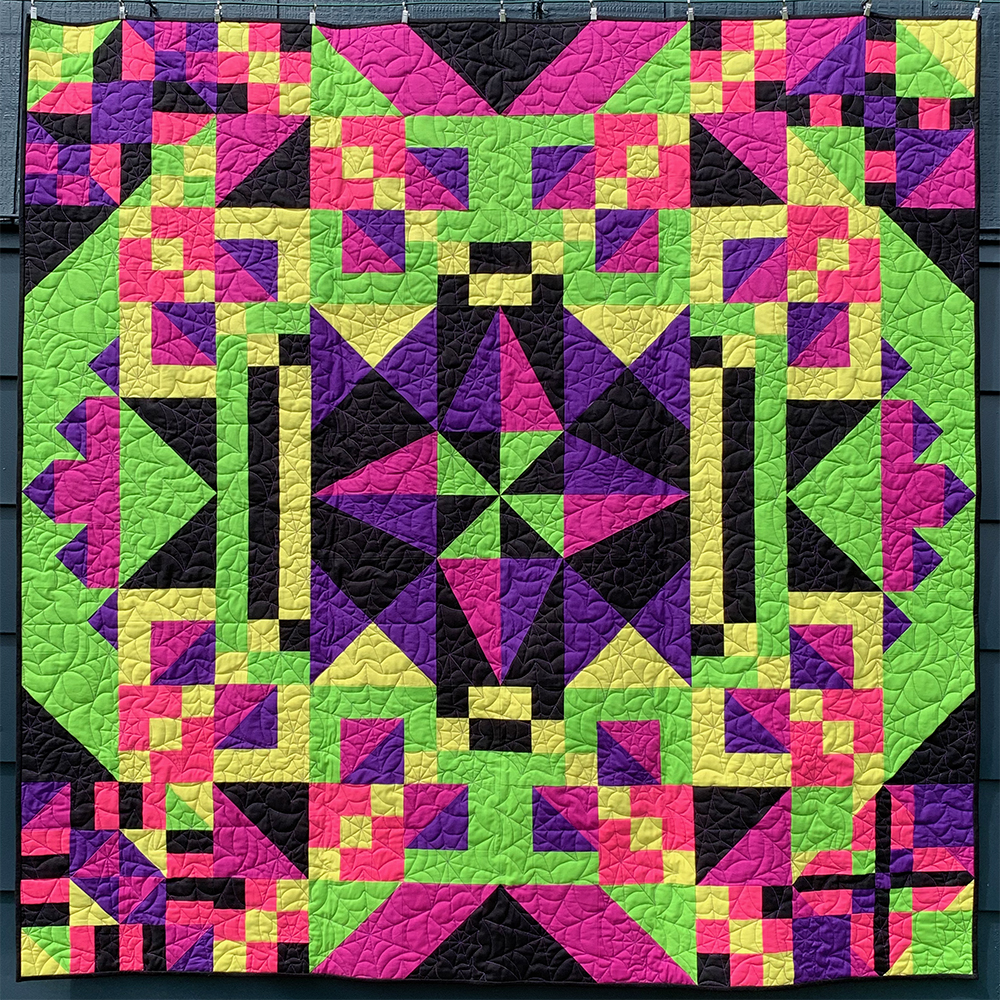 Design
It's a medallion! We loved working with alternative grid work last year, and continued that technique with this year's design. Here are a few key features of this years Quilt Concert:
Includes six traditional blocks
Additional blocks using traditional components tie the design together
Construction uses all straight line seams and traditional machine piecing techniques (no curves, foundation paper piecing, appliqué, etc.)
Visual interest is added through a non-symmetrical design
Finishes at 60″ square for a generously sized lap quilt
How it Works
Each Friday at 12:01am Eastern time, Lissa and I will post a blog that includes the instructions for that week. These instructions will be free for three days, so make sure you download the instructions before the end of the day on Sunday. On Monday morning the free download will be removed.
If you miss a download, the stand alone block will be available for $2 at the link provided on the post for twelve days.
New for 2022! The full pattern will be released for purchase next week on Friday, May 20, 2022! This is great news for those of you who like to work ahead to account for an upcoming vacation or if you like to make a full project all at once.
There are lots of fantastic prizes this year! Each time you finish the goal for the week, post a picture on Instagram using the hashtags for that week, and you will have a chance to win that week's prize. (More on this next week!)
The best way to stay on top of the free pattern downloads is to subscribe to my and/or Lissa's newsletter! Each Friday morning during the quilt along we send out the link you need to get to the free download.
Fabric Requirements
Quilt Concert 2022 features six fabric colors. The color in parenthesis indicates the color that is shown in the diagram.
Fabric A (Purple): 1 yard
Fabric B (Fuchsia): 1 yard
Fabric C (Green): 1-⅜ yards
Fabric D (Yellow): 1-⅛ yards
Fabric E (Pink): ⅔ yard
Fabric F (Black): 1-⅓ yards
This year Lissa and I each made our sample quilts using holiday inspiration. (Thanks to everyone who voted to help us choose the color ways!)
I am thrilled to offer fabric bundles for Lissa's Valentine's Day themed quilt and my Halloween themed quilt. Additionally, the vote was so close (just one vote!) between Halloween and Americana that I have decided to offer the Americana fabric bundle, too!
We love seeing different color schemes, so below is a coloring sheet to help you experiment with color placement.
This quilt could also be fun using scrappy fabrics, just remember that you may end up needing more total yardage than is listed to make sure you have the right sizes to cut all of your pieces.
PJ Jam
Starting June 3rd, Lissa and I will be hosting a weekly Pajama Jam Session on Friday evening from 9:30 to 10:30pm Eastern time. Get in your comfy pj's, grab a snack, and we'll all sew together! To protect everyone's privacy, the Zoom link will only be sent out via our newsletters, so make sure you sign up!
Badge
Spread the word about the Quilt Concert quilt along! Save the image below and post it to Instagram for your first chance to win! Post by May 25, 2022, and you will be entered to win a $25 gift card from Fat Quarter Shop!
Timeline
Starting Now: Purchase and/or pull your fabrics. Sign up for the newsletters put out by Lovingly Lissa and/or The (not so) Dramatic Life to make sure you receive all of the notifications. Post the I'm attending badge for a chance to win the first prize of the quilt along!
May 20: Full Pattern available for purchase
May 25: Last day to post the "I'm Attending" badge for the prize drawing
May 27: Winner of the first quilt along prize is announced!
June 3: Cutting Instructions (Lovingly Lissa)
June 10 Block 1: Nine Patch T (Lovingly Lissa)
June 17 Block 2: Lucky Clover (The Not So Dramatic Life)
June 24 Block 3: Hayes Triangle Corner (Lovingly Lissa)
July 1 Block 4: Hayes 4 Patch Corner (Lovingly Lissa)
July 8 Block 5: Optical Illusion (The Not So Dramatic Life)
July 15 Block 6: Crossroad (Lovingly Lissa)
July 22 Block 7: City Square (The Not So Dramatic Life)
July 29 Block 8: Towers (Lovingly Lissa)
August 5 Block 9: Interconnection (The Not So Dramatic Life)
August 12 Block 10: Flying Geese (Lovingly Lissa)
August 19: Assembly (The Not So Dramatic Life)
August 26: Quilting Suggestions
September 1: Final day to submit a photo of your quilt top to be entered in the grand prize drawing
September 9: Final Round Up and Grand Prize Announcement