The quilt tops for Quilt Concert 2022 are rolling in, and I just love seeing all of your amazing work! If you haven't finished your quilt top, you still have until the end of Thursday, September 1 to post your finished quilt top for a chance to win one of our awesome grand prizes, but more on that later in this post!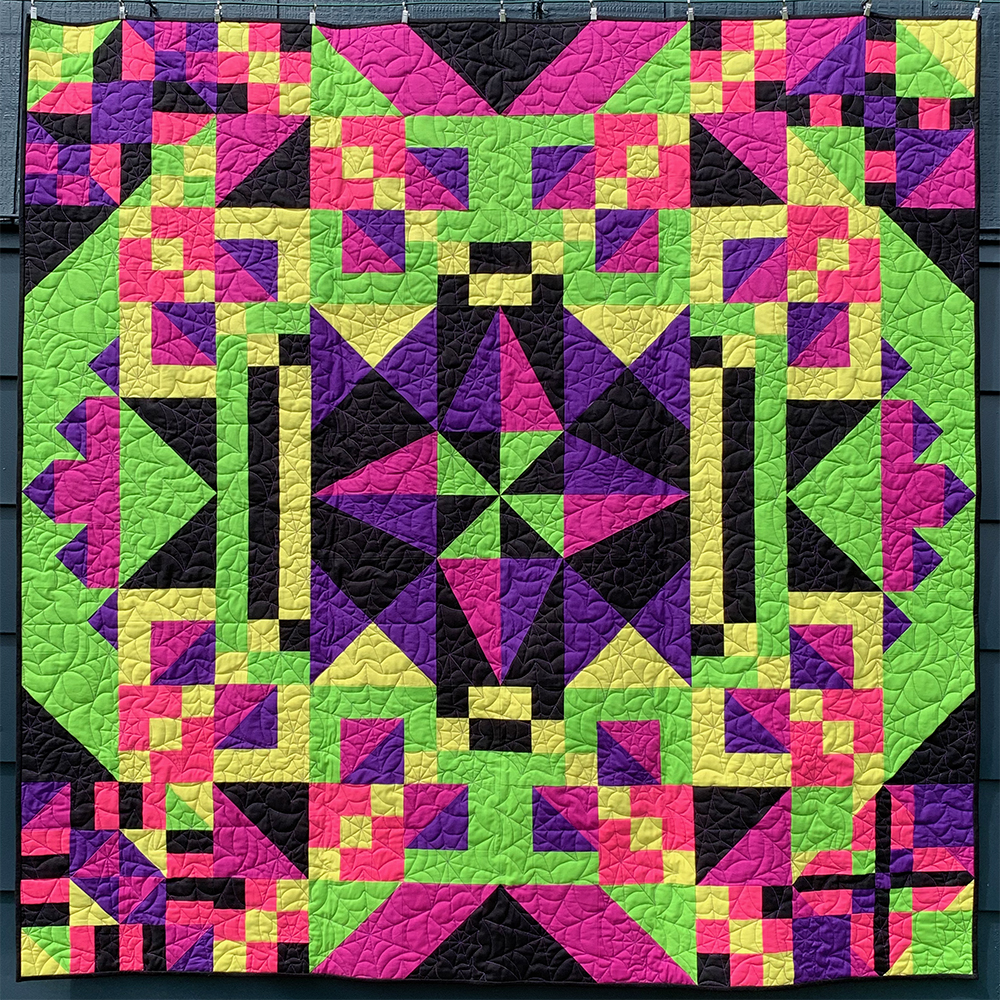 Today we are talking about quilting possibilities, but remember that all you need to enter for the final grand prize is the finished QUILT TOP!
Quilting Options for Quilt Concert: Seasons of Love
Edge to Edge Longarm Quilting
For my version of Seasons of Love, I chose a Halloween inspired color scheme, and selected an all over quilting design to coordinate with that theme.
For longarm edge to edge designs I like a lot of the designs from Urban Elementz. The have a huge range and tend to run smoothly on my machine. For this quilt, I chose Spiderweb which quilted out really well. It is a moderately dense design with a fair amount of back tracking, so it did end up taking more thread than an average edge to edge design. I will definitely use this design again if I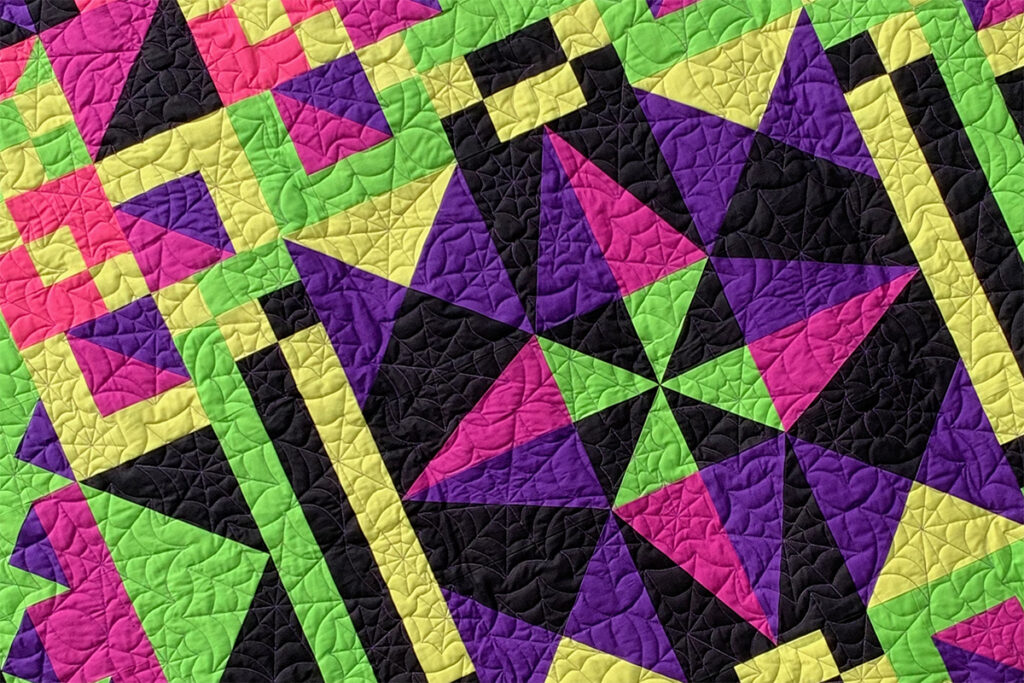 Lissa's Seasons of Love quilt embraced a Valentines color scheme and her quilting design also reflects this theme. She selected the Urban Elementz design, Amulet, for her quilt. This slightly edgy heart works really well with the overall design.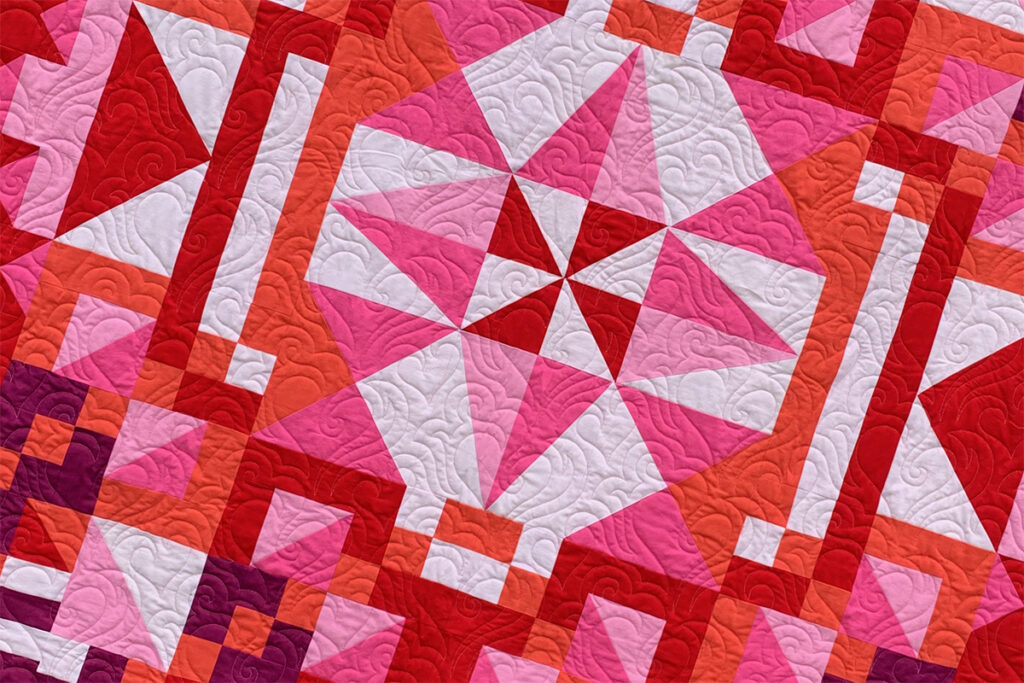 Custom Quilting
I am a big fan of custom quilting and this quilt really lends itself to using quilting designs that accentuate the shapes in the piecing. Custom quilting works great on both domestic and longarm machines. Since this quilt embraces the use of straight lines and angles, I sketched out a possible quilting design using straight lines. This type of design works well if you are wanting to use ruler work or even a walking foot to quilt your project.
Thinking about thread
Your choice in quilting thread can really make your design. The first question to ask yourself is whether you want to use a single thread color throughout the quilt or if you will be switching threads as you quilt. If you have selected an edge to edge design for your quilt, you will need to choose a single thread color. With custom quilting you can also use a single color, but two or more colors may work wonderfully in your overall quilting plan.
When selecting a single thread color for any of your quilts, the first impulse may be to head to what we often consider neutral colors: grey, tan, white, black, et cetera. However, I would encourage you to consider other colors as new "neutrals" for your go-to quilting threads. Some of my favorites include:
Yellow
Bright Pink
Fuchsia
Light Turquoise
When selecting your thread, lay a single strand over an expanse of your quilt so you can see how it interacts with the various fabrics in the design. Sometimes a color can seem overwhelming when you see it on spool, but it blends beautifully when seen as a single thread.
I selected fuchsia to quilt my Halloween themed quilt, and love how the thread balances the elements of blend and pop! Since fuchsia is in the violet/purple range, it tends to work well with a wide range of fabric colors. Violet tones are frequently found in shadows, and since quilting stitches recede into fabric and batting, they are a naturally occurring area of shadow. This makes violet and purple threads a good option for many quilts.
The Grand Prizes!
We are offering three grand prizes this year!
The Worldwide Prize
Any participant, anywhere in the world has a chance to win this prize sponsored by Aurifil and Make Modern Magazine!
Aurifil is sending the winner of this prize a Necessities box of 50 weight thread which includes four large spools of thread in neutral colors- all of which are perfect for piecing and quilting!
Make Modern is also providing a six month subscription to their digital magazine for our lucky worldwide winner!
The US and Canada Prize
Residents of the US and Canada are eligible to receive this awesome prize sponsored by Oliso and Sew Fine Thread Gloss!
Oliso is sending the winner of this prize one of their awesome new ProPlus SmartIrons. I am in love with this iron, and I think you will love it as much as I do!
I use Sew Fine Thread Gloss nearly every day, and they are sending the winner of the US/Canada prize a pack of three thread glosses!
The US prize
Hancock's of Paducah and Hobbs Batting are sponsoring our final prize of the year which will go to a lucky participant in the United States.
Hancock's of Paducah is giving a $50 gift card to the lucky winner of the US prize! With so much wonderful fabric in stock, I'm sure our winner will have a blast shopping for their next project!
You have one more chance to win some batting this year! Hobbs Bonded Fibers has been super generous with their sponsorship this year, and we are excited to include a queen sized package of Hobbs Heirloom Premium 80/20 Cotton/Poly batting with the US grand prize.
How to Win!
Use the primary and weekly hashtags: #quiltconcert2022 and #quiltconcert2022week12 (This
Tell us in your post if you are a US or international resident. One grand prize is available to participants anywhere in the world. A second grand prize is available to participants in the US or Canada. The final grand prize is for participants in the United States.
Post a photo of your quilt top using a public Instagram account by 11:59 Eastern on Thursday, September 1, 2022 (if you don't want to make your primary account public, you can always create a second, public account to use for this quilt along and other projects like this)
Winners will be selected by random drawing and will be contacted via Instagram direct message by Saturday, September 3, 2022. The winners must claim their prize by responding to the message with their mailing address by 11:59pm on Tuesday September 6, 2022. If any prizes are not claimed at that time, we will select an alternate winner.
Week 11 Winner!
The winner of the Mini Project Iron from Oliso is @geniemojo! Congratulations Genny, and a huge thank you to Oliso for sponsoring this week's fantastic prize!
For more information about Quilt Concert 2022, check out the following posts: