2016 flew by and now that we are just hours away from starting 2017, I thought I would share some of my Quilt-y goals for the coming year as well as some 2016 highlights.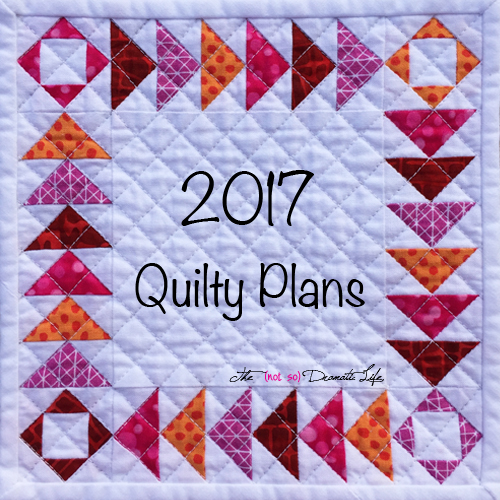 Yvonne of Quilting Jet Girl is once again hosting a link up for a 2017 Planning Party, and this post is linked there.
Most of my goals are for 2017 are building on the goals I set for 2016, so I thought I would share a few highlights from the past year as well as some future plans.
1. Write and Publish Quilt Patterns:
In 2016 I added several free original patterns to my Craftsy Pattern Shop, including Sand Dollar Star, a Filmstrip Block, and Berry Patch Plaid. Also added this year were instructions for traditional Hourglass and Ohio Star blocks. Also this year I designed the Row by Row design for Dabble and Stitch, one of my local quilt shops. This pattern is now available for sale both individually and as a kit. It will soon be added to my Craftsy shop as well.
I am thrilled to be working on an original set of patterns that will be a Block of the Month for Dabble and Stitch! These blocks are based on areas of Columbus, Ohio, but will (hopefully) be appealing for everyone. I am nearly ready to release full paid patterns for an arrow baby quilt (which I designed for my new great-nephew) and a star quilt.
2. Submit Work to Magazines:
This goes right along with goal #1. This year I had a quilt in the project section of Generation Q magazine, a pair of Christmas Stockings were in Modern Patchwork Gift, and a block appeared in 100 Blocks. I also had a quilt included in an article appearing in Simply Moderne as well as a few quilts that appeared as contest winners in several issues of American Quilter.
2017 is already looking promising on this front. One quilt is scheduled to appear in a magazine coming out next month, and I long arm quilted a beautiful quilt design that will be in another magazine around the same time.
3. Enter and Attend Quilt Shows:
2016 was a fantastic year for this! I was lucky enough to have quilts in QuiltCon, MQX, and six American Quilter's Society Shows. I even managed to receive two first places, one third, an honorable mention, and a faculty award! I was also able to attend QuiltCon and the AQS shows in Paducah and Syracuse. I also had some success in entering challenges this year. My Modern Quilt Guild/Riley Blake Challenge entry received second place, and my entry in the Hoffman Challenge received the "Best use of Aurifil" award. My Riley Blake quilt was also included at the Modern Quilt Guild Showcase at the International Quilt Festival in Houston.
The shows for 2017 could end up being a lot of fun. I have three quilts going to QuiltCon and two have been accepted to the first AQS show of the year. Last year's QuiltCon was fantastic, and I am excited to be going again this year. I am also planning to attend both the Spring and Fall AQS Paducah shows. The Fall show is going to have a different format for its categories and judging, so it will be exciting to be a part of it!
4. Teach Quilting Classes and Do Trunk Shows:
I have had so much fun teaching this year at Sew to Speak! I taught a Block of the Month of the Collection Quilt by Carolyn Friedlander, a clamshell quilt class, a Christmas Stocking class, and a walking foot quilting class. I also taught my Row by Row pattern at Dabble and Stitch.
My teaching schedule at both shops is increasing in the coming year. At Sew to Speak I will be teaching The Collection Quilt again this year, as well as a couple sessions of straight line quilting, a bias binding workshop, and a clamshell technique class. Each month at Dabble and Stitch, I will teach the Block of the Month.
In 2016 I did a couple of trunk shows at local shops, and thoroughly enjoyed doing a presentation to a local guild. It is so much fun to meet other quilters and talk about my work and process! I have two guild presentations scheduled so far for 2017, and would love to do more!
5. Grow my Longarm Business:
I love to quilt for customers! My edge to edge quilting business has grown this year, and I have had some custom work (which is my favorite!). I hope to have even more work in the coming year! As part of this, I will be developing this section of my website.
6. Blog Consistently:
This was one of my goals that was definitely not met in 2016. Instagram has totally lured me in with it's quick and easy posts. I do want to post to the blog more often because I love talking about my design process, and a single photo with a caption doesn't always cover it.
7. Work with my Guilds and Groups
I participate in two local guilds and one smaller group, and love them! In 2017 I am the Charity Officer for the Central Ohio MQG. We are only a year old, so we have lots of potential to grow. Last year we did quite a bit of charity sewing, and I am hoping to add a teaching component to our charity work in the coming year.
Last year I also had planned to develop my Etsy site, and while I would still like to work on it, at this time I don't think it is a major priority. I would like to have it as another venue for the purchase of patterns and the occasional handcrafted item, but I'm not sure if it will ever be a significant source of income. What do you think? Do you tend to but (or sell) patterns on Etsy? Do you prefer it to Craftsy?
I hope everyone has a wonderful and inspiring 2017!