Quilt Concert 2022 Presents….
Our Sponsors!!!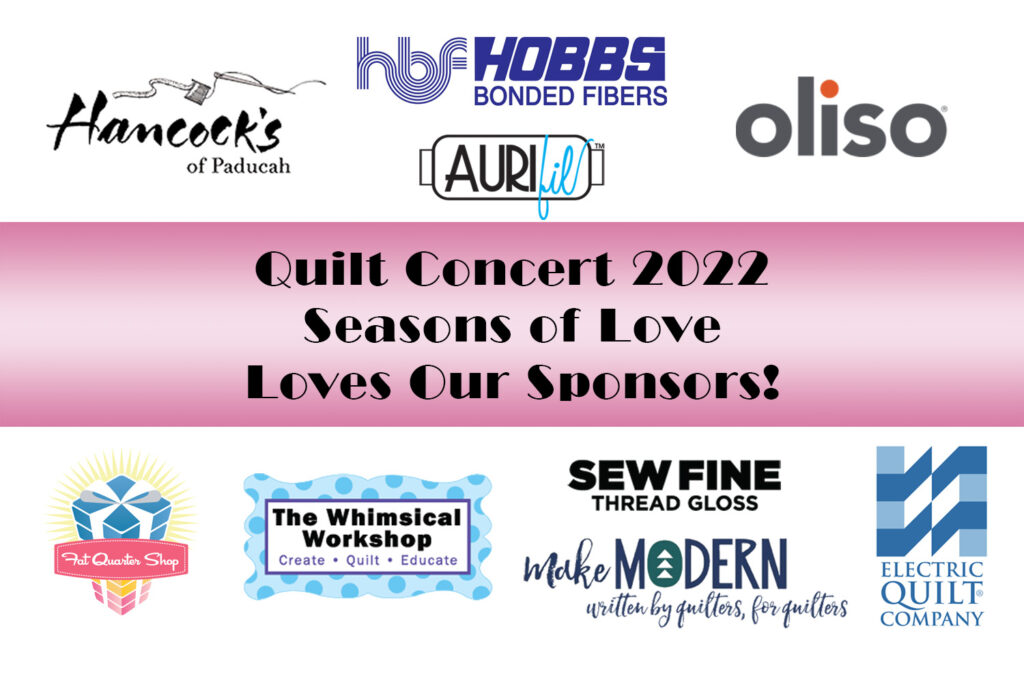 You know what Lissa and I love most about the Quilting Community? The love and support we receive from others.
It has blown us away this year and last year. We are so appreciative and thankful for the support of the sponsors for the Quilt Concert Series.
We are proud to introduce to you our Quilt Concert Sponsors…
Hobbs has manufactured high-quality quilt batting (wadding) for hobbyist, commercial, art and show quilters since 1978.
Established in 1969, Hancock's of Paducah holds three generations of fabric knowledge service and selection. Their vision is to promote artistic creativity through textiles.
Surprise, Delight and Simplify your life. Ergonomic productions designed to make your creative life more enjoyable.
Aurifil is an accomplished Italian company based in Milan, specializing in the production of 100% Cotton threads from the Mako region of Egypt. The threads have achieved worldwide success thanks to a dedicated collective of quilters, sewists, embroiderers, and textile artists who herald the thread for its versatility, its strength, and the fact that it produces virtually no lint.
The Electric Quilt Company's mission is to provide quilters with the best software and support for turning their quilt design ideas into reality. In addition to its flagship quilt design software and add-ons, the company also offers companion books, printable fabric, and software education for quilters around the world.
​Make Modern is Australia's only dedicated modern quilt magazine. It began in 2014 when a group of passionate quilters had a dream of producing a magazine for quilters, by quilters, filled with beautiful patterns and articles to inspire quilters like us to make more modern quilts!
Sew Fine Thread Gloss is a beeswax based scented (and unscented) thread conditioner to help tame your unruly threads and make your hand-sewing a more enjoyable experience.
The Whimsical Workshop, LLC is a full-service design studio and retailer led by Heidi and Matthew Pridemore. We specialize in bright, fun quilt patterns, fabric, fabric kits, books and licensing. We also offer lectures and workshops about design, quilting and crafting.
The Fat Quarter Shop was founded in 2003 by Kimberly Jolly. An avid quilter, Kimberly began her shop as a side business while still working a corporate position, cutting, packing and shipping right out of her house during evenings and weekends. From the very beginning, she was committed to delivering top-notch service for every single order and customer.
We have a Winner!
Congratulations to Leayne of @akai_nami_studio on winning the first prize of the quilt along, a $25 Gift Card to Fat Quarter Shop! Thank you to Fat Quarter Shop for providing this wonderful prize!
We are excited about this year's line up, are you?
Every one of these companies has provided a weekly prize for our Concert this year, and we've also put together a Grand Prize package at the end.
Each week, Lissa and I will highlight one of the sponsors and let you know what the prize is. To have a chance to win, you will need to post a photo of that week's block by a certain date, follow Lissa, me and that week's sponsor on Instagram, and use the hashtag #quiltconcert2022weekNUMBER (replace NUMBER with the digit number of the week) Full details will be in each week's post.
Now, how can you contribute to this community? It's easy. Just head to each sponsor page, take a look around, follow them on Instagram. If you are so inclined, support them with a purchase.
Show them your appreciation too! Without them, our Quilt Along wouldn't be as much fun.
For more information about Quilt Concert 2022, check out the following posts: