The Ohio History Connection is situated between the Ohio State Fairgrounds and a heavily trafficked section of interstate. This positioning has made the building a significant landmark in the city of Columbus.

The main building appears to rise up from the surrounding landscape and forms a wonderfully symmetrical building with a strong visual perspective.

I have been having fun selecting a few specialty fabrics for some of the buildings, and the banner on the history center was a perfect opportunity for some fussy cutting. The banner on the building has an image of a mastodon skeleton, but mastodon fabric is really hard to come by, so we took some artistic liberty and substituted some really cute dinosaur fabric instead. At least they are both (unfortunately) extinct!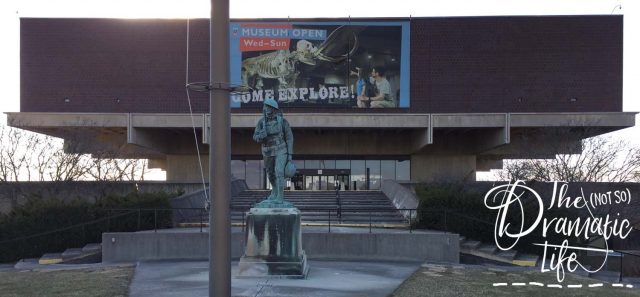 This pattern is available from Dabble and Stitch in Columbus, Ohio. If you have already purchased the pattern, you can access the extra templates here. You will need the password included in the pattern instructions to access this page.
I will be doing a demonstration of a portion of this block at Dabble and Stitch tomorrow, Sunday, September 2 at 1pm!