June is the second month of the Block of the Month Quilt I have been designing for Dabble and Stitch in Columbus, Ohio. This year we are creating representational blocks of city landmarks, and this month's block is the Art Museum.

The Columbus Museum of Art recently opened a new addition which houses galleries of contemporary art and traveling exhibitions. I enjoy seeing how designers incorporate contemporary architecture with historic buildings. In this case, a glass enclosed hall joins the two sections of the building, giving a slight visual break between old and new.
This is one of the longest buildings included in this quilt, and I couldn't get far enough away from the museum to take a single photo of the facade. This image is a composite of two photos that I used to draft the block.

I drafted each block in AutoCAD Light, and I start by tracing over the reference image. The most challenging part of the process is determining which architectural details are critical to the story of the building, and which details can be omitted. When drafting in AutoCAD, you can zoom in to draft details that are too tiny to measure. For foundation paper pieced blocks, I don't want any pieces narrower than 1/8 inch.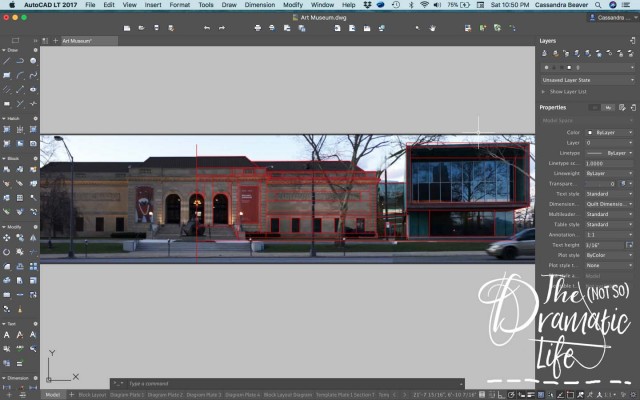 Finishing at 14″x52″, this is one of the largest blocks in the quilt. The background for the quilt is a Grunge print, and the buildings are all solids. The only exception to the solids rule are for banners that adorn many of the buildings in town. The art museum typically has two banners on either side of the central archways. For the specialty prints, I selected a floral to represent the historic wing of the museum, and a geometric print to represent the contemporary wing.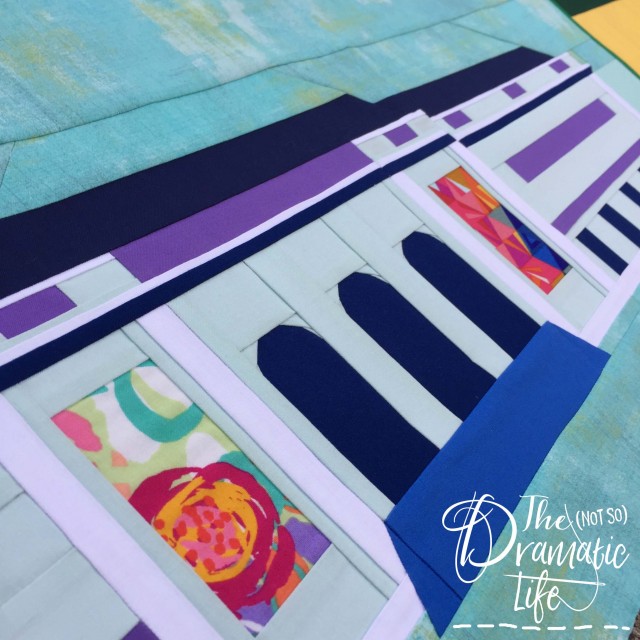 The entire quilt includes twelve major landmarks and two street signs. It is constructed using mostly foundation paper piecing and traditional piecing. You can still sign up with Dabble and Stitch if you would like to join in the fun! As an added bonus, I demo a portion of the current block one Sunday afternoon each month. This month the demo will be June 3 at 1pm.