A few weeks ago, I came across a call for entries for the Modern Mini Quilt Challenge hosted by Quilt Expo. It has been awhile since I have done a mini quilt, and I was feeling the need for a relatively quick finish, so I jumped in. One of my friends has been giving me a hard time about my extreme dislike of brown fabric, so I decided this would be a good challenge to incorporate my least favorite color.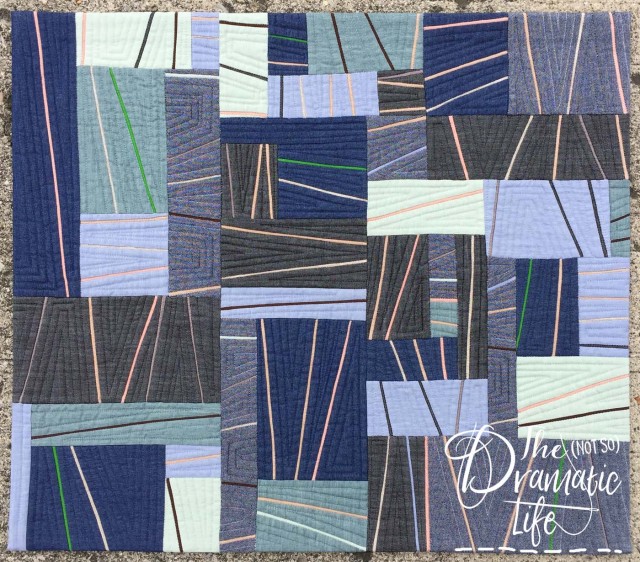 My initial fabric pull centered around a stack of quilter's denim made by Art Gallery Fabrics. I had received the fat quarter bundle during QuiltCon 2017, and I had been waiting for the perfect project to come up. I love the utilitarian texture the fabric has and the value shifts between fabrics were seamless. I did add a few other fabrics in to serve as accent pieces. These included a bright green solid, metallic linen, and a silk/cotton blend.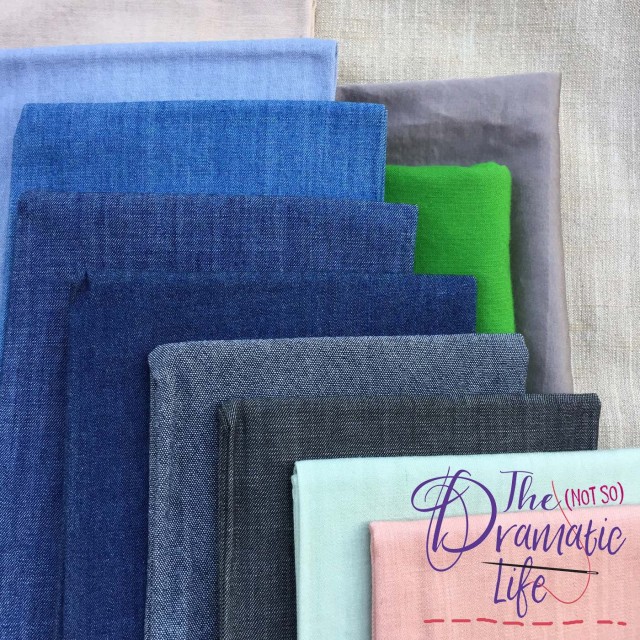 I started the quilt by constructing small blocks in a variety of sizes using background fabrics in a range of colors and values. The slivers of accent fabrics finish at 1/8″ wide. I used a ruler to cut the slits in straight lines, but only actually measured to square up each block after the slivers were added.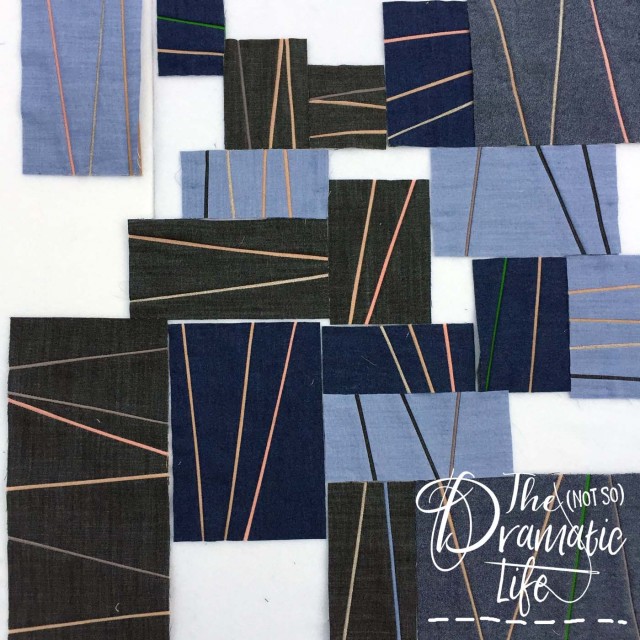 At this point, my friend saw the progress and informed me that tan is most definitely NOT Brown, even though I still insist that it is ;). In keeping with the challenge, I went out and purchased a small cut of chocolate brown Kona. There wasn't a speck of true brown in any of my stash!
After constructing a few more blocks, I started putting everything together. I think this is the most challenging part of the process, but this top came together, and only required a couple partial seams.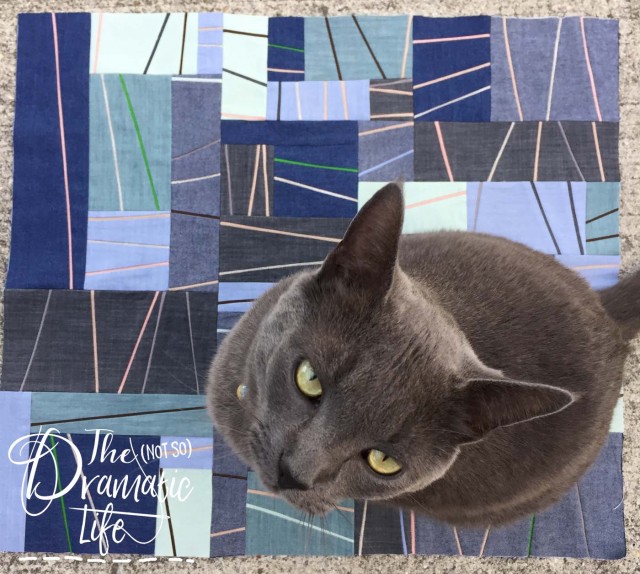 Monty is my cat that demands likes to be held constantly. I was taking photos right after he had woken up from his first afternoon nap, and he really wanted my attention! If you manage to look past the cat, you can see the back of the quilt top. I made sure to press all of the sliver seam allowances toward the background to make the slivers recede a bit.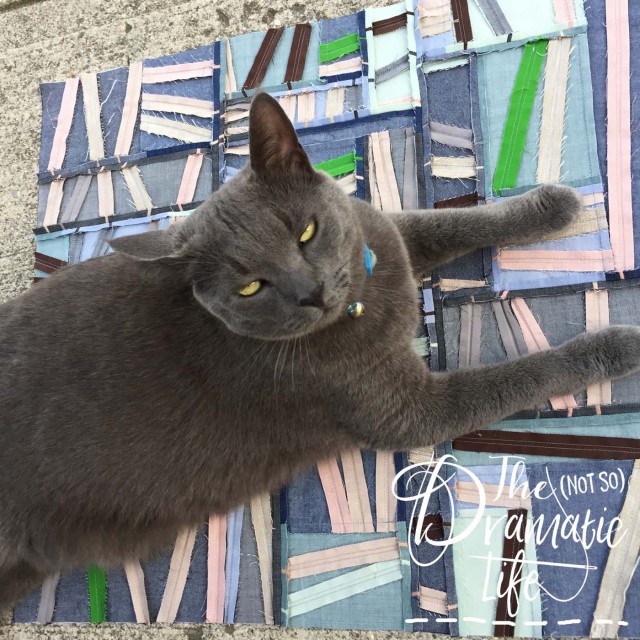 This is a small quilt so I quickly pin basted it and selected six colors of Aurifil to match the background fabrics.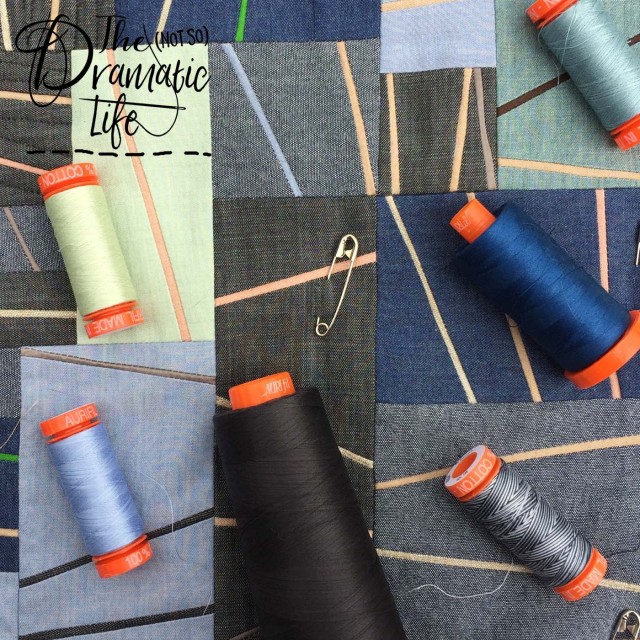 I wanted to accentuate the angles that are incorporated into the design, so I used echo quilting to highlight the design of each block.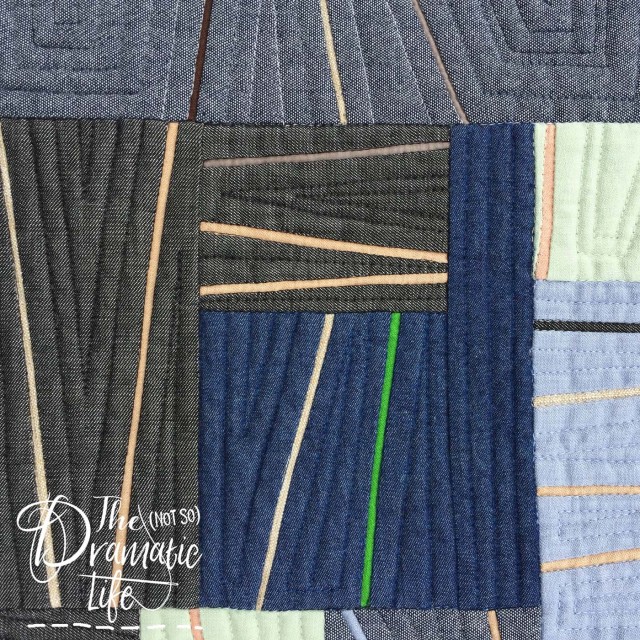 The back is the same bright green accent color used on the front of the quilt. I like how the different thread colors add value shifts to the back of the quilt. I didn't want to frame the quilt in with a binding, so the edges are finished with facings to match the backing fabric.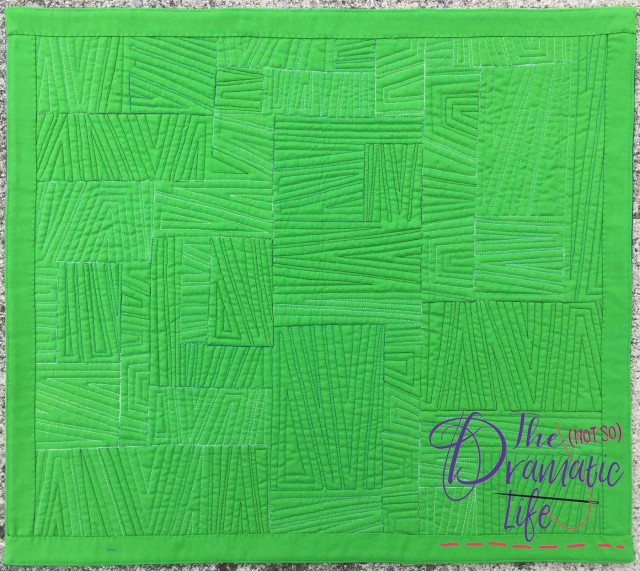 I am so glad that I made this quilt, and even I think the brown actually works in it!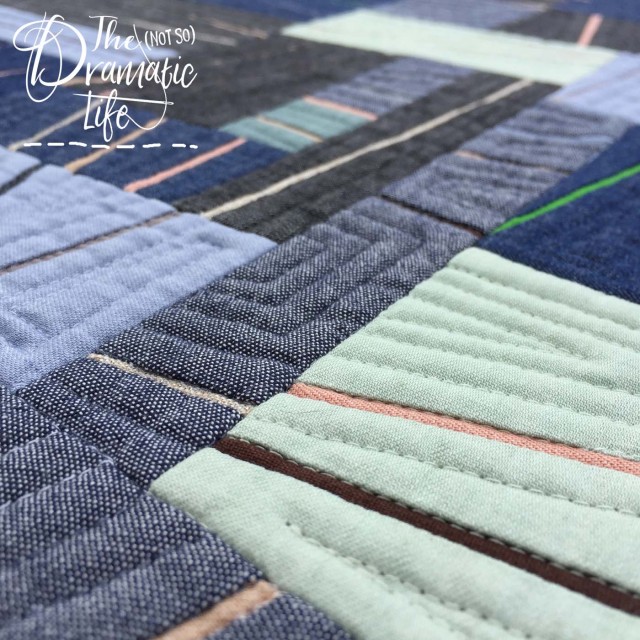 Quilt Stats
Title: Synthesized Slivers
Size: 22″ x 19″
Techniques: Machine Piecing, Improvisational Piecing
Quilting: Echo quilting using a walking foot on a Bernina 1008 domestic
Fabric: Art Gallery Quilter's Denim, Kona Cotton, Metallic Blend, Silk/Cotton Blend
Batting: Hobbs Tuscany Wool
Thread: Quilted with 50wt cotton Aurifil in six colors
Binding: Faced with Kona Cotton matching the quilt backing