This mini quilt is one of the most fun I have ever done! May Flower is my first attempt at a quilt which is pieced entirely using bias improvisation. The light teal center of each petal was cut free hand with the intention that they would each be different. Then strips of bias were added around the shape until it became large enough to cut a 45 degree wedge from each segment. When assembled, this also created my first quilt that finishes as an octagon.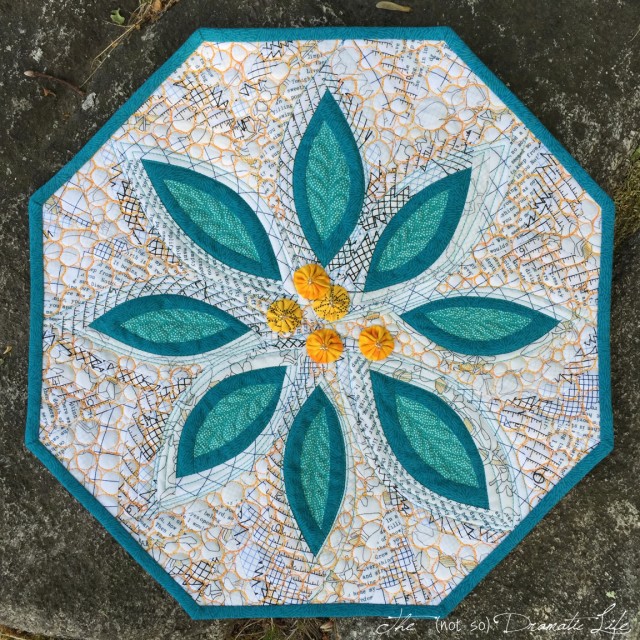 For the quilting of this piece, I used a walking foot to echo quilt each petal in teal Wonderfil thread. Then I free motion quilted the center of each petal with a feather motif, and switched to a variegated thread for the pebble quilting surrounding the design.
For the center of the flower I made yellow and yellow-orange yo-yos with glass beads in the center to catch the light. Since the petals of the flower are placed in a somewhat random manner, I also placed the center pieces randomly.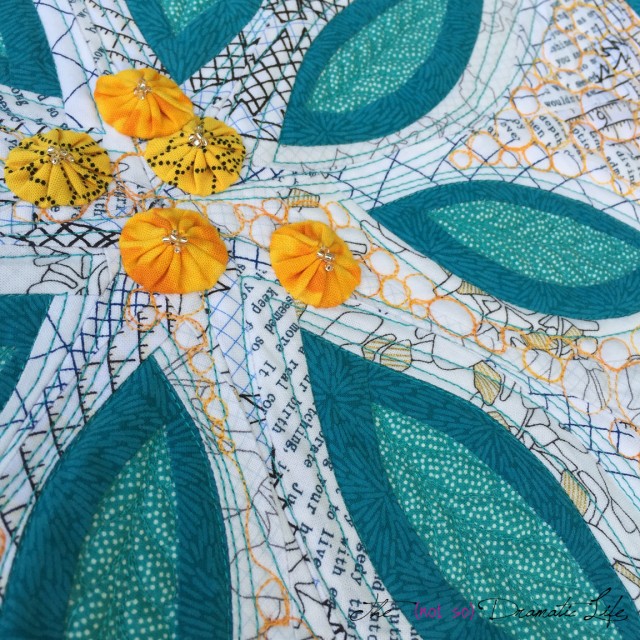 I had not yet attempted binding corners that are not 90 degree angles, so this was a first. I was pleasantly surprised that it was not as difficult to do as I feared. As I approached each corner, I would check that if I were to pivot at that point the edge of my piecing foot would line up properly with the next edge. If it did, I would lock in the stitching and turn the bias just like I would on a corner with a right angle.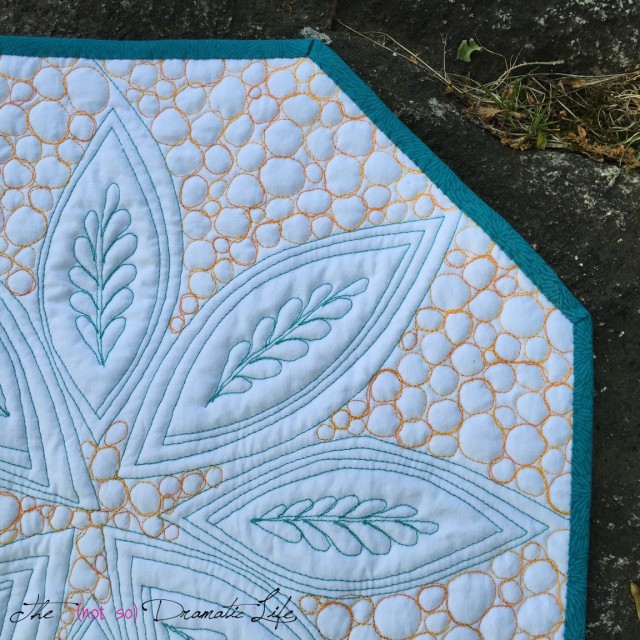 Quilt Stats
Title: May Flower
Size: 15″x15″
Techniques: Bias Improvisational Piecing, fabric yo-yos with beading
Quilting: Echo quilting using a walking foot on a Bernina 1008, Free motion quilting feathers and pebbles.
Fabric: Assorted cotton low volume, teal and yellow prints
Batting: Warm and White cotton batting
Thread: Wonderfil 50wt cotton quilting thread in teal and variegated yellow-orange
Binding: Teal cotton matching the exterior petal color, cut on the bias in 2″ wide strips, machine stitched to the front of the quilt, hand stitched to the back
What was new?
Octagonal quilt shape
An entire quilt using bias improvisational piecing
I am linking this post up with Mini Quilt Monday at Modern Cozy and Sew Cute Tuesday at Blossom Heart Quilts. Please stop in to see all of the wonderful quilts being made!