One of the remarkable things that happens when we quilt is that we start to see quilt patterns everywhere we go and in everything we see. I had been thinking about making a quilt based on op-art for many years- ever since high school when I made a pen and ink op-art painting in art class. It is fascinating to me that alternating different size and color rectangles can trick the eye into seeing dimension in a 2-D object.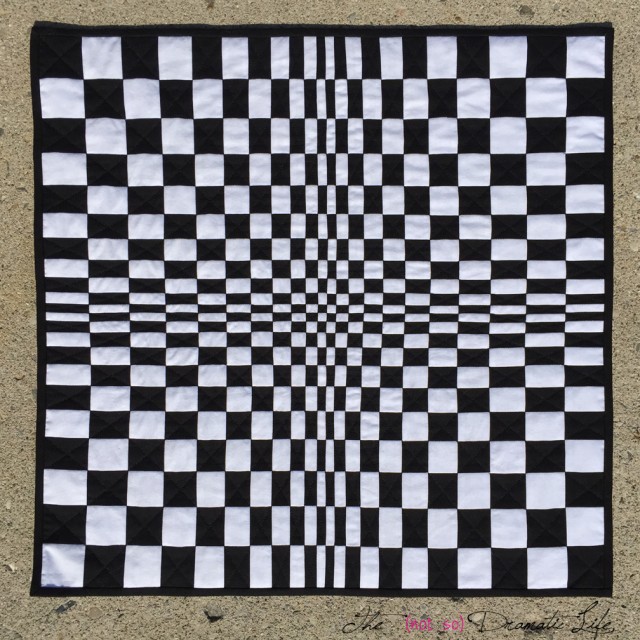 The largest segment of this quilt finishes at 1-1/2″ x 1-1/2″ and the smallest is 1/4″ x 1/4″. I started this quilt top by strip piecing alternating rows of black and white fabric. Each strip of fabric became more narrow as I worked toward the center of the quilt and then grew progressively larger again. Since this quilt is symmetrical I was able to cut the strip pieced segment into perpendicular strips in the same manner as the initial strip piecing. I then flipped every other row over so the bottom square became the top. This created the grid pattern.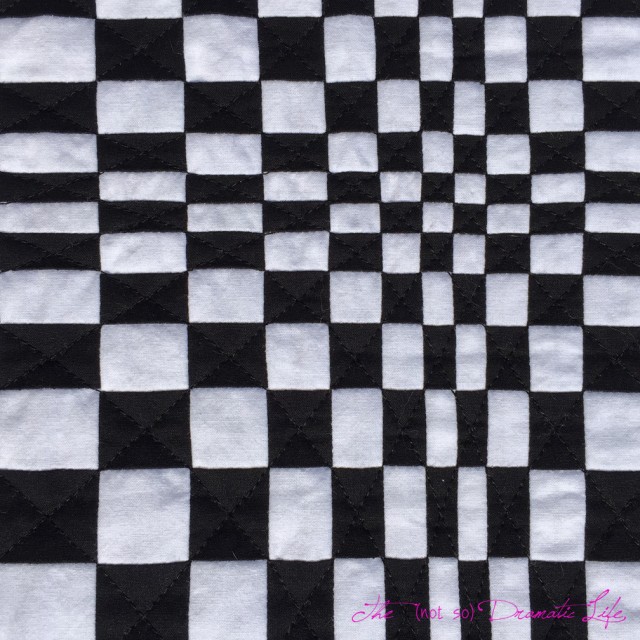 Quilting lines move diagonally in both directions across each black square in the quilt. This creates a subtle design that does not distract from the main optical illusion. The backing and binding is the same black fabric that appears in the front grid.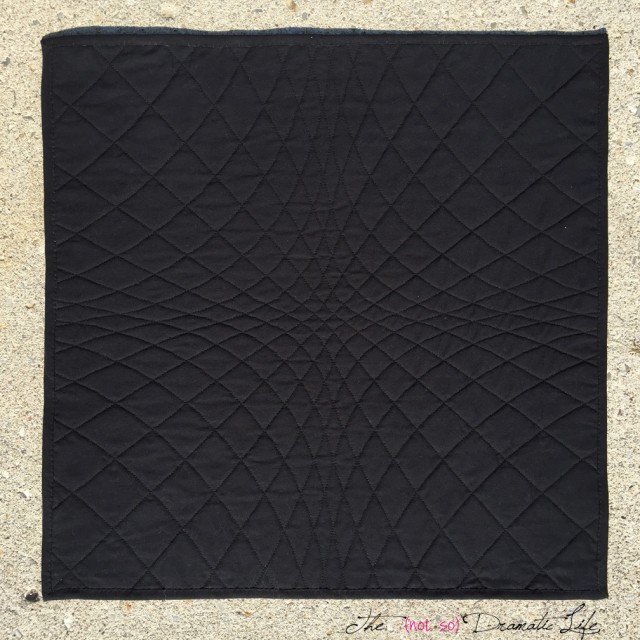 Quilt Stats:
Title: Op-Art Grid
Size: 20″ x 20″
Techniques: Machine piecing
Quilting: Linear quilting running diagonally across each black rectangle using a walking foot on a Bernina 1008
Fabric: American Brand Solids in black and white
Batting: Warm and White ( In retrospect, I think I should have used a black batting (even though there are white segments on the front) because the white batting seems to be bearding through the fabric a bit.)
Thread: Pieced using polyester 100wt InvisaFil by WonderFil in light grey and quilted with black 50wt cotton quilting thread
Binding: Coordinating black binding, cut on the bias in 2″ widths, machine stitched on the front, hand stitched to the back
What was new?
Creating an optical illusion in quilt form
This week I'm linking up with Finish it Up Friday at Crazy Mom Quilts, Show Off Saturday at Sew Can She, Pet Project Show at Pink Doxies, Sew Cute Tuesday at Blossom Heart Quilts, Let's Bee Social at Sew Fresh Quilts, and Whoop Whoop Friday at Confessions of a Fabric Addict. Please stop by to see all of the awesome work being created!