I recently got up the nerve to go to a local quilt guild meeting (a goal for this year!) Everyone there was lovely and shared such amazing work. I am really looking forward to becoming involved with a group of such creative and inspiring people. This group encourages name tags, so this week's mini is going to serve that purpose.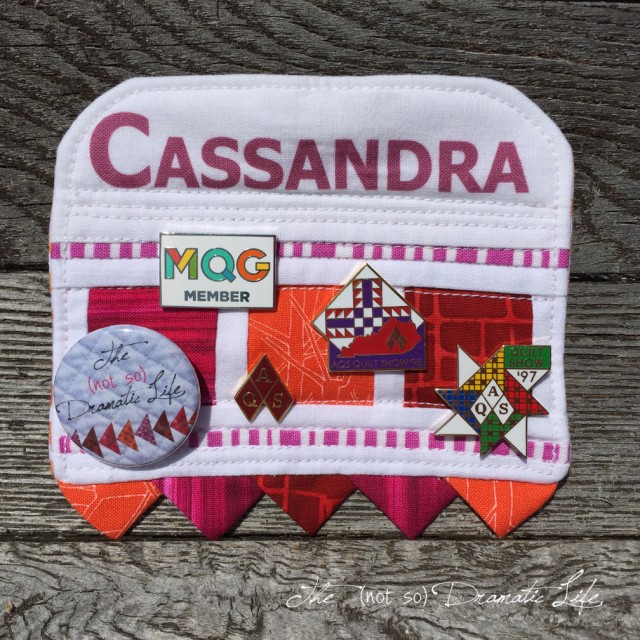 My quilt of the year for 2015 is red, orange, and pink flying geese on a white background. While I didn't want to make a copy of this quilt, I thought it would be fun to incorporate the same colors and some triangles into the design. I also knew that I would probably want to put a few of my quilt pins on this little quilt. I hadn't looked at my pin collection in years, and I had a lot more than I remembered. Not all of them made the cut- just the membership pins, my blog pin, and a couple show pins with sentimental meaning.
As I worked on the design for the quilt, I decided that I wanted to break up the overall shape so it wasn't just a rectangle. Then it came to me- prairie points! I feel like I have made prairie points at some point in my past, but I cannot remember what project it would have been for! These tiny prairie points across the bottom of this mini quilt make me very happy, and I hope that the rounded top corners won't flop down quite as quickly as square corners may.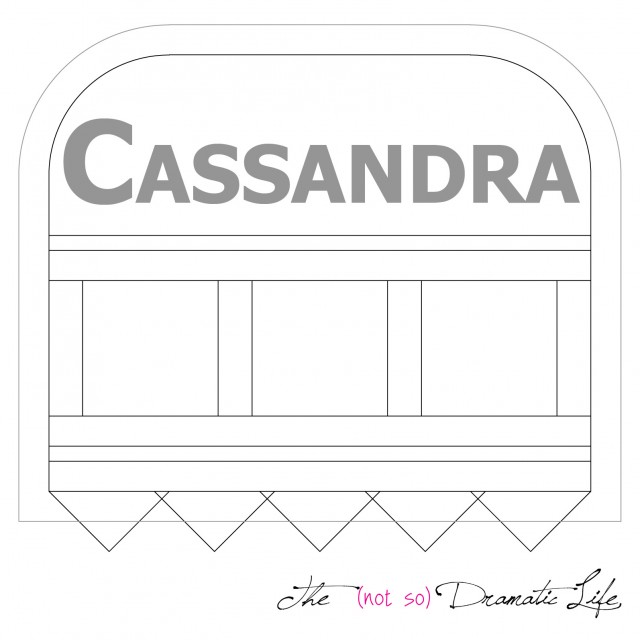 I considered several options for adding my name to the quilt. Embroidery, fused lettering, writing with a fabric pen, and printing all seemed to be within the realm of possibility. I wanted the lettering to be clear, bold, and easy to read. I ended up deciding to go with the printed name. I had drafted the name tag to scale and then used Photoshop to experiment with font size and style. To print the name I used white Kona cotton which had been soaked in a Bubble Jet prep liquid, dried, and then ironed to freezer paper to stabilize it. Once trimmed to the size of letter paper, all I had to do was hit print and watch the lettering appear directly on my fabric.
Since the pieces were so small on this project, the top was foundation paper pieced.
The backing fabric is a reprise from the quilt of the year. Since this project is so small, I "bagged it out" prior to quilting so I wouldn't have a binding strip taking up any space on the front of the quilt. Simple, linear quilting finished off this little project.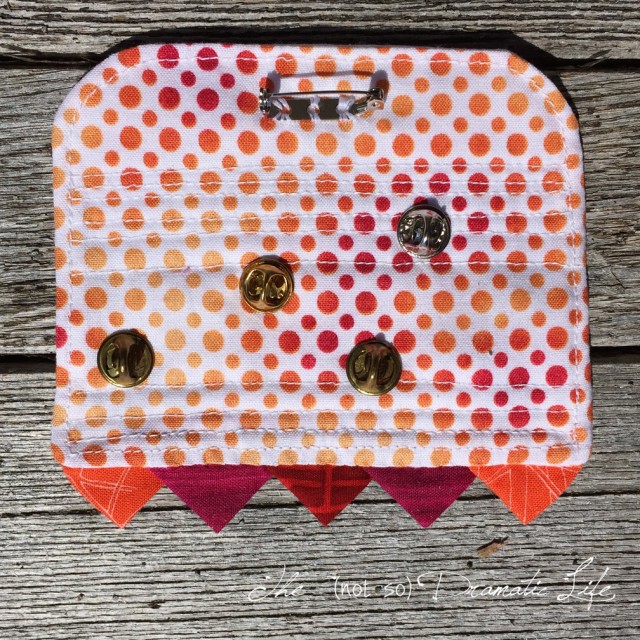 Quilt Stats
Title: Name Tag
Size: 4″x4.5″
Techniques: Foundation Paper Piecing, Prairie Points
Quilting: Straight line quilting with a walking foot on a Bernina 1008
Fabrics: White Kona cotton and assorted scraps of prints and batiks
Batting: Warm and White
Thread: Pieced with Gutermann Mara 100 in white, and white cotton machine quilting thread
Binding: None! (quilt was stitched with right sides together and then turned out)
What was new:
A wearable mini quilt!
Small prairie point edging
I'm linking this up with Oh Scrap! at Quilting is More Fun than Housework, and Sew Cute Tuesday at Blossom Heart Quilts. Please stop by to see all of the fantastic work being shared!