I am excited to share my quilting goals for the coming year! I usually avoid typical New Year's resolutions that tend to involve a short term burst of motivation which quickly fizzles out. What I can get behind is a statement of long term goals, but that sounds really boring, so "Quilty Resolutions" it is!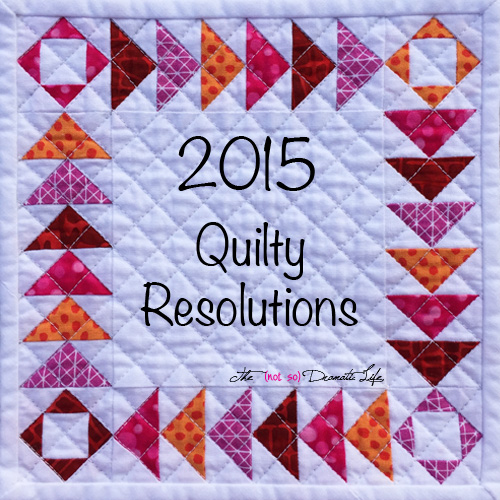 Establish a Consistent Blogging Schedule: I am new to the world of blogging, and I am still developing a schedule that allows for both ample sewing/quilting time and consistent posting.
Connect: The biggest reason I wanted to start blogging is to reach out to the online quilting community. I hope to connect to other bloggers as well as share my own projects. I am also going to attend at least one local guild meeting, hopefully more if I find a group that is a good fit!
Mini Quilt Mania: This goal is the single most labor intensive of the year. The mini will become my quilter's sketchbook! I plan to make a mini quilt a week for the duration of 2015. I will be posting more on this goal very soon.
Free Motion Quilting: Of all quilting/sewing techniques, this is far and away the most challenging for me. It has been a long time since I have been a complete beginner at any area of sewing, so I am finding it very difficult to remain patient with myself as I move forward on this journey. I don't expect my FMQ to be perfect by the end of the year, but it will be better.
Enter Quilt Shows: I see shows as another means of connecting to the quilting community as well as sharing and inspiring one another.
Write Patterns and Tutorials: I LOVE creating my own patterns, and I thoroughly enjoy sharing those designs with others. In 2015, I hope to pass on the information to make some of these projects.
Teach a Quilting Class: I taught college for a few years, and I hope that I can return to a classroom this year to teach quilting classes.
Make an article of Quilted Clothing: I have spent most of my sewing life creating clothing, including a few quilted pieces. I would like to return to my sewing roots to create wearable art!
This post is linked to 2015 Sewing Goals at PennyDog Patchwork and Quilty Resolutions at Quilting Jetgirl. Please take a few moment to see what everyone hopes to accomplish in the coming year!