Hand quilting is something I haven't done in many years, and I have never given Sashiko a try, so I thought that this would be a fun thing to experiment with for this mini.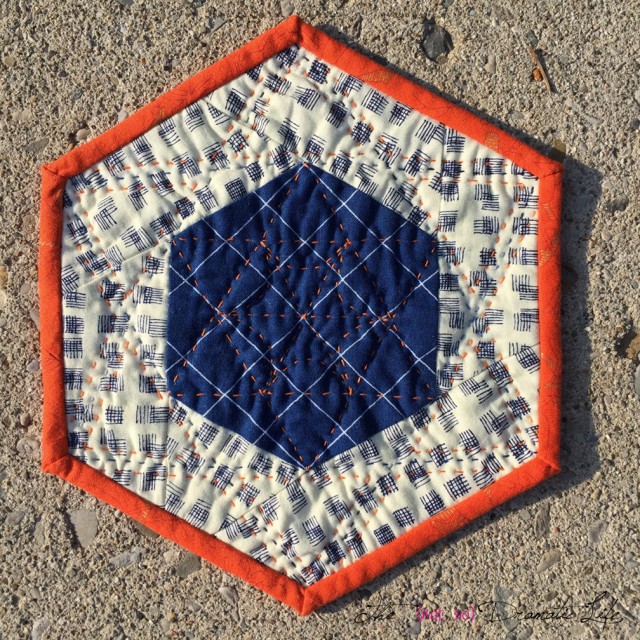 The central hexagon was the first thing I have cut using my Hex N More ruler. I have much bigger plans for this ruler, but I was still excited to take it for a spin with this project!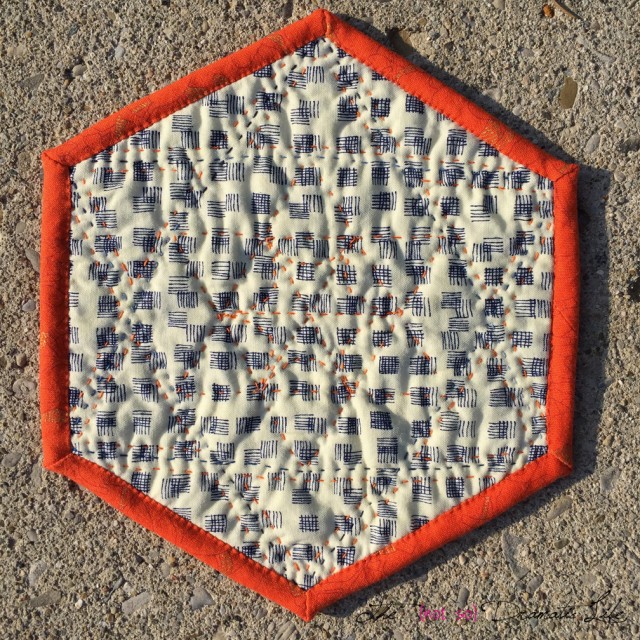 The quilting is the real star of this mini. I chose simple prints with the hope that the stitching would be visible, but any uneven stitches wouldn't be glaringly obvious. When I first learned to quilt it was OK to machine piece a quilt top, but actual quilting stitches were done by hand. You were supposed to aim for 10-12 perfectly spaced stitches per inch. For me, part of the challenge in Sashiko is allowing myself to take larger stitches. To help accomplish this, I chose 12wt thread and a slightly longer needle than I would normally quilt with.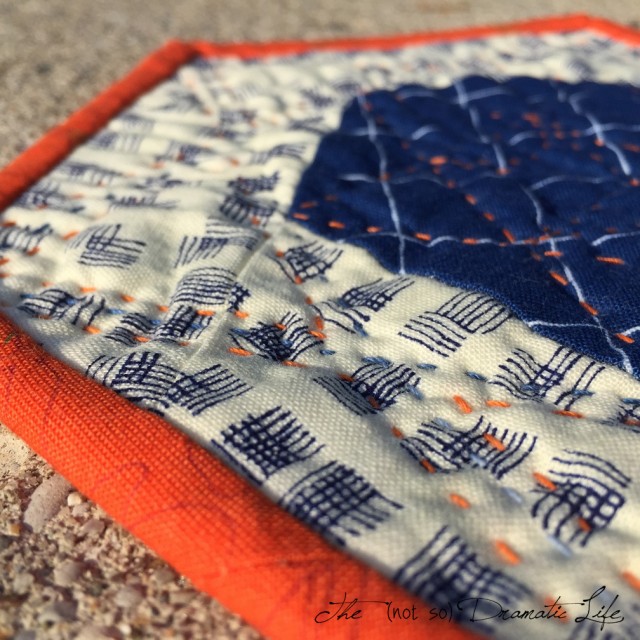 There is blue variegated thread in the outer portion of the quilt and orange thread throughout this mini. The orange binding of this quilt helps the orange quilting thread to "POP!"
Quilt Stats
Title: Sashiko Mini
Size: 7-1/4″ x 8-1/4″
Techniques: Machine Piecing, Sashiko
Quilting: Sashiko style hand quilting
Fabric: Prints from Carolyn Friedlander's Doe and Botanics lines
Batting: Warm and White cotton batting
Thread: Pieced with 100wt InvisaFil by WonderFil in light grey; Quilted with 12wt Cotton WonderFil in orange and variegated blue
Binding: Orange "Botanics" print cut on the bias in a 2″ wide strip, machine stitched to the front, hand stitched to the back
What was new?
Sashiko stitching
First hexagon cut with a Hex N More ruler