Sew Mama Sew is once again hosting the annual giveaway day, and I am so excited to offer a small giveaway of my own this time around! To make it even better, TWO winners will each receive two magazines and a digital pattern!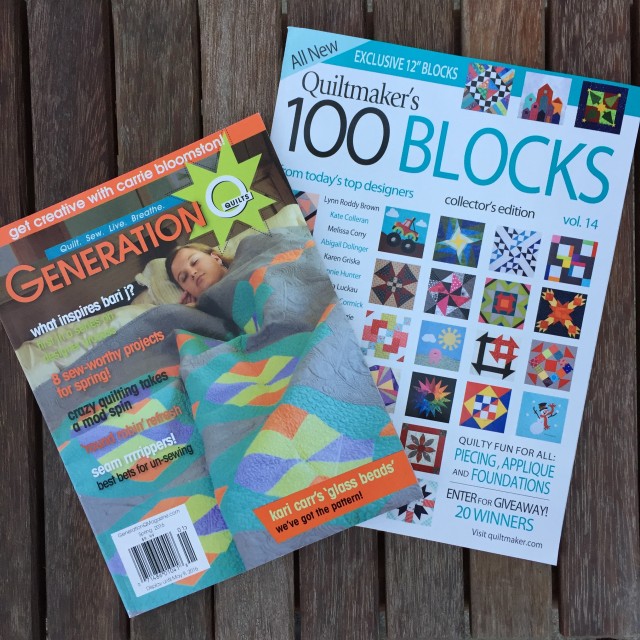 I have been fortunate to have my work included in several magazines this year including these issues of 100 Blocks and Generation Q. These are both packed with inspiration for all sorts of quilt-y projects!
For added fun, I will also send the winner a PDF of my pattern for my Rainbow Rotary Mini Quilt in three sizes.
Here's how to enter:
Leave a comment on this post. I would love to hear about a specific challenge you have encountered in quilting or a technique you want to conquer in 2017. Please note if you are inside or outside the United States. (Please see #3 for details)
The winners will be determined by a random drawing.
There will be TWO lucky winners of this giveaway. One winner will be drawn from all entries. The second winner will be drawn from US entries only. (I wish I could do an international drawing for both, but shipping costs can get out of control so easily)
The drawing is open through Sunday, December 11 at 5pm PST (8pm EST)
The winners will be announced by Wednesday, December 14, and prizes will be shipped by Friday December 16. The winners will be notified by email and listed on the blog. It is each winner's responsibility to respond with their mailing address by 11:59pm on Thursday, December 15. If I do not receive this information by this time, another winner will be drawn.
Make sure you check out all of the other fabulous giveaways linked up at Sew Mama Sew!
Update: Thank you so much for entering! I normally do my best to respond to comments, but due to the volume of giveaway posts I won't be able to respond individually. Your answers will help me determine what to blog about in the coming year! Thank you!