Today, in conjunction with Sew Mama Sew's Giveaway day, is the first giveaway I have done on this blog. My blog is about five months old now, and I am excited to offer the chance to win these zippered pouches to all of my visitors. I am very grateful for the kind words and support offered by those who have joined me in these early months, and I am excited to welcome new friends as well!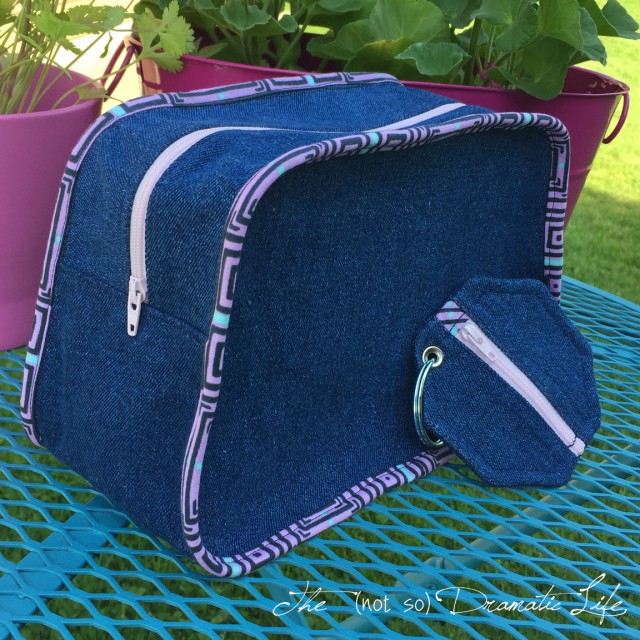 I am trained as a theatrical scenic and costume designer and technician, but this blog focuses on my life outside of the theatre- The (not so) Dramatic Life. Most of the work I share here is quilting related, but other sewing projects pop up from time to time. My big project for the year is Mini Quilt Mania, for which I am creating a new mini quilt almost every week of the year for a total of 50 quilts. I have done 18 so far, and I am thoroughly enjoying the process!
There are two zippered pouches in this giveaway. They each have a blue denim exterior and are fully lined and trimmed with a cotton print from Amy Butler's Violette fabric line. The larger pouch is 6″x10″x4.5″ and would be a great container for carrying small projects or corralling toiletries when you travel.
The smaller pouch is an octagon measuring about 3.75″x3.75″ and is grommeted for use as a key ring. This is perfect for carrying a little money, a phone charger, or thumb drive. I have written a tutorial for creating this cord/coin pouch if you would like to make your own!
Would you like to enter to win this pair of pouches? It's easy- here's how:
Leave a comment on this post telling me what project(s) you are working on right now and/or what your quilting or sewing goals are. Is there a pattern you want to make? A technique you would like to try? A fabric line you are eager to use? Is there a tutorial you would like to see made? I love hearing what you are up to and interested in!
Followers, both long time and new, get a bonus entry! Near the top of the sidebar there are several options for following me including Bloglovin', Instagram, and Pinterest. To get the bonus entry please leave a comment telling me how you follow.
This giveaway is open through 5pm PST on Sunday, May 10. All comments on this post received by that time will be included in a random drawing.
I will email and post the winner on the blog on or before Wednesday, May 13. Once I have the shipping address for the winner, your package will be in the mail by Friday, May 15. (Should the winner not respond with a shipping address by Friday, May 15, I will draw a new winner and contact them via email and the blog)
There are lots more fantastic giveaways of both hand crafted items and supplies at Sew Mama Sew, so be sure to check those out as well! Good Luck!
Update from May 11, 2015: The winner of this giveaway is Catrin Lewis- Congratulations Catrin!
Here are some other posts you may enjoy!