For this week of Mini Quilt Mania I wanted to reinterpret a classic block. Courthouse Steps is a block that I have always found attractive, and I was wondering what would happen with the block if I forced it into a wedge shape rather than the traditional square. This week's quilt is the result of this experiment.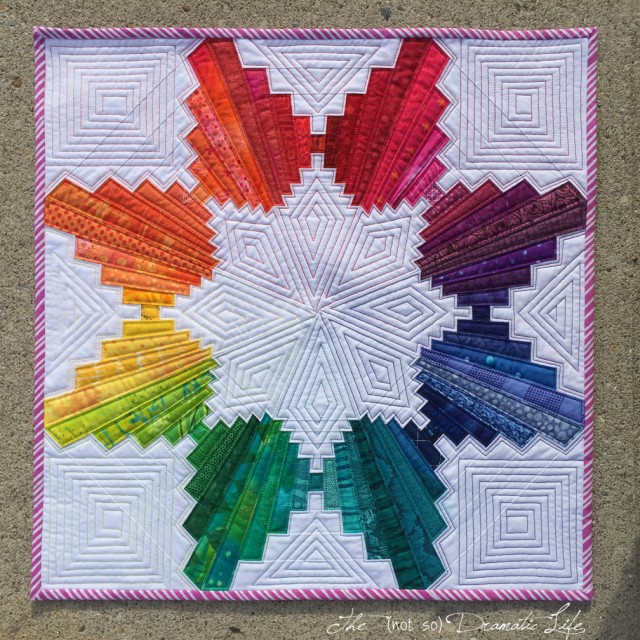 I have been doing a lot of hexagonal work lately, so I thought that I would give an octagonal format a try. Each wedge has a forced perspective courthouse steps block and a triangle to finish the shape.
There were several options for adding color to this pattern. I considered keeping the design very simple, using only two fabrics and enhancing the starburst effect that happened when only two sides of each block had a contrasting fabric. Another option I considered involved using a gradient along three sides of each block. This still maintained a starburst effect, but it also enhanced the octagon base. I thought this version had a real Art Deco feel.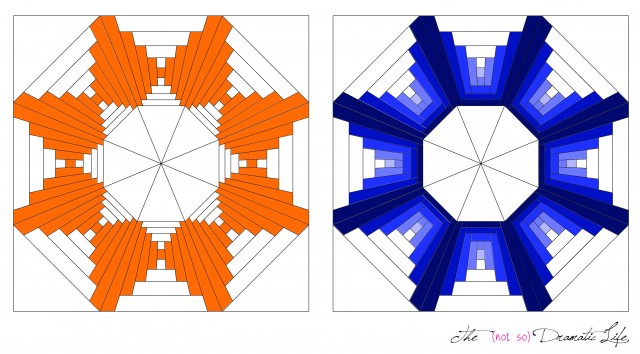 For this quilt I ended up going with the starburst layout, but instead of one color I decided to try a rainbow effect. I have always admired everyone's rainbow quilts, but I had never attempted one myself. There are 74 fabrics in this quilt: 72 forming the color wheel, white Kona cotton for the background, and a Lotta Jansdotter stripe for the binding. To guarantee the wedges maintain the desired shape and size, I developed foundation paper piecing templates to create the quilt top.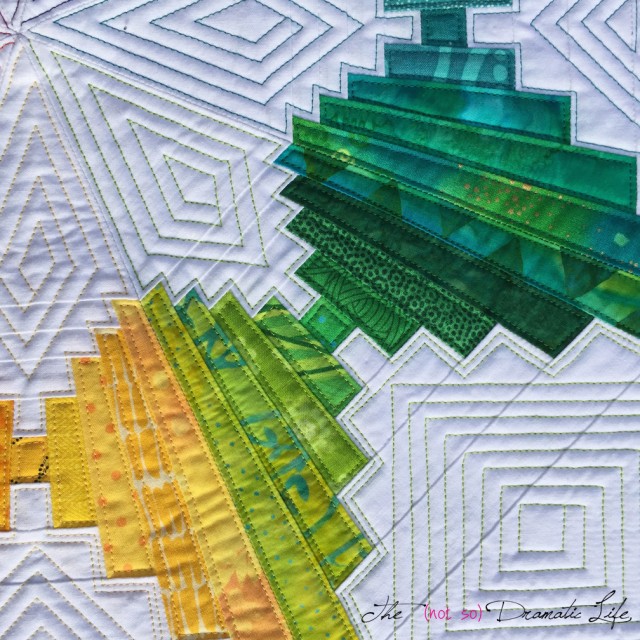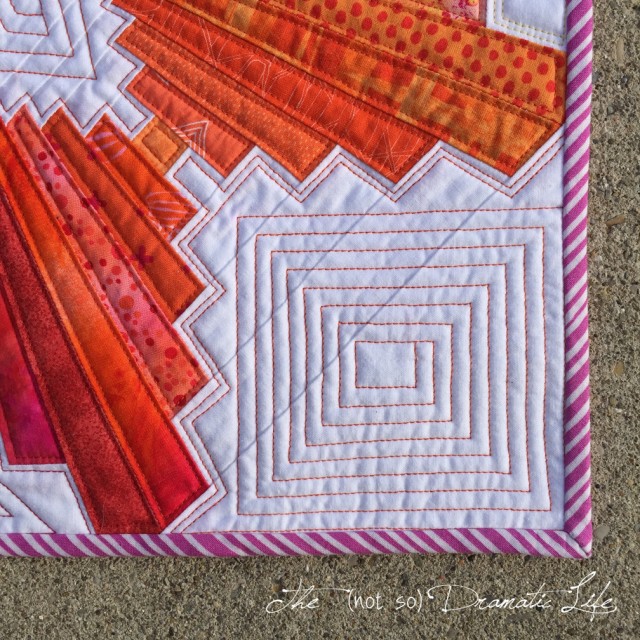 The back of this quilt is also white Kona so that the quilting is really shown off. For the quilting, I used nine different threads to quilt this piece. Each wedge has echo and diamond quilting in the white areas and echo quilting in each segment of color.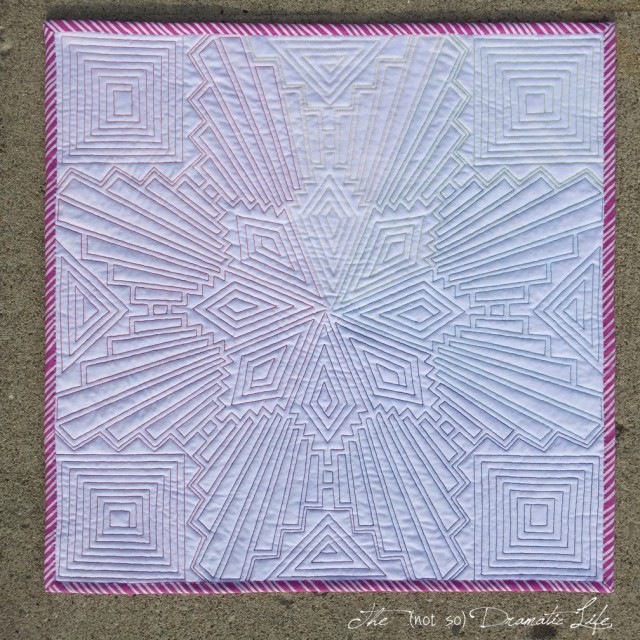 Quilt Stats
Title: Rainbow Roundabout
Size: 18.5″x18.5″
Techniques: Foundation paper piecing
Quilting: Echo Quilting within each area of the quilt using a walking foot on a Bernina 1008
Fabrics: 74 different fabrics: 72 colors from scrap and stash, Kona cotton in whiter for background and backing, Lotta Jansdotter stripe for binding
Batting: Warm and White
Thread: Pieced using white Gutermann Mara 100. Quilted with Connecting Threads cotton Essentials quilting thread in Red, Grape Juice, Peridot, Persian Blue, Persimmon, and Sangria as well as yellow, teal, and green in Gutermann Mara 100.
Binding: Striped fabric, cut on the bias in 2″ wide strips, machined stitched to the front of the quilt, hand stitched to the back.
What was new:
Rainbow color scheme- I'm pretty sure I have never used so many different fabrics in a mini quilt!
Converting a square quilt block into a forced perspective wedge
I'm linking this week's quilt up with Fabric Tuesday at Quilt Story, Scraptastic Tuesday at She Can Quilt, Oh Scrap! at Quilting is More Fun than Housework, Whoop Whoop Friday at Confessions of a Fabric Addict, Finish It Up Friday at Crazy Mom Quilts, Paper Piecing Party at Quilt Art Designs, Needle and Thread Thursday at My Quilt Infatuation, Let's Bee Social at Sew Fresh Quilts, and Sew Cute Tuesday at Blossom Heart Quilts. Please check out the amazing work being produced!