A good sewing apron can make working on a project a lot easier, especially if you are like me- leaving a trail of supplies wherever you go! This summer I will be working in a theatrical costume shop creating patterns for the clothing worn on stage. An apron is even more helpful in this communal sewing environment when you not only have your tools laying out, but everyone else's as well. My old apron was getting pretty sad after about six years of use, so it was definitely time for something new.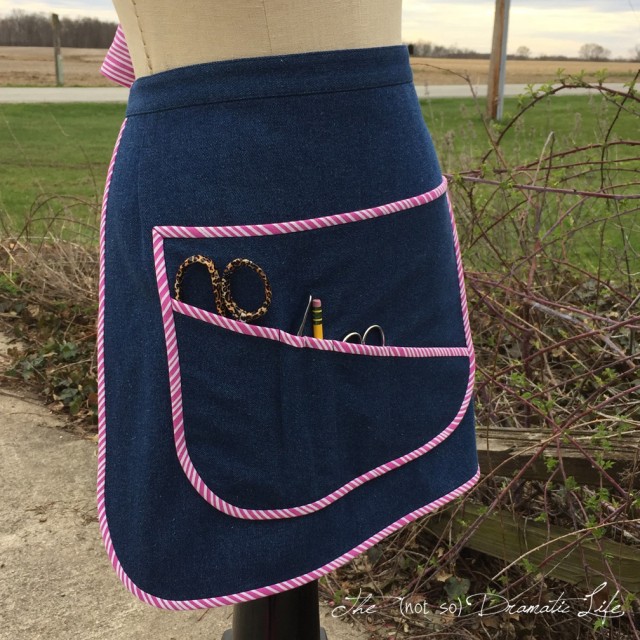 I have gone through a few aprons over the years, and lately I have liked a half apron tied at the waist rather than a full apron. The last apron I made had a single pocket, and the apron before had about half a dozen different pockets. For me, having lots of pockets made sense when I was doing wardrobe and needed to have separate areas for different sized safety pins, a threaded needle, scissors, flashlight, etc. One pocket is fine working in a shop, but I decided to try a different format to mix a large pocket with separate area for scissors, seam rippers, and pencils.
Denim is durable, coordinates with most of my work clothes, and I had some left from a previous project! I lined it with a pink solid cotton for added durability, and trimmed the whole thing with a bias cut stripe by Lotta Jansdotter.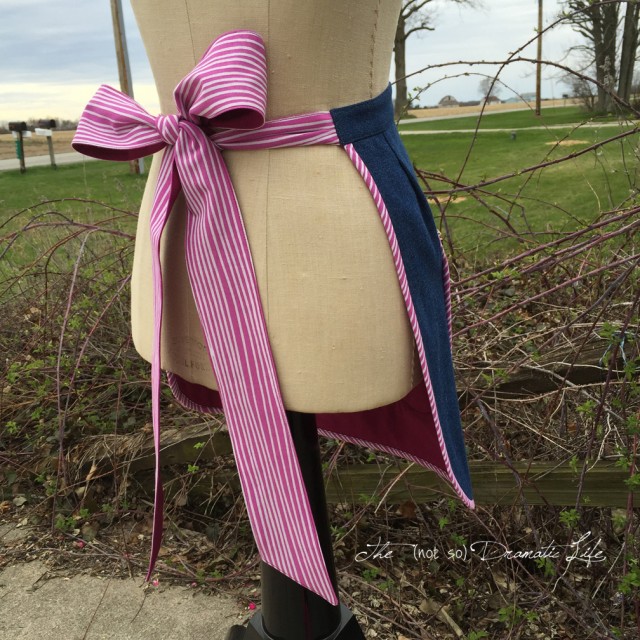 One thing that has driven me nuts with previous aprons is how it is difficult to sit down with much of anything in the pocket. Getting poked with scissors is no fun! I wanted to give this apron just a little bit of fullness so it will fall more naturally when going to sit down. I didn't want to gather the denim, so I added a small pleat to each side. This seams to do the trick- no poking!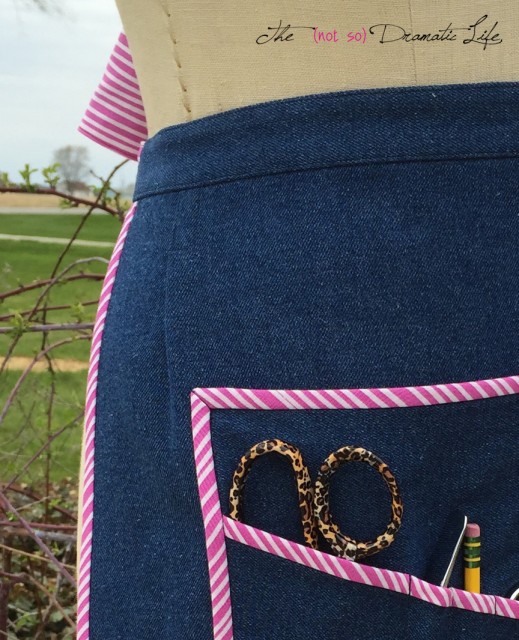 Hopefully this apron will get several years of use- just like its predecessors!
I'm linking up with Sew and Show at Straight Grain this week. Please stop in to see all of the wonderful work shown there!