For a lot of my recent quilting, I have been creating designs that can be executed with a walking foot. I love the results, but constantly turning my quilt and having to bury threads was getting a bit old! So for this week's mini quilt I decided some free motion work was in order!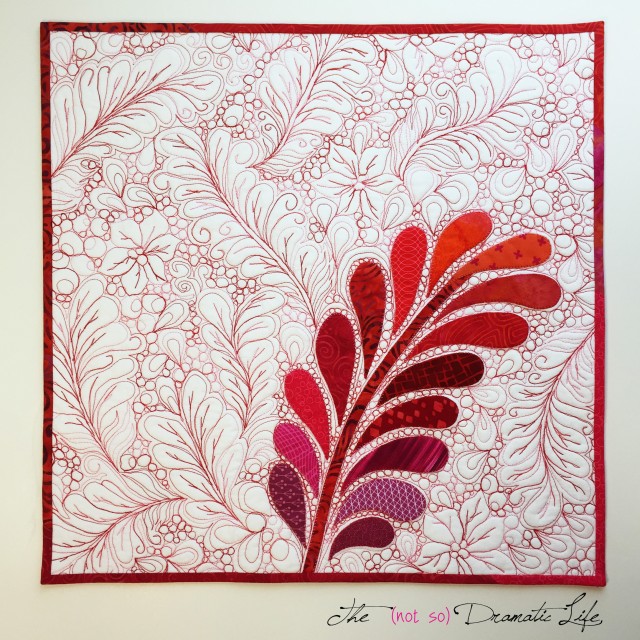 I was just a couple inches away from finishing the binding on this quilt when it started to pour down rain, and it has been raining ever since. For now I have to settle for indoor photographs, but I will update them when I can get better shots outside.
I knew I wanted a bunch of negative space to free motion quilt in, but I wanted to try working with a quilt top that had a design element of it's own. Knowing that I wanted to incorporate feathers into the quilting design, I thought that a single, colorful, stylized feather might make an interesting focal point.
First, I drew the feather design on freezer paper using the same drawing technique I would use to free motion quilt later. Then I refined the feather and cut out the petal shapes, labeling them carefully as I went. Once it was time to bring fabric into the mix, I adhered Wonder Under to the back of my fabric scraps before ironing the freezer paper patterns to the front. The finished petals adhered nicely to the white Kona Cotton base fabric, and I did a machine blanket stitch around all of the edges to further secure the pieces.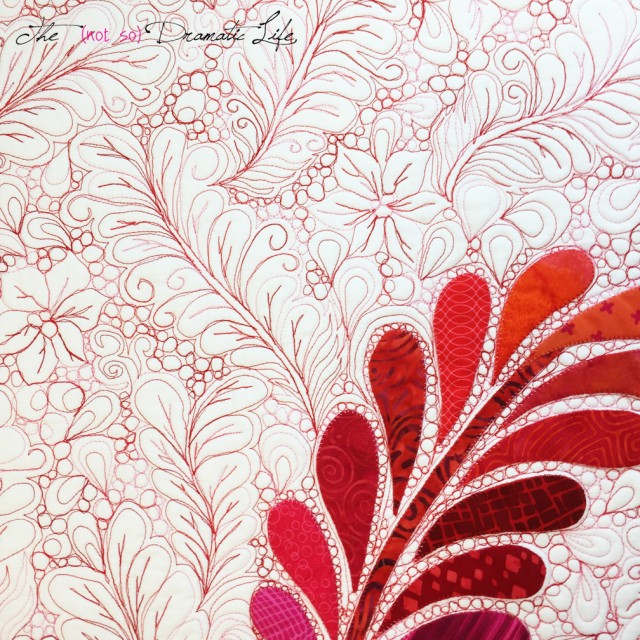 Since so many of my recent quilting designs have involves tons of starting and stopping (and burying of thread tails!), I thought it would be an interesting challenge to never stop quilting (unless I ran out of bobbin). This was my first attempt at graffiti quilting, and I didn't mark any of my designs ahead of time. Using a variegated thread was also a new experience and the aesthetic effect worked really well in this context. I had a spool of Gutermann cotton quilting thread that I had been given at some point. I liked the coloring of the thread, but I thought it felt thinner than other brands of 50 wt thread. It also left behind way more lint than other cotton threads I have used. I normally love Gutermann thread, and use the Mara 100 for clothing and other general sewing, as well as a lot of quilt piecing. I would not buy the cotton machine quilting thread again, so I will be seeking out a different brand of variegated thread to try. It was very freeing to do whatever design I wanted, waiting to see what the design wanted at that moment. I think I'll be trying this technique again!
I like how the quilting looks on the solid white back. The binding is a scrappy mix of fabrics also used for the feather design.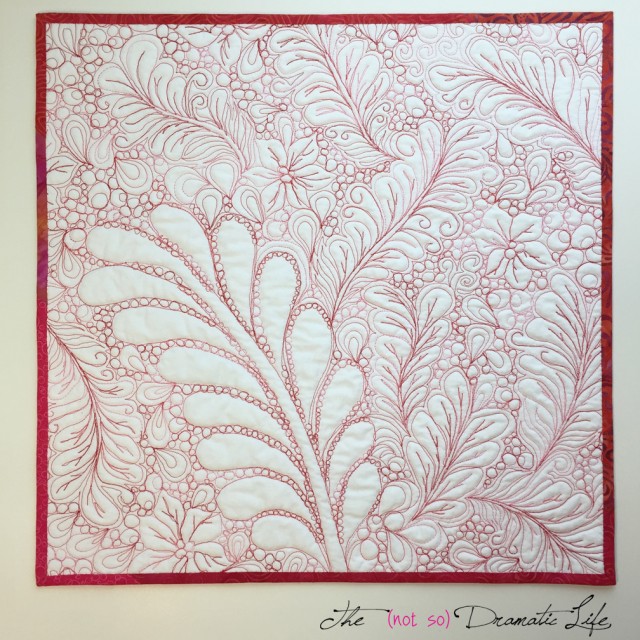 Quilt Stats
Title: Graffiti Feathers
Size: 19″x19″
Techniques: Fusible appliqué with machine blanket stitching
Quilting: Free motion quilted on a Bernina 1008
Fabrics: Front base and backing- white Kona Cotton, Feather design- misc. warm colored scraps
Batting: Warm and White cotton batting
Thread: Red Variegated, 50 wt, Gutermann Cotton Machine Quilting Thread
Binding: Scrappy binding, cut on the bias in 2″ strips, machine stitched to the front, hand stitched to the back
What was new:
Graffiti Quilting
Quilting with Variegated Thread