Today I have another finish for the Second Quarter Finish Along. After having this pretty quilter's cotton for over nine months it was nice to check this project off the list. This is a fully lined 3/4 circle skirt with a lapped side seam zipper.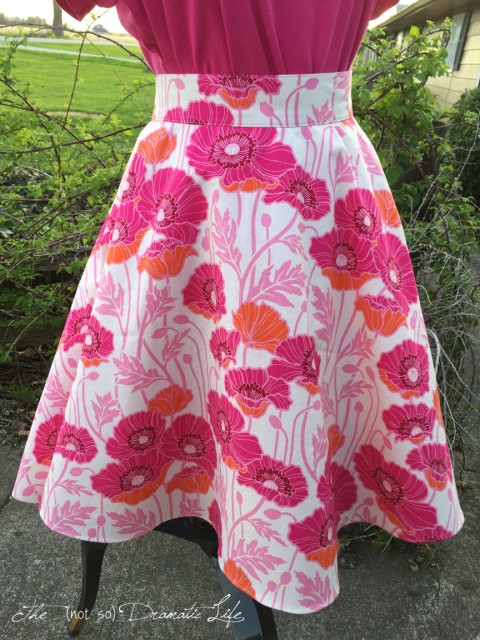 I like circle skirts because they give a lot of fullness at the hem without any extra bulk at the waist. What I do not like about circle skirts is the fact that most of the hem is on some degree of bias, so the hem tends to "grow" over time. I made the skirt several days ago and then let it hang on the dress form for a week before hemming. My Mom was pressed into service to mark an even line around the outer skirt to create the hemline. To make sure the hem was as even as possible, I wore the shoes I will most likely wear with this skirt, and the even line was marked from the floor, not the waistband. After doing a roll hem on the outer skirt, I marked the lining length and hemmed it 3/4″ shorter than the outer layer. I am hoping that additional "growth" will be minimal since it is only knee length (the weight of longer skirts can cause them to grow more) and the fabrics are fairly sturdy.
This skirt is all ready for my trip to Paducah, KY for the AQS show, so hopefully it will be warm enough to wear this week!