I am excited to make Rainbow Rotary my first entry into The Blogger's Quilt Festival. This was my first rainbow quilt, but I didn't make it too easy- There are 72 different fabrics creating the circle of color!
Rainbow Rotary is a re-interpretation of a traditional Courthouse Steps block that I turned into a wedge. Eight wedges combine to form this circle of color. If you would like to see more on the development of this design, please check out the original Rainbow Rotary post. In this detail photo you can see some of the block construction as well as the quilting detail.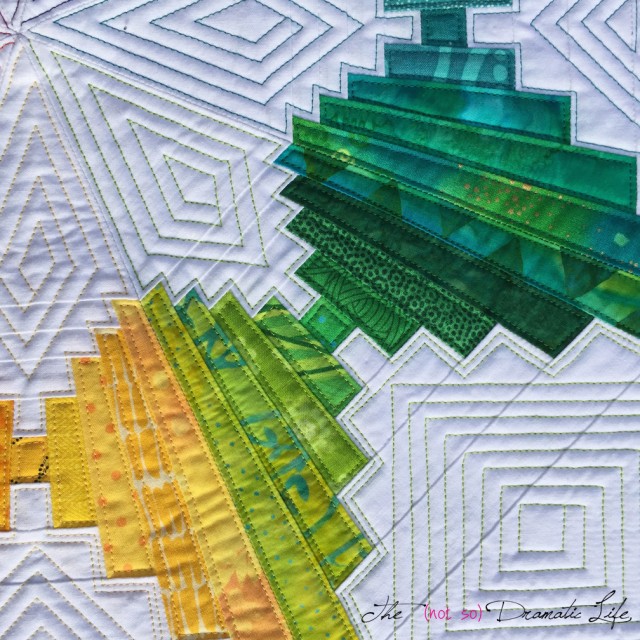 Each of the 72 sections of color has a single line of echo quilting in a coordinating thread. The white sections of each wedge are quilted using a thread color which matches the dominant color of the wedge. Nine different threads were used to quilt this project.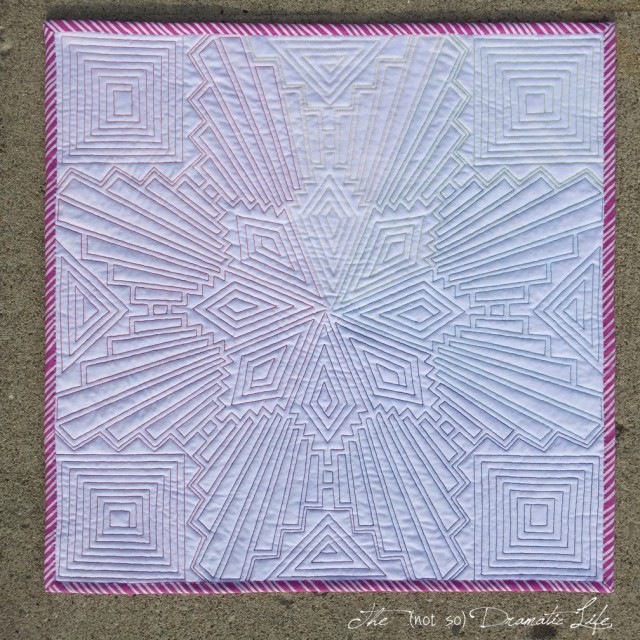 One of the most exciting aspects of using so many different threads is that the back of the quilt has a subtle thread rainbow on the solid white backing fabric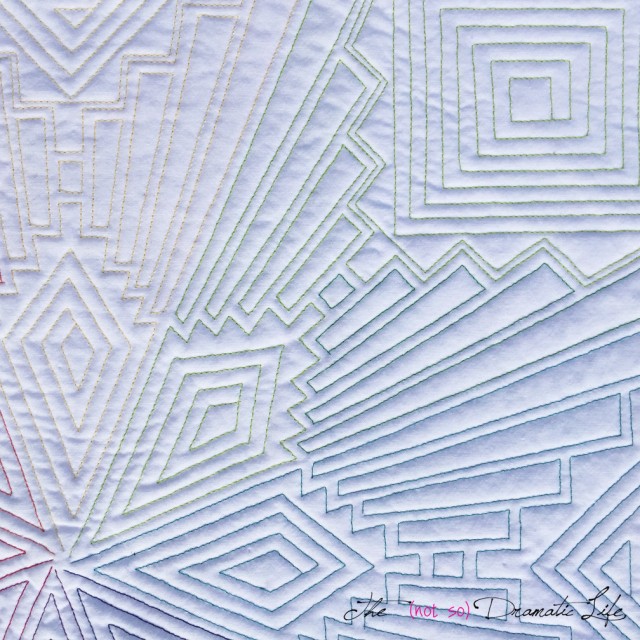 This quilt will be in the ROYGBIV category of the Blogger's Quilt Festival. The Festival is currently open for entries and nominations for viewer's choice. Please stop by to see all of the lovely quilts that have been entered, and come back between May 22-29 to vote for your favorites in every category!
Quilt Stats
Title: Rainbow Rotary
Size: 18.5″x18.5″
Techniques: Foundation paper piecing
Quilting: Echo Quilting within each area of the quilt using a walking foot on a Bernina 1008
Fabrics: 74 different fabrics: 72 colors from scrap and stash, Kona cotton in whiter for background and backing, Lotta Jansdotter stripe for binding
Batting: Warm and White
Thread: Pieced using white Gutermann Mara 100. Quilted with Connecting Threads cotton Essentials quilting thread in Red, Grape Juice, Peridot, Persian Blue, Persimmon, and Sangria as well as yellow, teal, and green in Gutermann Mara 100.
Binding: Striped fabric, cut on the bias in 2″ wide strips, machined stitched to the front of the quilt, hand stitched to the back.
Up Next: I am currently writing a pattern for this quilt!
If you like this quilt, you may want to take a look at Mini Quilt Mania– I am making a mini quilt a week for 2015!