Crystalized Citrus is my first Hoffman Challenge quilt, and I am thrilled with the result! I was cutting it really close time wise, so it was quite a relief when they extended the deadline by a week- it saved me a late night getting the binding on!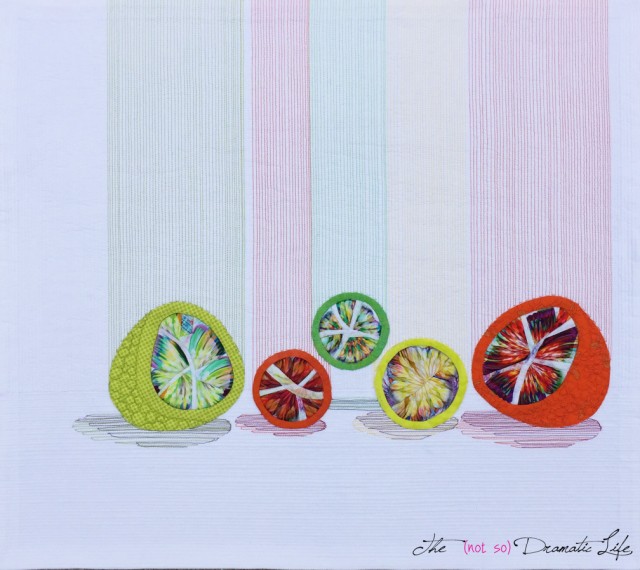 For many years I had seen the Hoffman Challenge quilts exhibited at the Rotary Quilt Show that coincided with the AQS show in Paducah. It was my first introduction to the concept of a challenge quilt, and I was intrigued. This year was the first time I was able to find the fabric in a local shop before it completely sold out, and it is the best fabric challenge print yet! The butterfly print on the right is the required challenge fabric and the print on the left was an optional coordinate that I really liked, but didn't end up using in the finished design. Both of these fabrics are printed digitally so there is an almost infinite range of colors since the process isn't limited by traditional printing processes.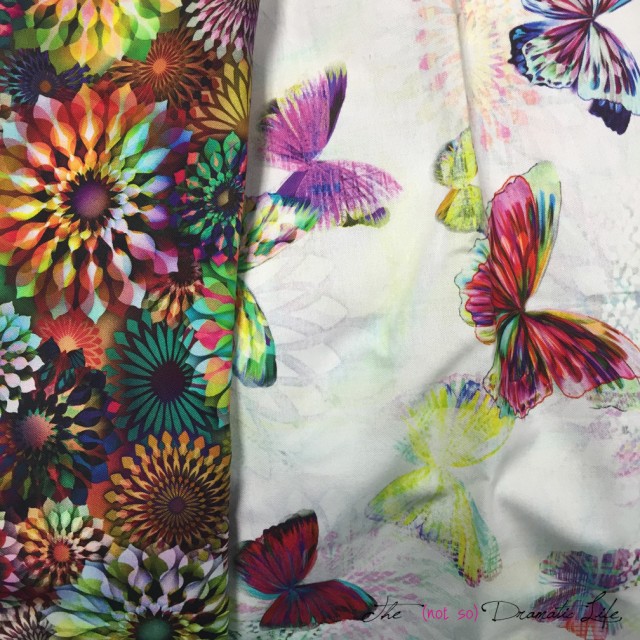 When I'm designing with a specific print in mind, I like to alter it to see it in a new way. I had thought about creating a "Butterfly Garden" by turning the wings into flower petals, but as I was starting the idea of vibrant citrus came to mind. The butterfly wings turned into the flesh of the fruit and the neutral space of the print became the membranes. I pulled a variety of prints from my stash to create the skin of the fruits. My main goal was to keep the challenge fabric the star of the show.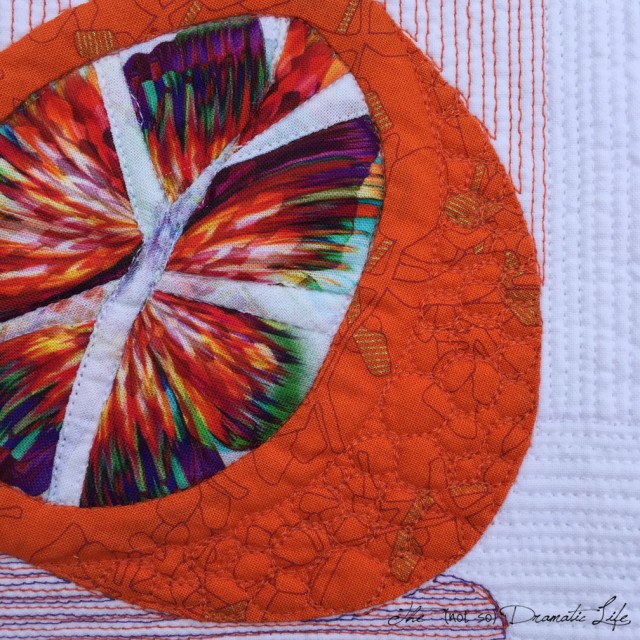 I intentionally chose to balance the representational aspects of this design with the abstract. The pieces of fruit do not overlap and the improv piecing in the flesh of the citrus doesn't create an ultra realistic image. These aspects of the design allowed for quilting that defies realism and creates a more abstract overall design.
The primary quilting design is matchstick quilting going both horizontally and vertically. Most of the horizontal quilting is done in white with guest appearances from purple and the local color of each fruit to create a grounding shadow. The color of each piece of citrus infuses the background above it with colorful vertical matchstick quilting. Free motion quilting further defines each piece of fruit in the composition.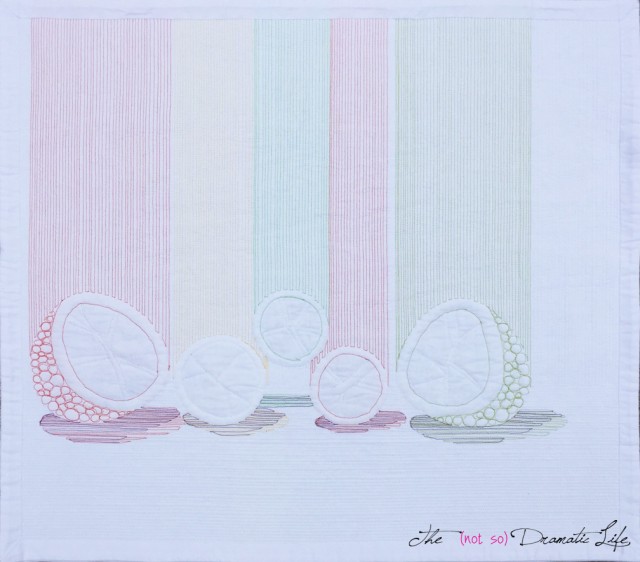 Quilt Stats
Title: Crystalized Citrus
Size: 24″x21″
Techniques: Machine Improv Piecing, hand appliqué
Quilting: Matchstick and free motion quilting done on my A-1 Elite longarm
Fabric: Hoffman Crystalia digitally printed fabric in opal, assorted cotton prints and solids.
Batting: Hobbs 80/20 cotton blend
Thread: Pieced and appliquéd with Gutermann Mara 100 in coordinating colors, Quilted with six colors of 50wt Aurifil cotton thread
Binding: Facing done with the same white fabric used for the background and backing of the quilt