This year's Modern Quilt Guild / Riley Blake fabric challenge was one of the best challenges I have ever participated in, and I am very excited about the resulting quilt!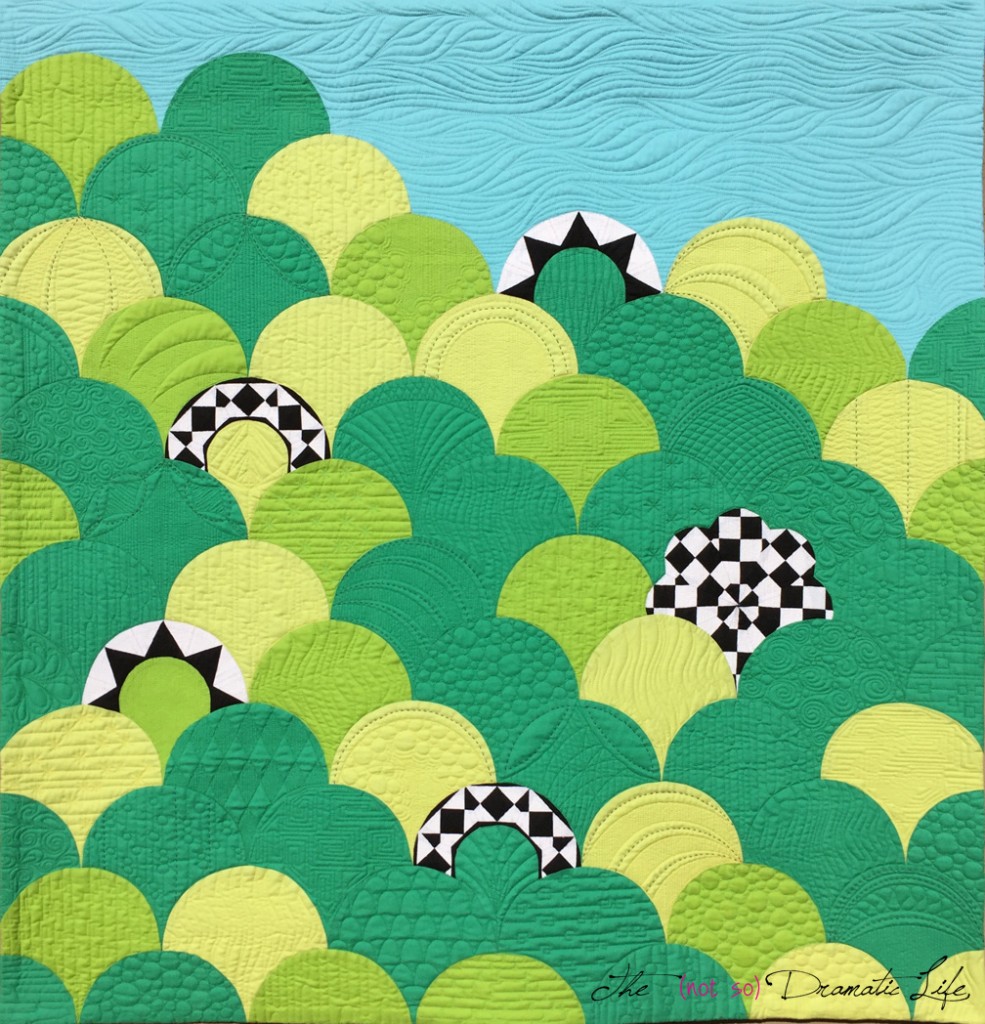 The print that was selected for the challenge fabric has almost endless possibilities since it contains so many different designs. I had the fabric draped around the studio for a long time before I decided what direction I wanted to go with it. I still wasn't entirely certain what I was doing when I ordered the solids to coordinate. Emerald green has been very appealing to me lately, and I decided to draw my color scheme from it.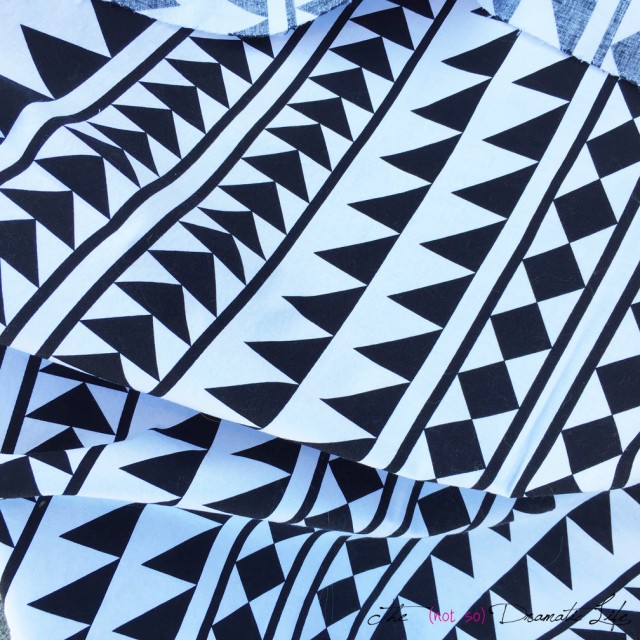 I enjoy taking linear prints and cutting / reassembling them into a star formation, and I started out thinking that was where this project would lead. In an effort to step out of my star-shaped box, I decided to consider other options that could produce a similar effect with the pattern of the print. I drew the fabric print to scale in AutoCad and started to experiment. Ultimately I landed on this design based on a traditional clamshell configuration. I thought that the greens I had selected would create the illusion of abstract rolling hills, and the black and white print would look like giant flowers bursting forth from the landscape.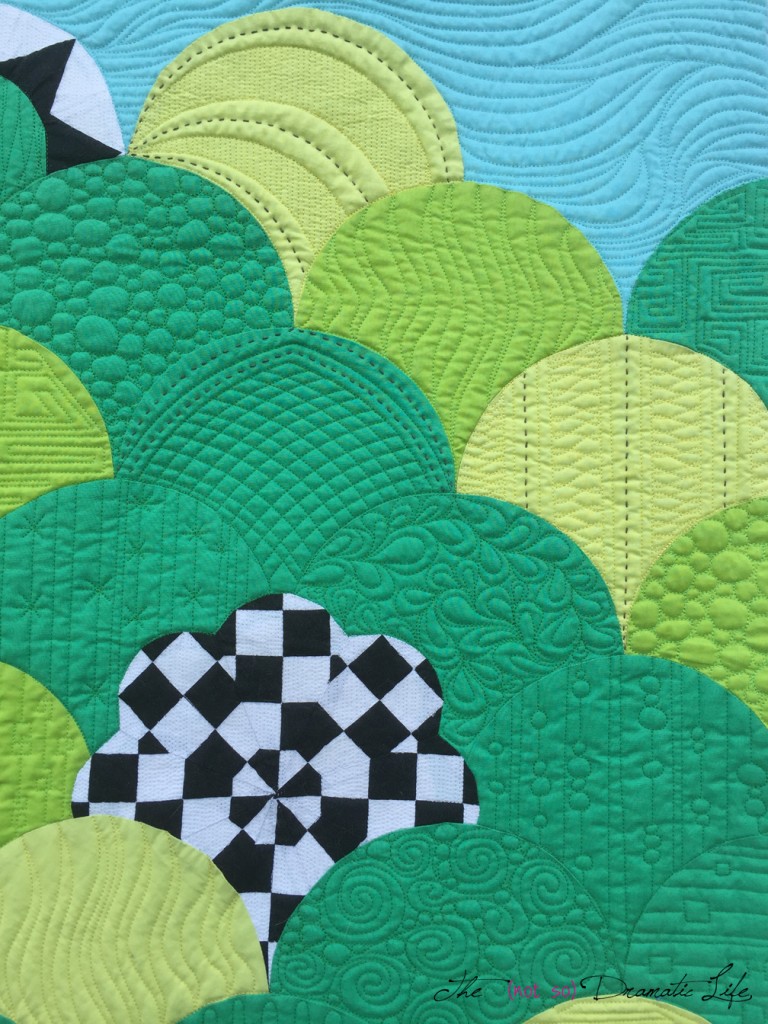 I developed and printed templates for each shape using AutoCad. Since I had already planned the design with the fabric in mind, I was able to print the templates with guidelines that matched the print. Cutting was super easy this way!
The clamshells are machine pieced to one another. I used the templates to mark the start, center, and end of each seam which helped me to accurately position and pin each seam. The top row of clamshells is hand appliquéd to the light blue background fabric.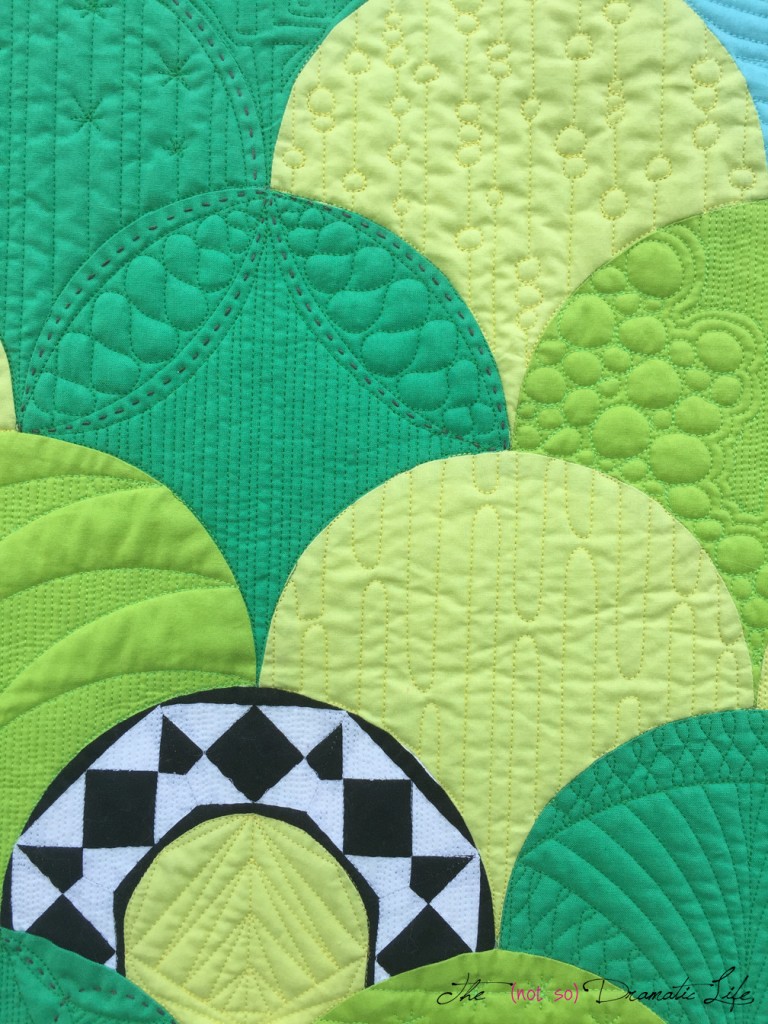 The quilting was the most fun part of the process. Solid fabrics give so much room for play, and I loved the idea of creating movement in this piece. Each "hill" has a different texture from those directly around it, and the quilting thread matches each section. This is also my first project to incorporate hand sashiko stitch quilting. The large stitches in contrasting thread helps to draw your eye around the quilt.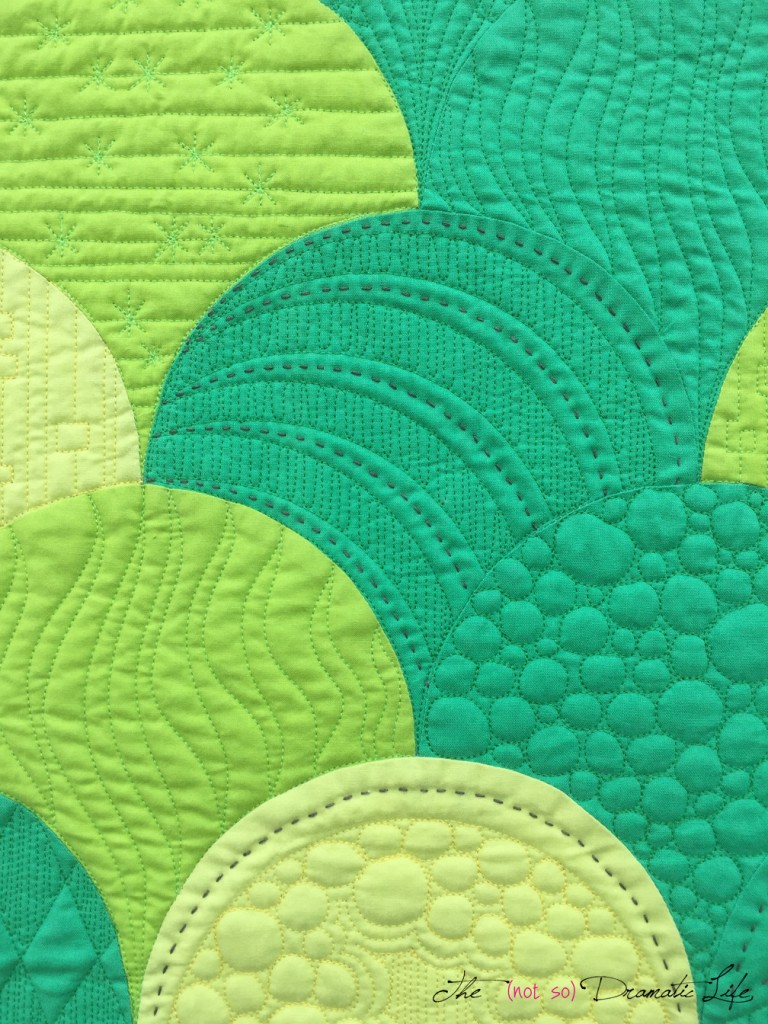 I was excited to submit this quilt to the challenge, and I was absolutely ecstatic to find out that it received second place! If you would like to see the other fantastic quilts that placed in this year's challenge, you can find them on this Modern Quilt Guild blog post.
Quilt Stats
Title: Hills and Valleys
Size: 41″x43″
Techniques: Machine piecing, Hand Applique
Quilting: Freemotion and Ruler work on an A-1 Longarm machine, hand sashiko accent stitching
Fabric: Riley Blake black and white sashing print and Riley Blake solids
Batting: Hobbs 80/20 cotton blend
Thread: Pieced and appliquéd with coordinating Gutermann Mara 100 thread. Quilted with five colors of 50wt Aurifil cotton thread. Sashiko stitching done with dark grey Aurifil Floss.
Binding: Faced with Riley Blake fabric