Got questions? We've got answers!!!!
The Quilt Concert Series Quilt Along starts on June 11th, 2021. You can find all the details on the introductory blog post, but here are some other answers you may not even know you need!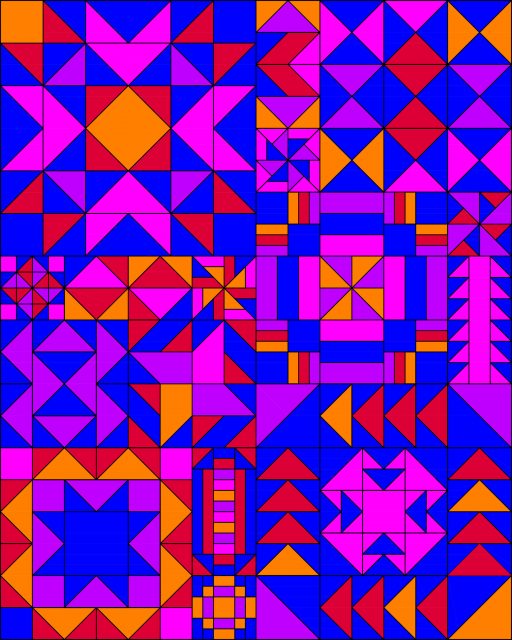 What is the size of the quilt?
The quilt is 48" x 60". A comfortable lap size quilt.
What is the difficulty level of the quilt?
The quilt is designed to be easily created by a confident beginner quilter. The blocks are entirely straight seam sewing, there are no curves, no y-seams, and no applique. Our patterns will have step by step diagrams to help you create your blocks. Immediate and advanced quilters can further challenge their skill level through fussy cutting and color experimentation.
Where does this quilt design come from?
The majority of the blocks in the quilt are public domain designs found in Barbara Brackman's Encyclopedia of Pieced Quilt Patterns. We have chosen the blocks based on their cohesive designs and techniques to create them. Together we figured out the quilt math, wrote the patterns, and created the diagrams to help you recreate the block as well. Cassandra and Lissa designed several blocks based on traditional block components to complete the quilt design.
I missed a block!! What do I do now?
All block patterns are available for download once they are released. When a new block is released, the previous block goes onto the Etsy site of either Cassandra or Lissa, depending on who designed it, and will be available for $2 USD. There will be links to the blocks on our websites so they'll be easy to find.
On October 29th, 2021 after the quilt along is complete, we will release ALL the blocks and the layout pattern together in one pattern for $12. This will be available in BOTH our Etsy stores. Once the full pattern is released, individual block patterns will no longer be available for sale.
What is the PJ Jam Party?
Every Friday night during the quilt along, Cassandra and Lissa will host a zoom sew in. The atmosphere will be very relaxed, so show up in your jammies with your favorite bedtime snacks! We may share recipes, we may have some fun games planned, we may have a dance off. You'll only know if you show up.
Is the PJ Jam Party an exclusive invite only extravaganza?
The link to each week's party will be sent via our newsletters, so you have to subscribe to get the link.
Do you have to sew the current week's block at the PJ Jam Party?
You can sew whatever you want!! Lissa will be sewing a second version of the quilt at the sew-ins to help guide anyone who needs it. But this is just a fun way to hang out together. Sew what you want!
Is there going to be music at the PJ Jam Party?
Maybe? Maybe not? Lissa has been known to break into song when something said reminds her of a Broadway showtune. Just be aware she is tone deaf and that it doesn't stop her from belting out at the top of her lungs.
Will there be prizes?
Every person who completes the quilt top and emails us a picture and their address by October 28, 2021 will receive a small surprise from us.
Stay tuned to hear about sponsors and prizes. We have a few things up our sleeves we don't want to give away yet.
Who are you people?
Cassandra Ireland Beaver is a pattern designer, teacher, and blogger based in west-central Ohio. She uses her training in art and design to create work that merges modern, traditional, and art quilting aesthetics. Her award winning quilts draw inspiration from nature, architecture, and art. Cassandra's work has appeared in numerous magazines including Modern Patchwork, American Quilter, and Simply Moderne, and is included in the book, Modern Quilts: Designs of the New Century. Her quilt, Infused Plaid, and three of her modern mini quilts are in the permanent collection of the National Quilt Museum. She regularly shares her quilts on her blog, TheNotSoDramaticLife.com and on Instagram at cassandra.beaver.
Lissa LaGreca has a Master of Fine Arts from University of Houston and a Bachelor of Science from Worcester Polytechnic Institute. After several seasons in the costume department of the Houston Grand Opera, she and her husband left Texas for NJ, finally settling in Ohio with their three children.
Quilting became Lissa's creative outlet as she raised her three children. She's not finished raising them yet, but has been able to devote more time to quilting and design in the past few years. She's been published in Make Modern Magazine and has had her quilts juried into numerous AQS shows, Quiltcon, and The Great Wisconsin Quilt show where she was awarded an Honorable Mention.
Cassandra and Lissa met through the Central Ohio Modern Quilt Guild and became fast friends. We would sew together on a weekly basis, went on quilt retreats together, and attended Quilt shows together. The collaboration on this quilt is just a natural extension of us working together.
For more information about the quilt and our sponsors, check out the following posts:
Quilt Concert FAQ
Quilt Concert Block 9: Eddystone Light
Quilt Concert Block 10: Wyoming Valley Block
Quilt Concert Block 11: Flying Kite
Quilt Concert Block 12: Give and Take
Quilt Concert Block 13: Malvinia's Chain
Quilt Concert Block 14: Whirligig
Quilt Concert Block 15: Wayward
Quilt Concert Block 16: Pinwheel Patchwork Cushion Top
Quilt Concert: Putting it all together
Quilt Concert: First Notes Round-up!