Last Fall I purchased a small amount of a Cotton and Steel Print by Sarah Watts (from the August collection), and when I cut some of it into strips for another project I made the pleasant discovery that this fabric really looks like Birch bark. Naturally, I went and bought more immediately! I am really excited to make use of this fabric in an improvisationally pieced tree quilt.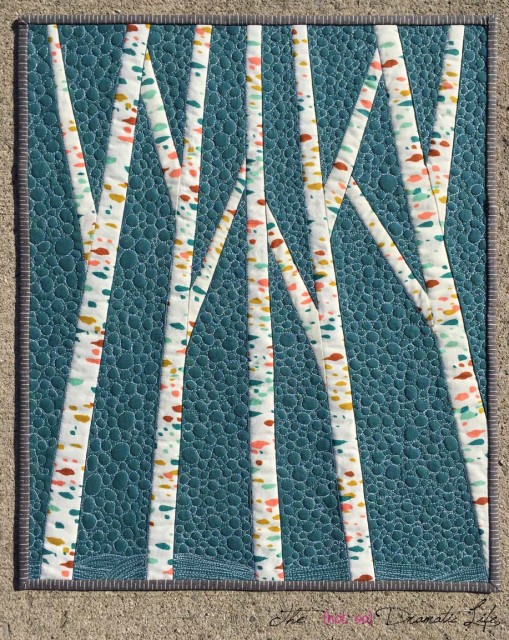 I found a stash Kona cotton in a color that was very close to the color of the teal green splotches in the tree print which worked perfectly as the background fabric. I started by cutting a rectangle of the general size I was thinking about and then used a straight edge and rotary cutter to slash the fabric where the trees and branches would go. No measuring involved! (at least at this point-)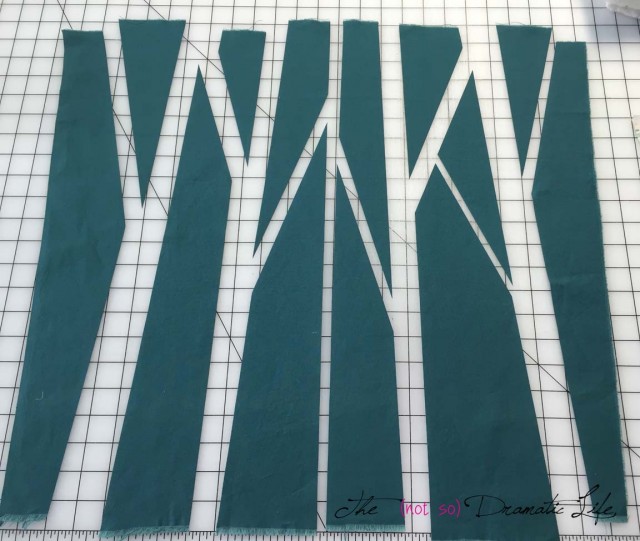 I went with a fabric from Carolyn Friedlander's Botanics line for the backing because I liked incorporating the leaf imagery.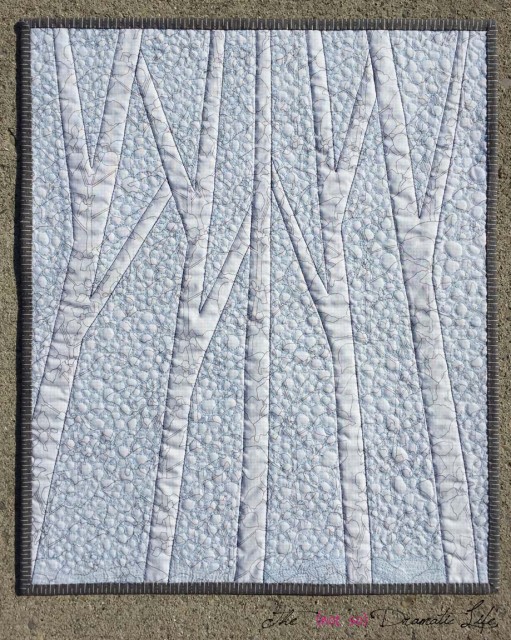 For the quilting design, I wanted to evoke a feeling of winter. While I'm not generally a big fan of snow, especially this time of year, I do like watching great big fluffy snowflakes fall into drifts. I decided to use a quilting design of various size bubbles in light blue to give that winter snow storm feeling.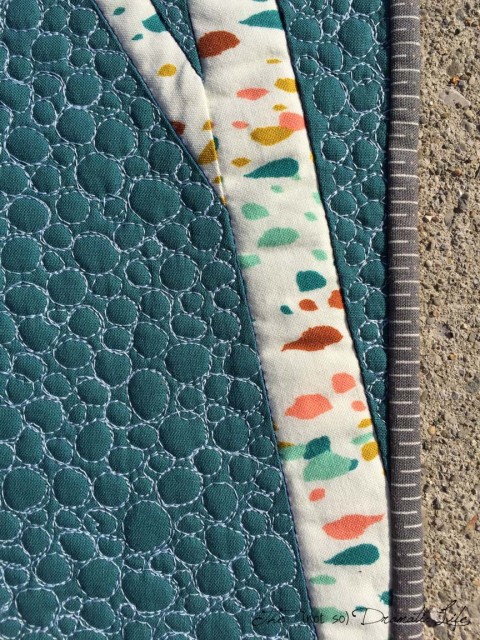 The binding is a slate colored piece from Jan Patek's Front Porch line. I knew this little quilt wanted a striped binding, and it was fun to find a fabric from such a different line than Cotton and Steel, and make them play together so nicely. I'm considering doing one of these little tree quilts for every season . . .
Quilt Stats
Title: Winter Trees
Size: 15.5″ x 19″
Techniques: Improvisational Piecing
Quilting: Stitch in the ditch along the edges of the tree shapes, free motion quilting in a bubble motif
Fabrics: Sarah Watts (Cotton and Steel- August Collection), Carolyn Friedlander (Botanics), Kona Cotton, Jan Patek (Front Porch)
Batting: Warm and White Cotton Batting
Thread: Connecting Threads Essential Thread in Persian Blue, light blue cotton machine quilting thread
Binding: 2″ wide strips, cut on grain, machine stitched to the quilt front, hand stitched to the back.
What was new:
"Tree" Improv! I have never done improv piecing with the intention of making it look like a particular object.
I'm linking this post up with Sew Cute Tuesday at Blossom Heart Quilts. Please stop by to check out everyone's awesome work!