Shipping quilts is the most nerve-racking part of entering a quilt in a show. Well, at least that's the case for me. It is also a lot of work, but ultimately it is worth it since it gives you an opportunity to share your work with lots of other very appreciative quilters. Over the last few years, I have finally developed a process for packing and shipping quilts. It will probably continue to evolve, but I thought I would share with you what I do to prepare a quilt to go off into the world.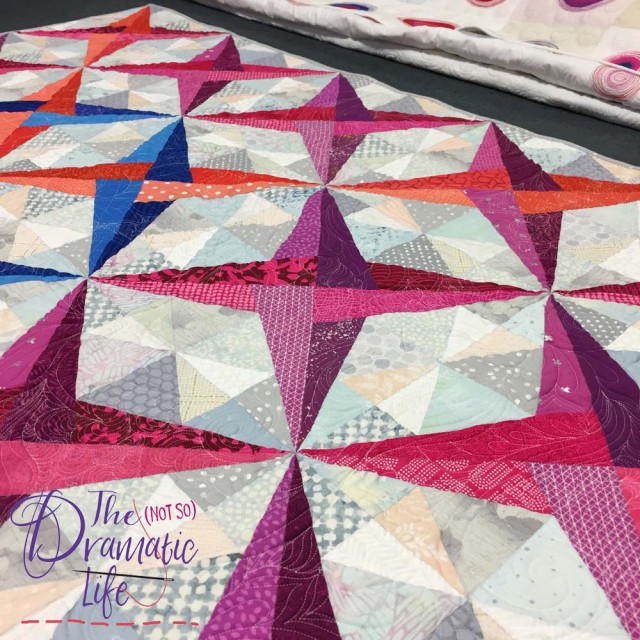 Today I sent three quilts off to an upcoming show. Raise the Roof, Resonance, and Lateral Ascension will be included in the American Quilter's Society Quilt Week in Grand Rapids this August. The photos of the packing process in this post are actually from a previous show. What can I say? I have been meaning to write this post for quite a while!
By the time shipping day rolls around, I have (almost!) always added the hanging sleeve and label to the quilt, so most of the packing process is making sure the quilt is ready to show at its best. First I lint roll each quilt, starting with the back and moving to the front. The only place in the house that is large enough to lay most quilts out flat is the eat-in kitchen. The furniture gets moved to the family room and the floor is thoroughly vacuumed before quilts are laid out. I use a commercial grade lint roller for the quilts. It is more sticky than most lint rollers, but even more helpful is the heavy duty handle with metal construction in the areas that move. I have had the occasional lint roller break before I switched to these commercial rollers, and that is not fun when you are in a hurry. I am always in a hurry on shipping day!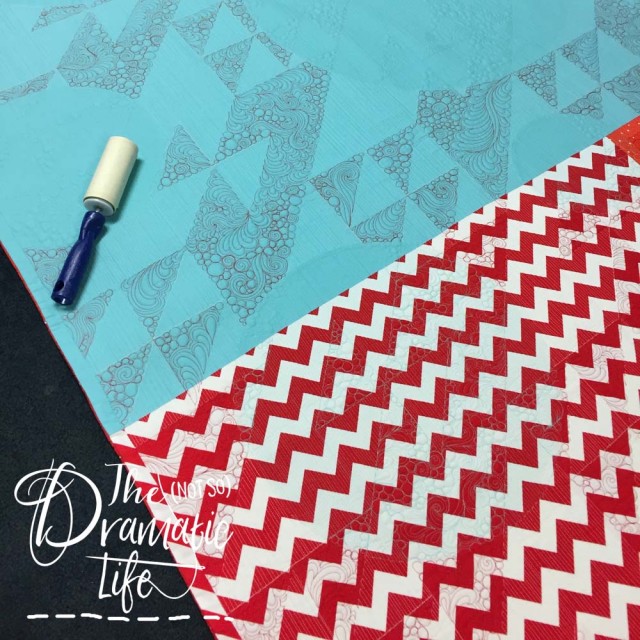 While I am de-linting the quilt I try to examine each area of the quilt for threads that need to be clipped or anything else that needs attention on the quilt. One time I found a couple rows of stitching that had come loose at some point during a previous show. I was so glad that I found and fixed those before sending the quilt back out!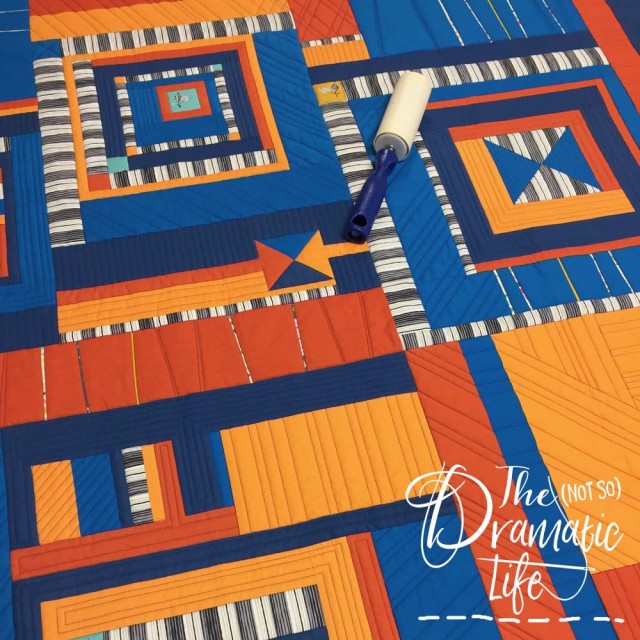 Any time that I have used cotton batting and/or have a quilt with heavy matchstick quilting, I stuff each fold with tissue paper. I am trying to cut back on the amount of tissue used when the quilt has wool batting and slightly looser quilting. Quilts are folded top to bottom and then sideways. I had once heard that folding quilts diagonally, but only did it once. When that quilt received a prize, I had the chance to speak with one of the people running the show and was informed diagonal folding is probably the worst way to ship a quilt. It isn't easy to fold a quilt on the diagonal, so I was actually relieved to hear this.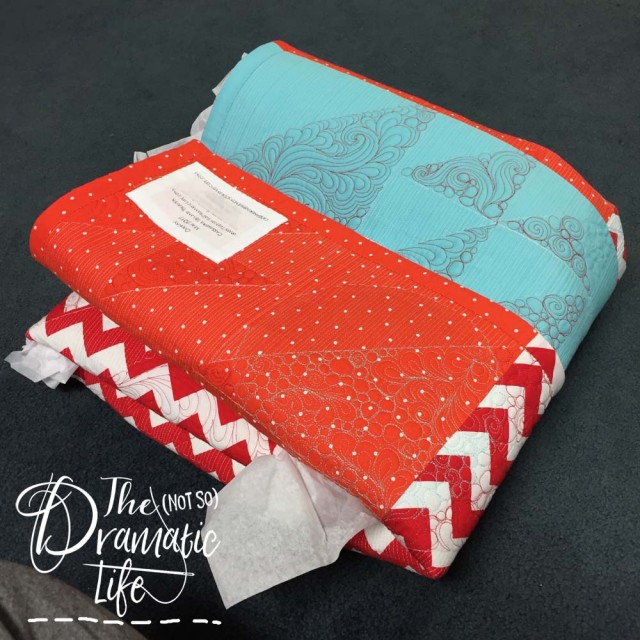 Whenever possible, I try to fold the quilt so the label is on the outside. If the quilt ever gets separated from its box, I want it to be easy to identify and get back to me. Each show is different, but AQS does not require the label to be covered when it is sent out. The quilt is then put in a transparent plastic bag. I prefer the extra large ziplock bags since they have a strong seal to keep the quilt dry while in transit.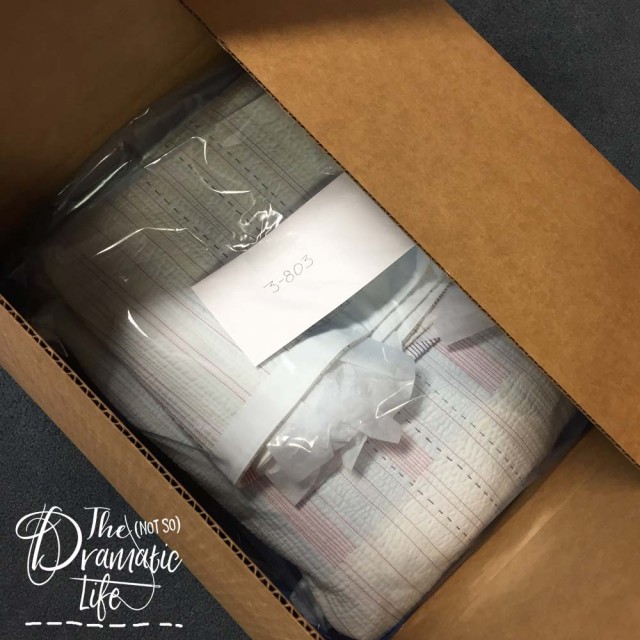 The paperwork required for each show is different, but for this show you tape an envelope with the quilt's show number printed on it to the bag. This envelope holds the return shipping information. I have recently started using pre-printed labels for shipping and return shipping. This saves a lot of time dropping packages off, and it often ends up saving a little money on shipping. Setting up a shipping account has been very worthwhile for me. Where I live, FedEx seems to have the best rates and be the most reliable. The Postal Service is more expensive once I account for insurance, and UPS does not have particularly good service in this area. UPS routinely leave packages sitting out in the open, even if they are supposed to require a signature for delivery. I don't know if this is the case in other areas, but the fact that it happens here makes me worry it happens other places.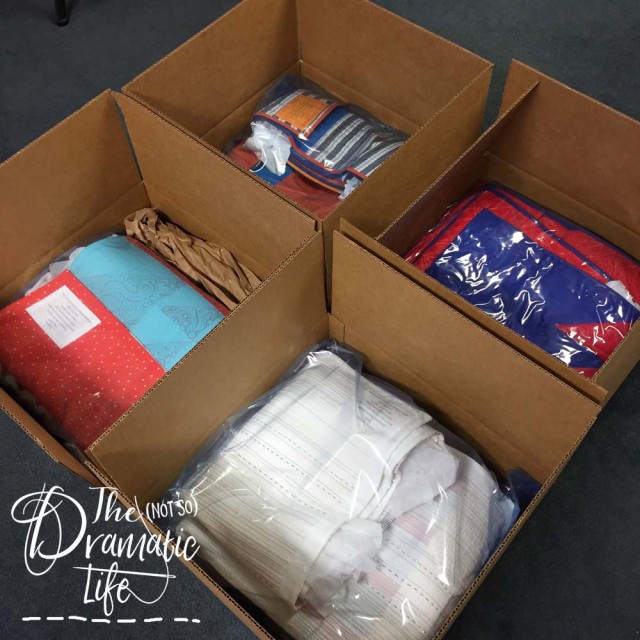 If you are shipping high value items with FedEx, they will probably check that your boxes are properly packed before shipping, so it is best to let them seal the boxes at the store. If you are printing your own label, you can go ahead and seal them up. For the show pictured above, I had four quilts heading out in one day. I usually plan to spend an average of about one hour per quilt to prep paperwork and pack it to ship. Fortunately, when I'm shipping to AQS, ground shipping only takes one day to arrive, so I only have one night to worry about my quilts in transit! It has taken a couple of years, but I am finally getting used to this process. The guy at FedEx even recognizes me now!
Now I get to worry until I receive the notification of the safe arrival of my quilts!