Have you ever watched a spin-off of a television show? What I'm sharing here is the quilt equivalent of that!
After finishing an improv quilt that incorporated lots of stripes, I was left with a pile of fabric strips in various shades of orange, pink, and yellow. I could have put them away for a later time, but instead they (along with some other fabrics from my stash) became an entirely new quilt!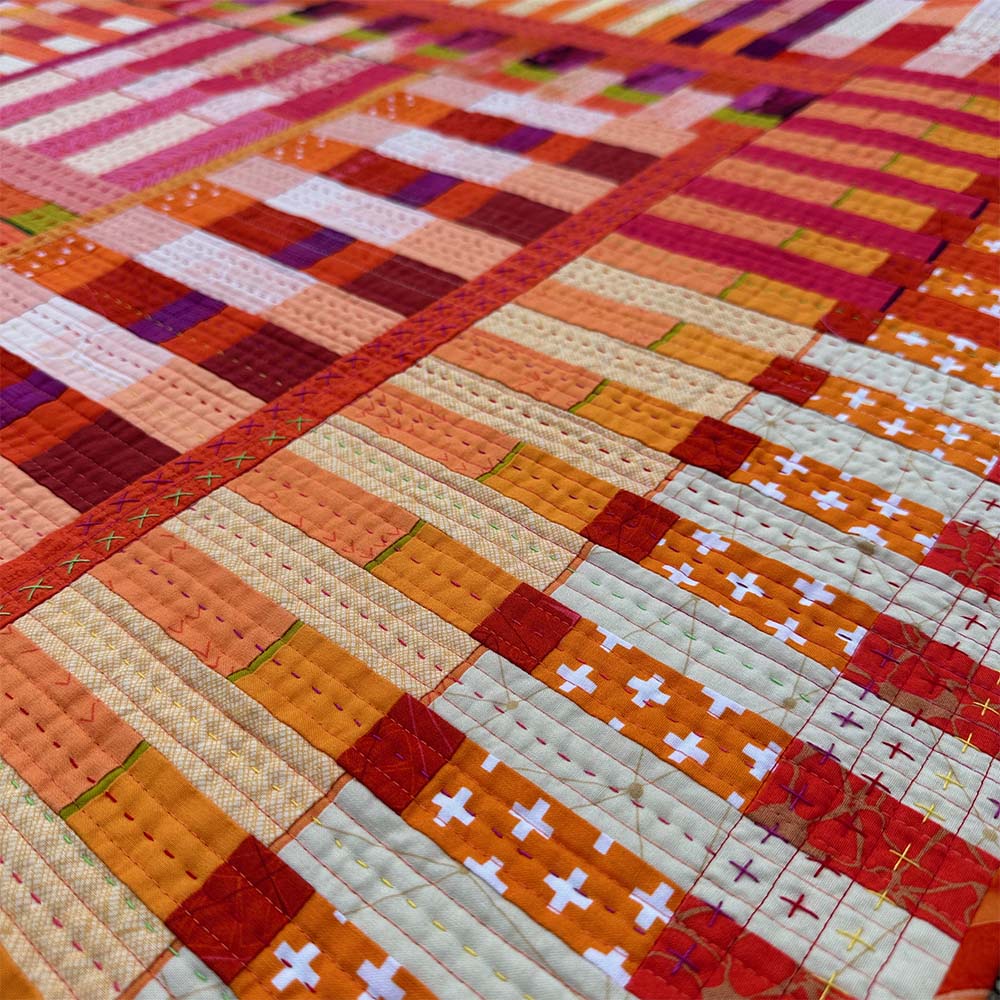 Thank Goodness It's Finished Friday
I'm thrilled to host this week's Thank Goodness It's Finished Friday (TGIFF), and I can hardly wait to see all of your recently finished quilts! Scroll to the end of this post to see what everyone has been working on and add your own recent quilty finish.
Emergence
In 2020, I did three and a half 100-day projects, and Emergence was the half-ish project at the end of the year done as a countdown to QuiltCon Together held in February 2021. The day before the kick-off of this virtual event was day 100, and I had a completed quilt as well as a large pile of orange, pink, red, and yellow fabric strips that I had been incorporating into the semi-improvisational process.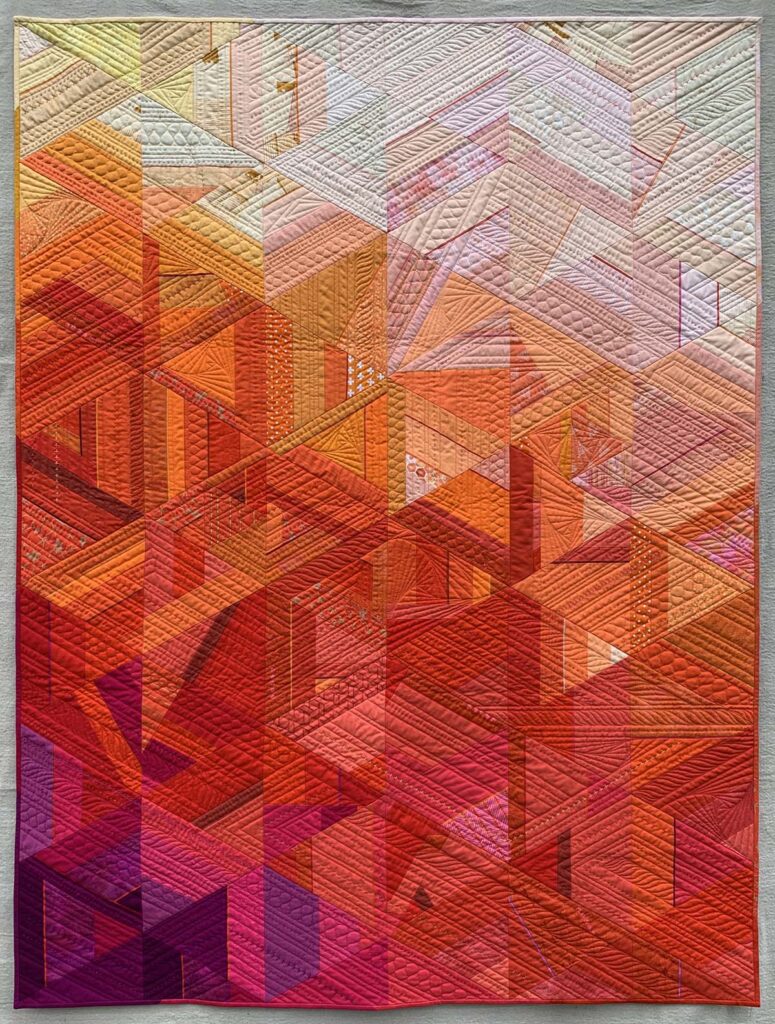 (This post may include some affiliate links. If you click on an affiliate link and choose to make a purchase, I receive a small percentage of the sale at no cost to you. These funds help keep this blog running and projects like the Quilt Concert FREE for everyone!)
Starting the Spin-Off
Armed with piles of leftover scraps, and dozens of virtual QuiltCon lectures to watch over the four day event, I set up my computer next to my sewing machine, and spent several days immersed in the quilt world.
Other fabrics from my stash made their was into this project along with the scrap strips, including the awesome ice-dyed pink fabric I had created the previous Summer. It's so fun to find the perfect place to use these special fabrics.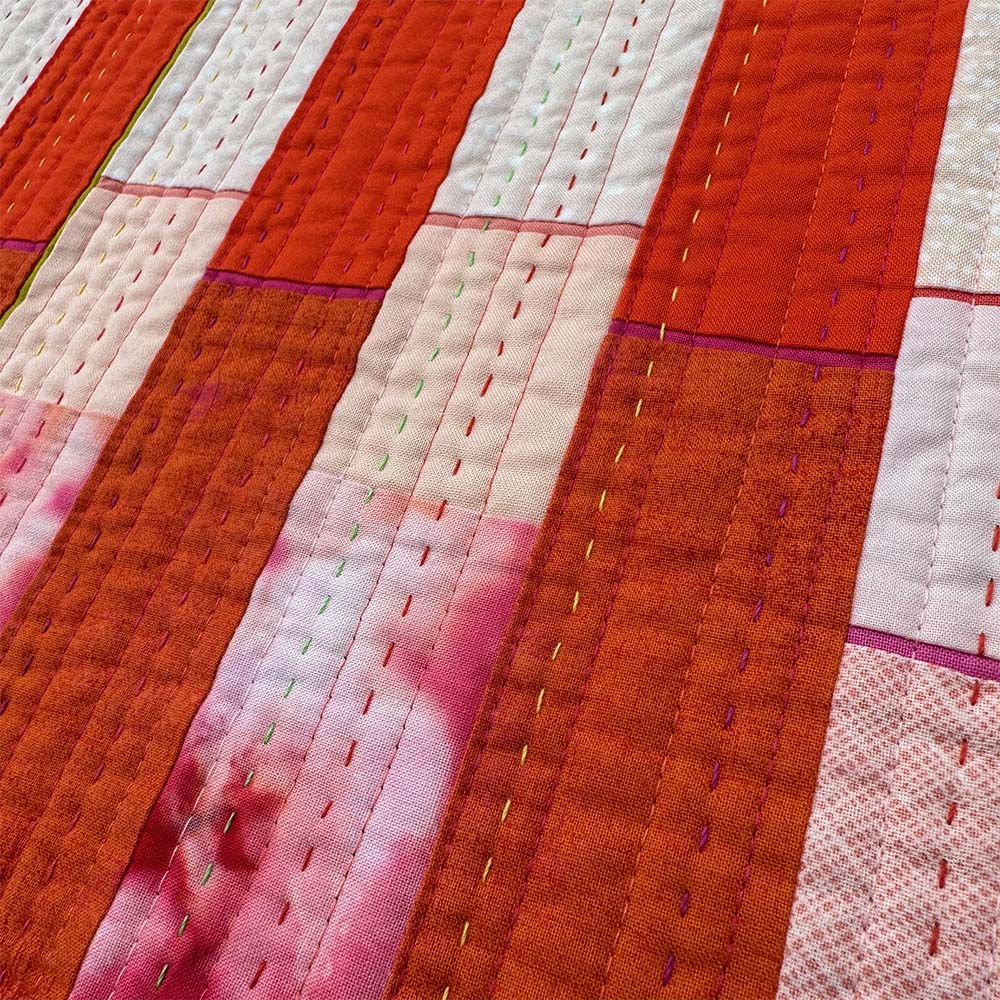 I started out strip piecing the scraps, including the occasional 1/8″ wide sliver piecing that I like so much. Those components then got cut into strips perpendicular to their seams and reassembled with other units in a variation of interleaving.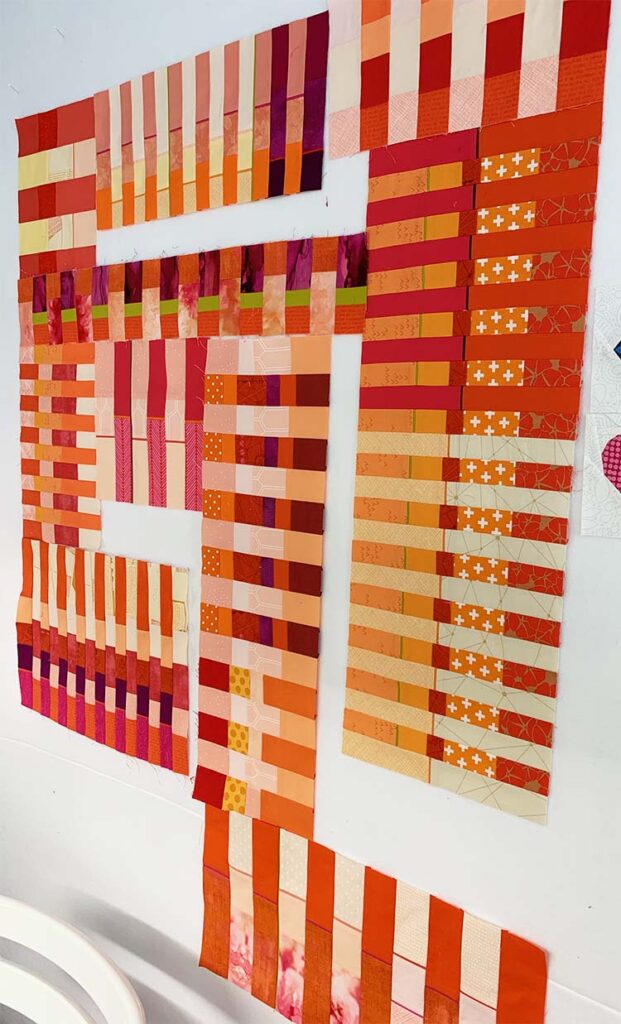 Do you want to learn more about how to do 1/8″ Sliver Piecing? Check out this article I wrote for the BERNINA We All Sew Blog!
By the end of the weekend, I had a complete quilt top that reinterpreted the fabrics used in Emergence. I then set it aside in the notorious "to be quilted" pile where it resided until this year.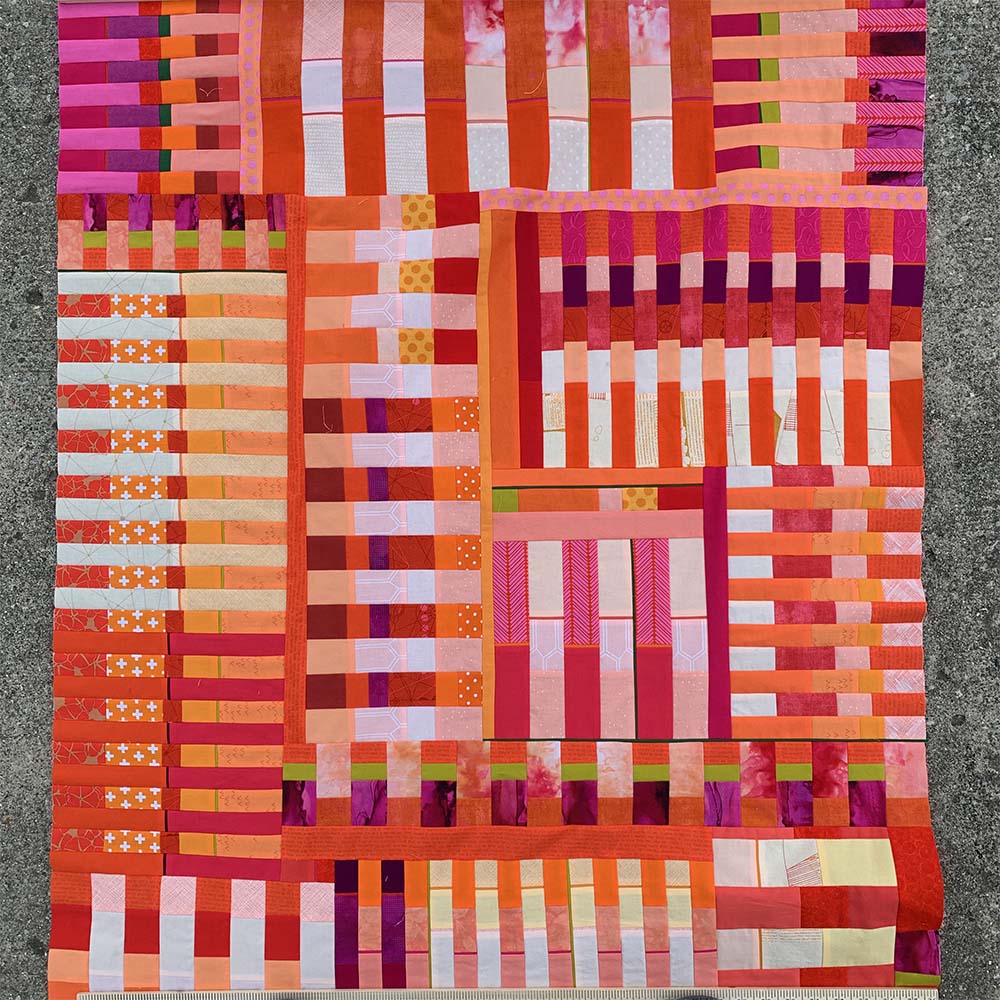 Machine Quilting
Straight line walking foot quilting is my favorite, and linear quilting enhances the effect of the multiple stripes featured in this quilt design.
For more information on how I do walking foot quilting, check out this post: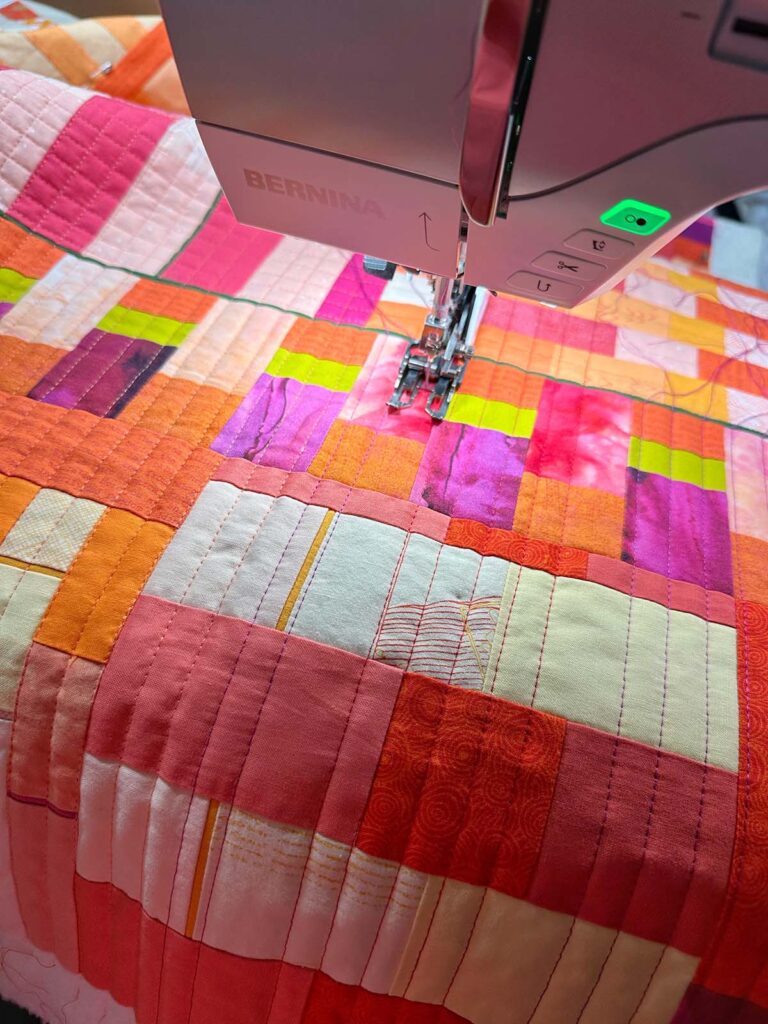 Because the stripes in this quilt go in multiple directions, I quickly decided that the quilting lines should also go in multiple directions. Most of the quilt has either vertical or horizontal quilting lines, but in a few areas I let them intersect to form a grid.
The machine quilting is spaced at 1/2″ apart and done with four colors of 50-weight Aurifil thread: red, pink, orange, and fuchsia.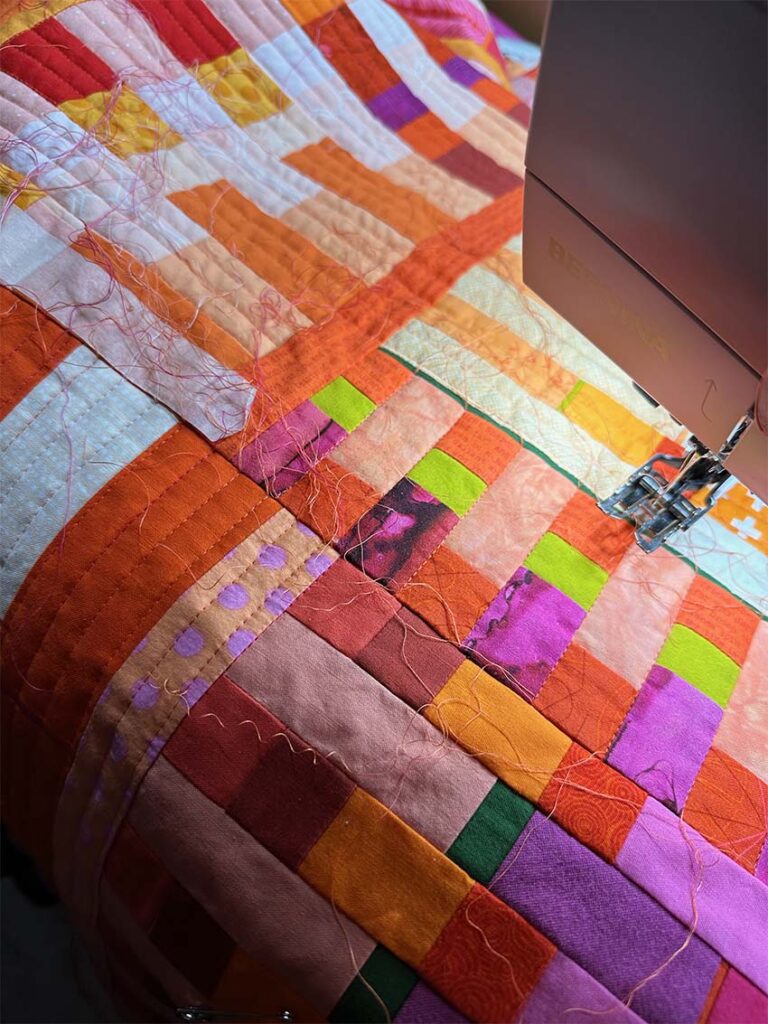 Burying Threads
The big downfall to changing quilting directions is the need to finish off the end of each stitching line. Since I plan to enter this quilt into shows, the starting and finishing need to look pretty. The process of knotting and burying thread tails is made a lot easier with side threading needles.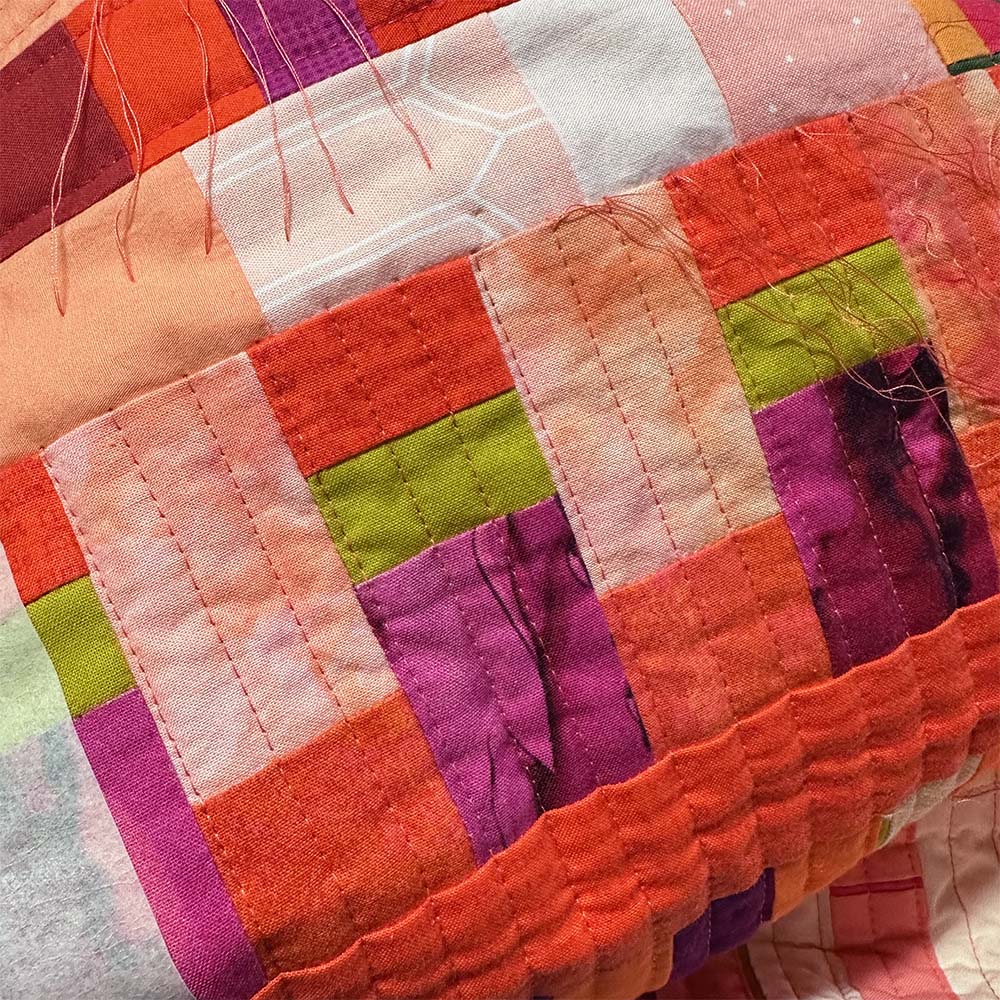 Hand Quilting
The machine quilting looked good on it's own, but I love the look and texture imparted by large stitch hand quilting. Since this piece was already machine quilted with a moderate density, I was able to add hand quilting stitches without any additional basting or a hoop.
For some projects I choose to mark lines or even stitch spacing. This particular quilt is softer and more personal than those projects, and I decided it would benefit from showing "the hand of the maker" a bit more. I always wear a thimble to save my fingers and speed up the process while hand quilting.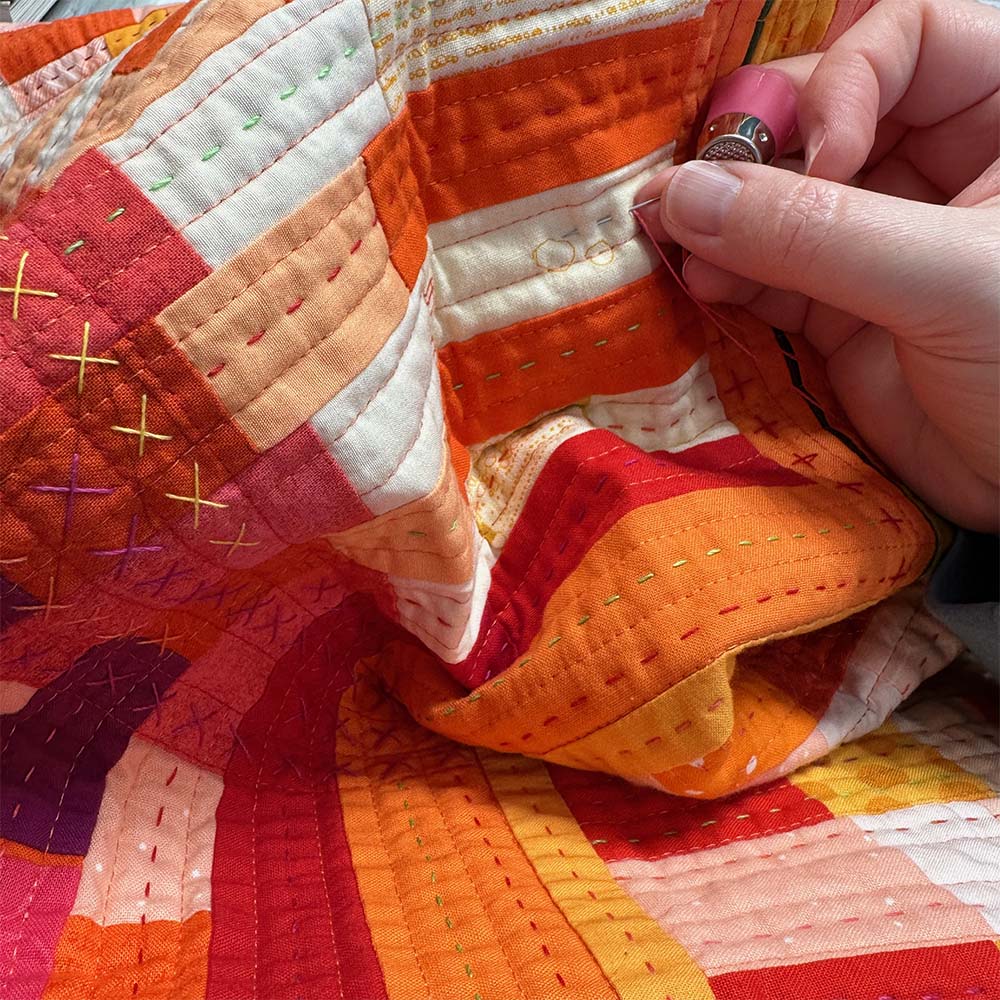 My favorite thread for large stitch hand quilting is 12-weight Aurifil, and I used several different colors to quilt this project.
In addition to standard running stitches, I included plus stitches, X stitches, and even some decorative ties. These decorative stitches particularly enhanced the areas of machine grid quilting.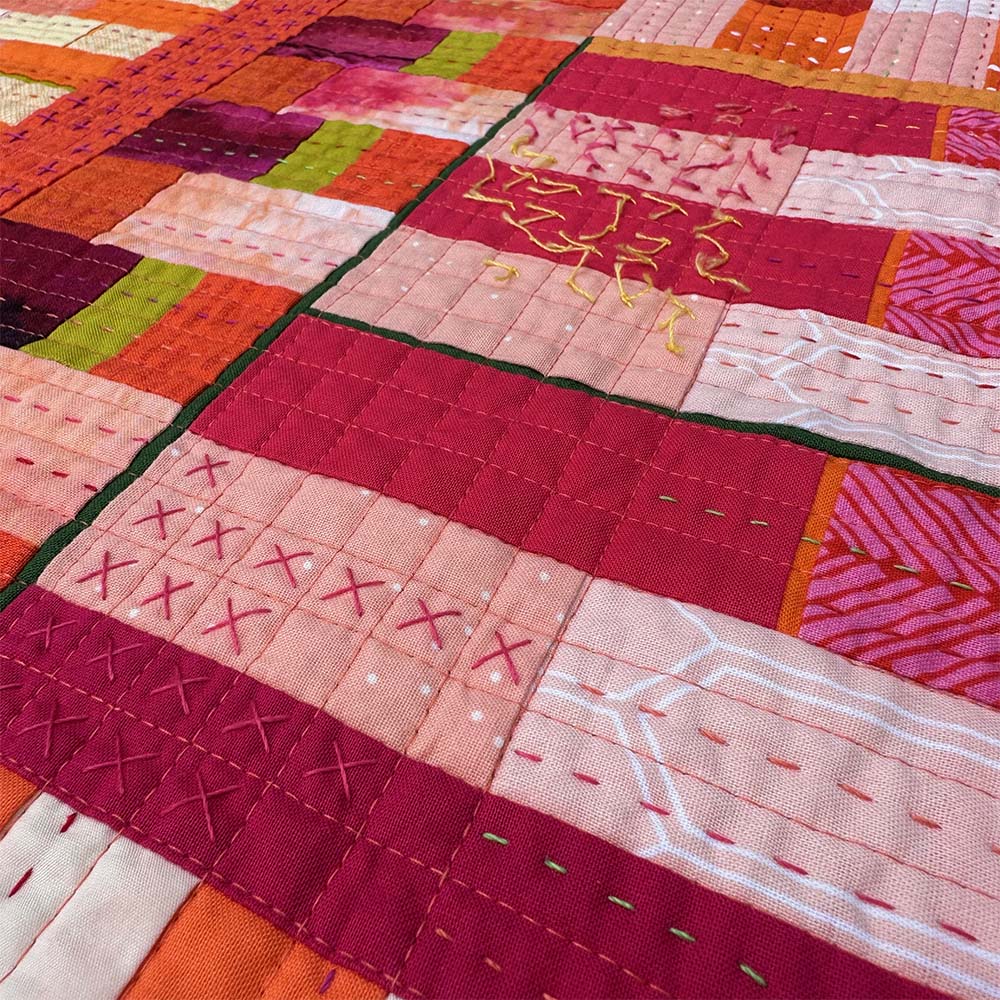 Finishing
A scrappy quilt calls for a scrappy binding! The majority of the binding is a batik strip cut on the bias, but sections of a violet speckle and green floral mix things up a bit around the edge of the quilt.
I'm also one of those people (go ahead and roll your eyes!) who love hand sewing the binding to the back of the quilt.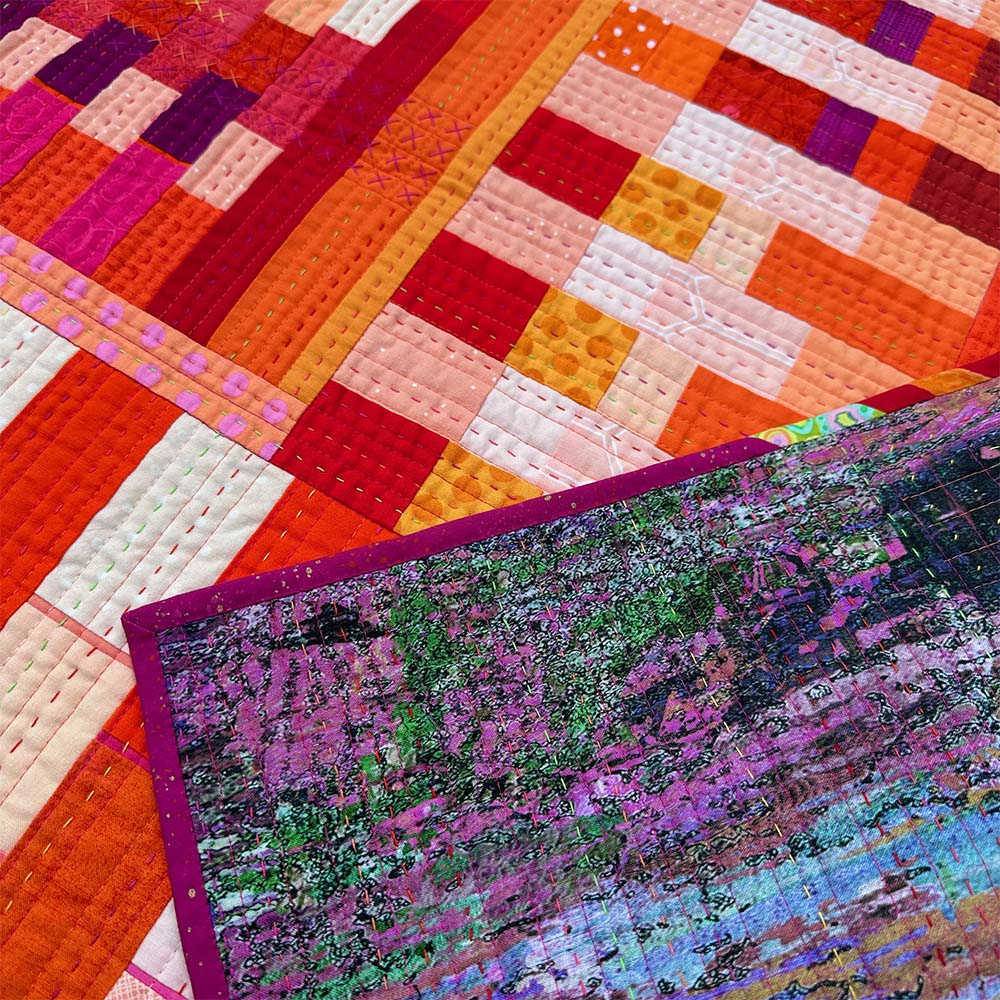 Next Verse, Same As Different Than the First
After more than two and a half years, it's finally finished! And since I just entered it into a quilt show, it even has a name- Next Verse, Different Than the First, honoring its start as scraps from a previous quilt.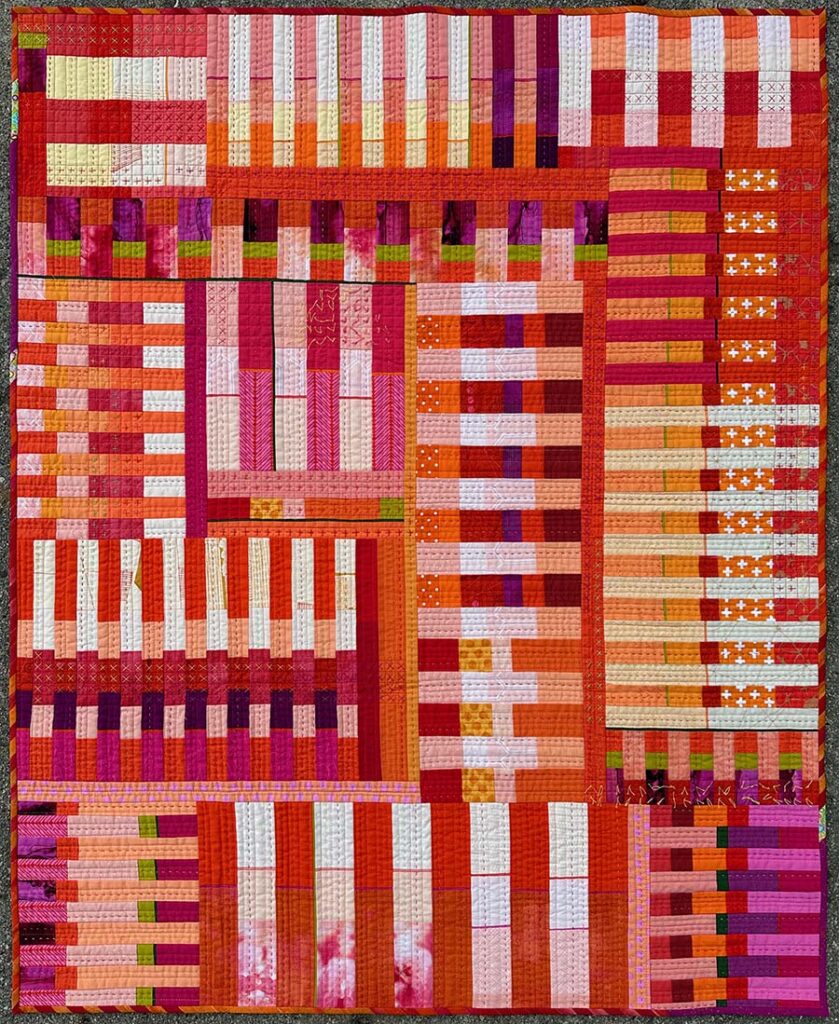 Quilt Stats
Title: Next Verse, Different Than the First
Size: 36.5″ x 45″
Techniques: Machine Piecing, Improv Piecing, Interleaving, 1/8″ Sliver Piecing
Quilting: Domestic Machine Quilted with a walking foot on a BERNINA 770QE PLUS, large stitch hand quilting using running, X, and + stitches, hand tied
Fabric: Over 40 fabrics including scraps from Emergence mixed with assorted solids, prints, and hand dyed fabrics from my stash
Batting: Hobbs Tuscany 80/20 Cotton/Wool Blend
Thread: Pieced and Machine Quilted with 50-weight Aurifil in four colors. Hand Quilted with five different colors of 12-weight Aurifil
Binding: Batik stripe with violet speckle and green floral accent pieces cut on the bias
Thank Goodness It's Finished Friday Link-Up