After finishing my entry into the Modern Quilt Guild Riley Blake Challenge, I had quite a bit of fabric left so I thought that I would create a mini quilt using some of the extra fabric. For this mini I used 60 45 degree triangle and 6.5″x24″ rotary cutting ruler, but no specific templates.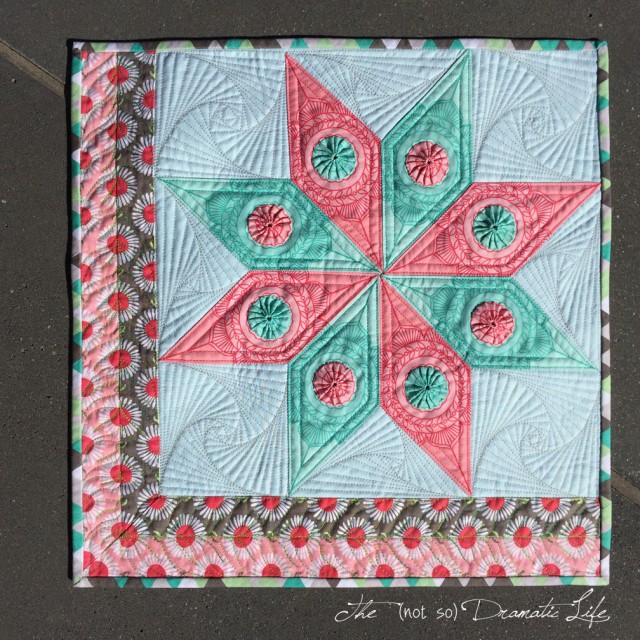 This fabric line has designs in several color ways that seem to lend themselves to fussy cutting, so I wanted to explore this aspect of the fabric in the design. Two colors of the floral fabric I used in the border had the same color flower center, and I thought it would be fun to piece them together to create a single border print. The main part of the quilt design focuses on a fussy cut diamond star, and the yo-yos in the center of each diamond are also also fussy cut from the same fabric.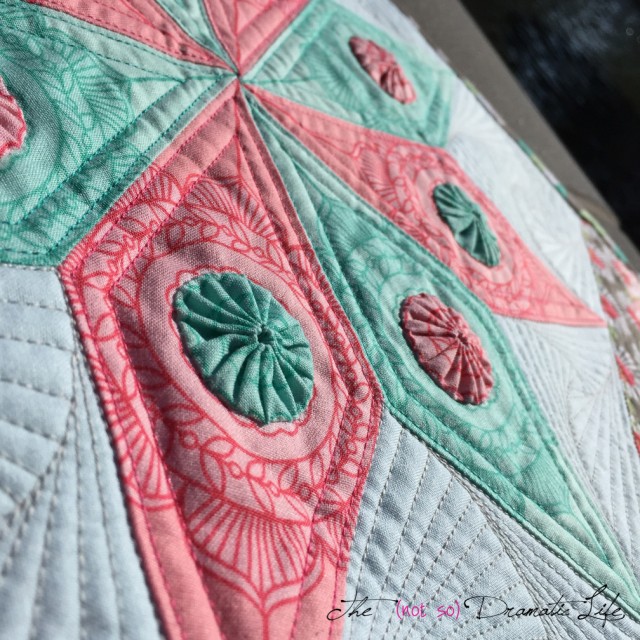 For the batting in this quilt I used a piece from a sample pack that Hobbs Batting had given me at a quilt show several months ago. This batting has a fusible on each side which allows you to iron the top and back into place simultaneously meaning that there is no basting! I loved not having to baste! This batting is fairly thin, so it isn't necessarily perfect for every project, but it worked really well in this application. I am thinking about getting some more to use for small projects- it was so great to not have to mess with safety pins, and I don't do sprays (but that's a conversation for another day!)
I enjoy creating designs that are asymmetrical so the border of this mini only encompasses two sides of the star. The quilting pattern on the border embraces the garden theme with vines quilted in variegated green thread.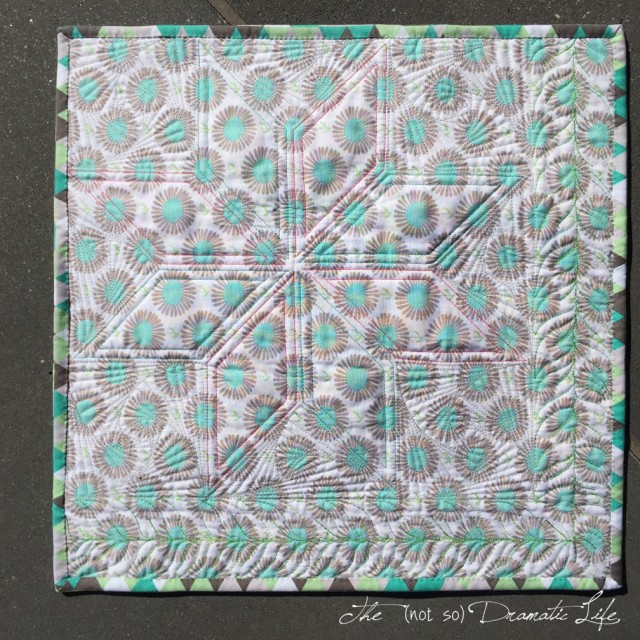 The quilting on the stars is very simple with only a double row of stitching which echoes the diamond shape. This allows the Zentangle quilting in the star surround to really shine. I had never tried this type of design, but now I am in love. It may be hard to not use this design on absolutely everything! It was really easy to do using a walking foot, and I didn't even have to do any marking since this project is so small. I'm sure if you looked closely enough you would see differences between each area, but it isn't immediately noticeable.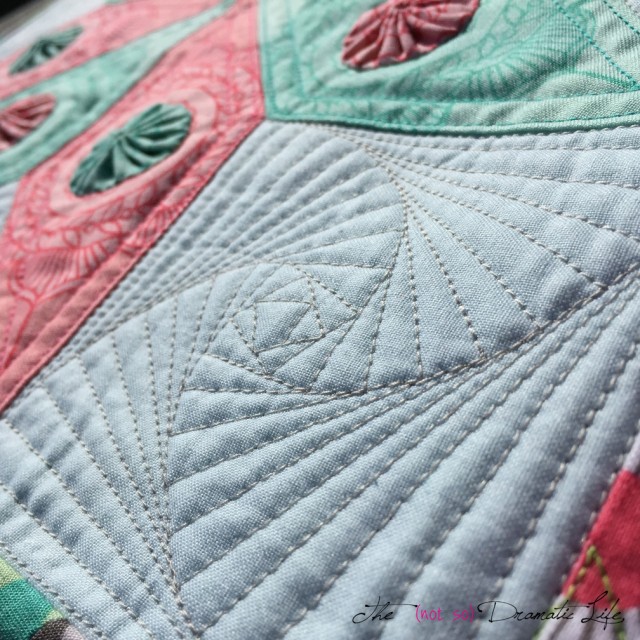 For the quilt binding, instead of cutting a true bias strip, I cut on the angle of the pattern instead. This allowed for the equilateral triangles in the fabric print to line up along the edge of the quilt.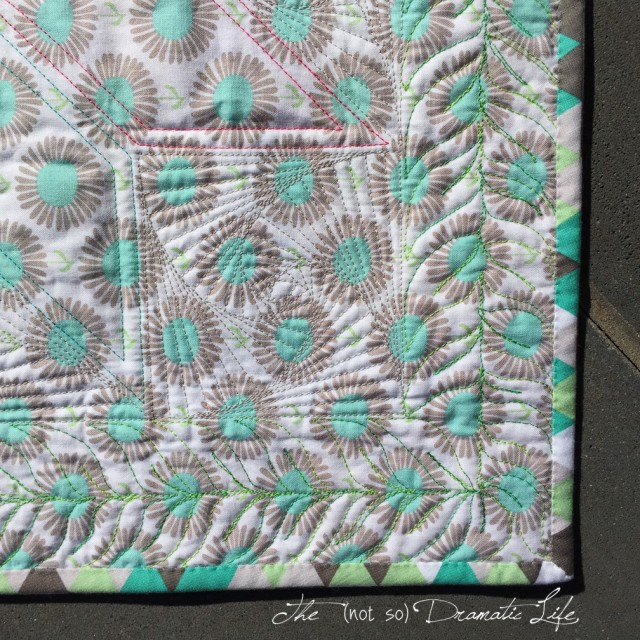 Quilt Stats:
Title: Tiny Cottage Garden
Size: 15.5″ x 15.5″
Techniques: Machine piecing, fussy cutting, Y-seams
Quilting: Freemotion leaves; Zentangle and echo quilting using a walking foot on a Bernina 1008
Fabric: Riley Blake Cottage Garden fabrics and RB light blue solid.
Batting: Hobbs 80/20 Fusible Cotton Blend
Thread: Pieced using Gutermann Mara 100 in white, quilted with grey cotton quilting thread, Connecting Threads 50wt Magenta Cotton Essentials, and Wonderfil teal and variegated green 50wt cotton thread.
Binding: Strips cut following the pattern on the fabric (about a 60 degree angle), machine stitched on the front, hand stitched on the back
What was new?
Zentangle Quilting
Fussy cut yo-yos
Cutting binding on an angle which matches the pattern of the fabric