With so many quilt blocks out in the world already it is easy to think that there is no way your interpretation is original. Since most quilts are comprised of simple shapes (squares, rectangles, triangles, circles, etc.), it's easy to start thinking that every possible design has already been created. Today I am sharing with you how I took inspiration from a single traditional quilt block to create two very different quilts. And, if you read to the end, I'll be sharing 5 tips to use when you start creating your own quilt.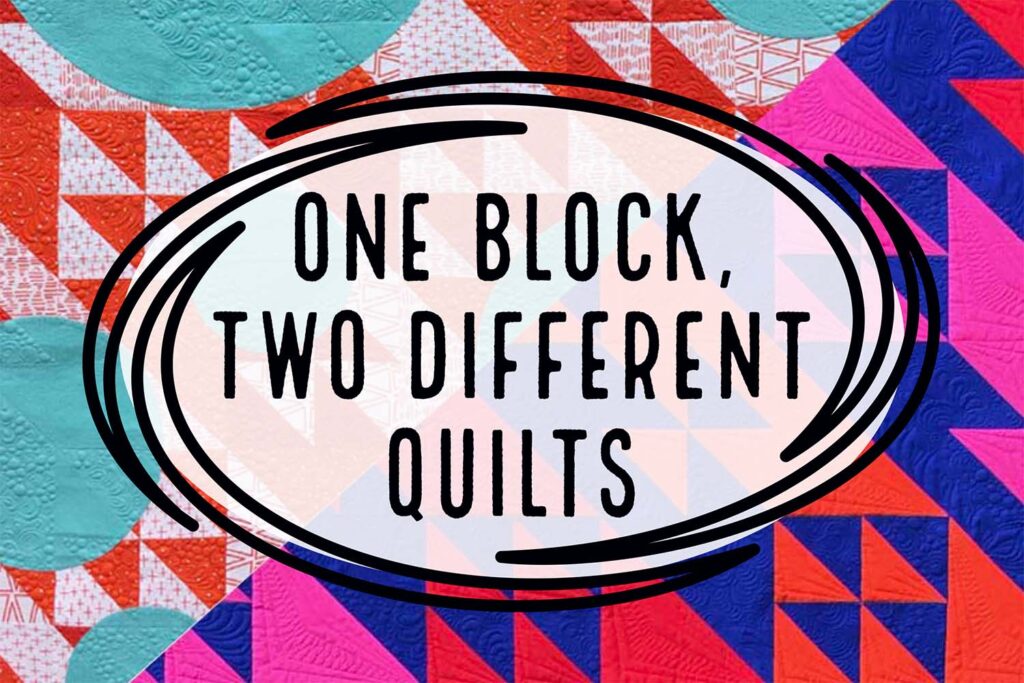 When did you make your first half square triangle (HST)? Was it your first quilt? Second? Third? If you are like most quilters, the HST entered your world pretty on in your quilting life. When I am seeking inspiration, I often look traditional quilt blocks in Barbara Brackman's Encyclopedia of Pieced Quilt Patterns. One day this Flock of Geese block jumped out at me and I had to give it a try.
The Flock of Geese block is made up of four equal sections, two with a single large HST, and the remaining two sections are made of four smaller HST components. Because this block already uses two different scales of the same component, it seemed like a good choice of block to experiment with. I also liked how the block uses two colors in equal amounts, but the layout divides the block in half diagonally with the upper right using the dark fabrics heavily, and the lower left predominately using the light fabrics.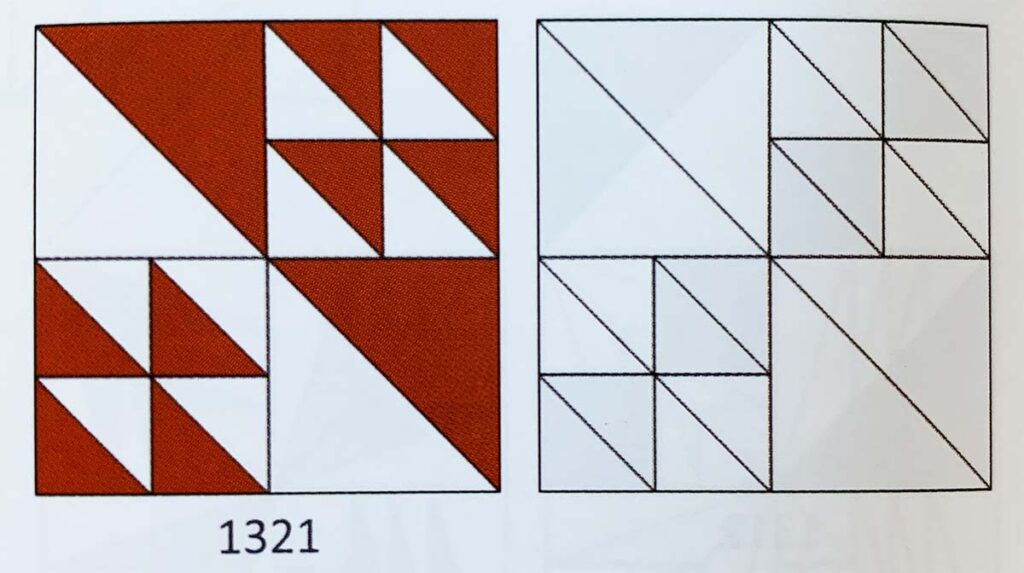 Quilt 1: Overlay
This quilt started as a challenge with the Modern Quilt Guild with a specific palette of fabrics required for each entry. Using the red and white prints along with some permitted solids, I created a lap quilt sized piece with three blocks across and four blocks down.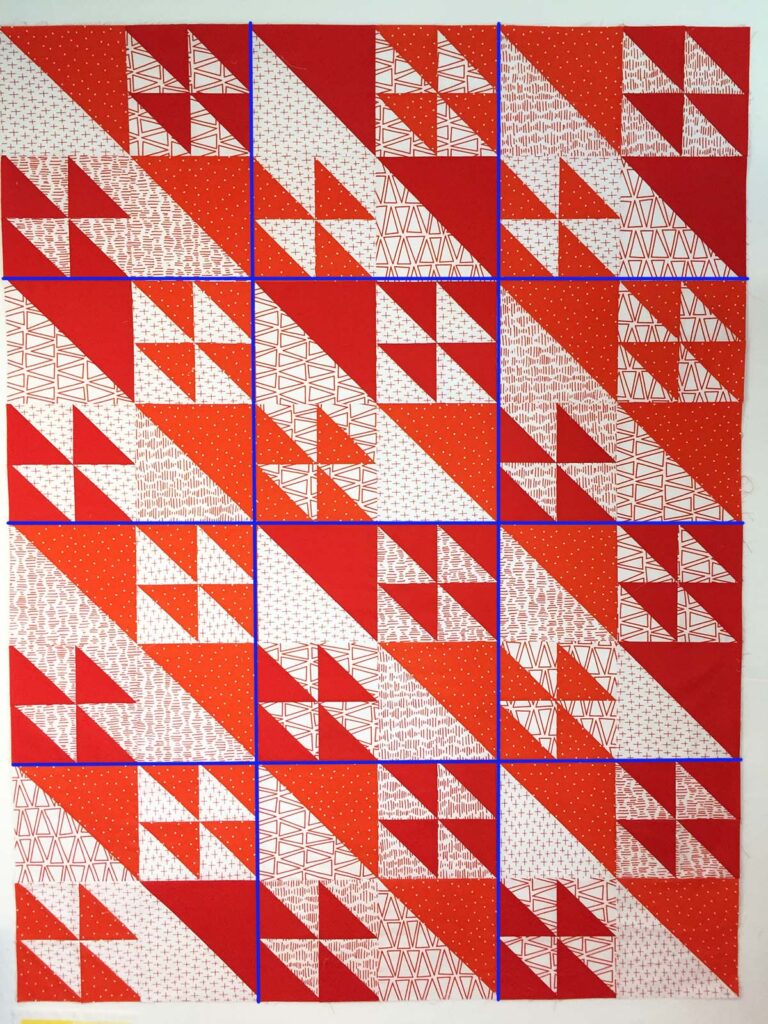 The resulting quilt top was graphically strong, but I wanted to up that graphic quality by adding some unexpected experimentation with negative space.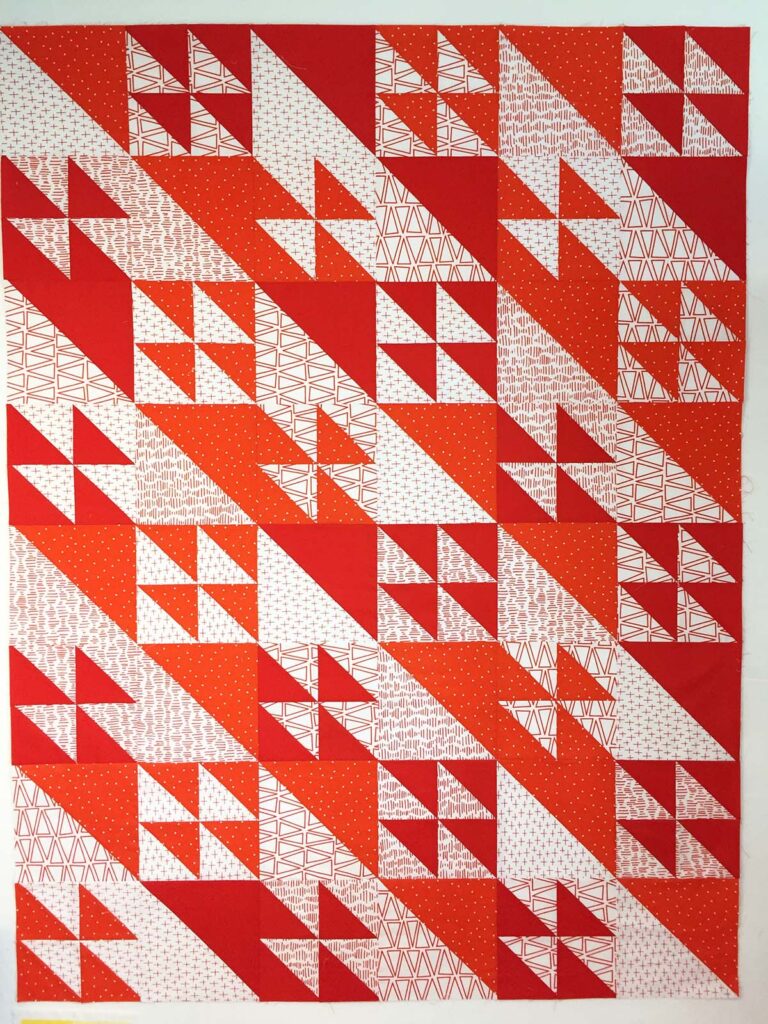 Enter the circle "overlays." I wanted to keep the shapes simple in this design, but liked the juxtaposition of the curved circles against the sharp edged triangles. For each circle I created a paper template from either printer paper or a roll of brown paper depending on the size. This allowed me to get a sense of scale before committing to cutting any fabric. Once the circles were cut from fabric and placed over the pieced background, you could still see the Flock of Geese blocks showing through a bit.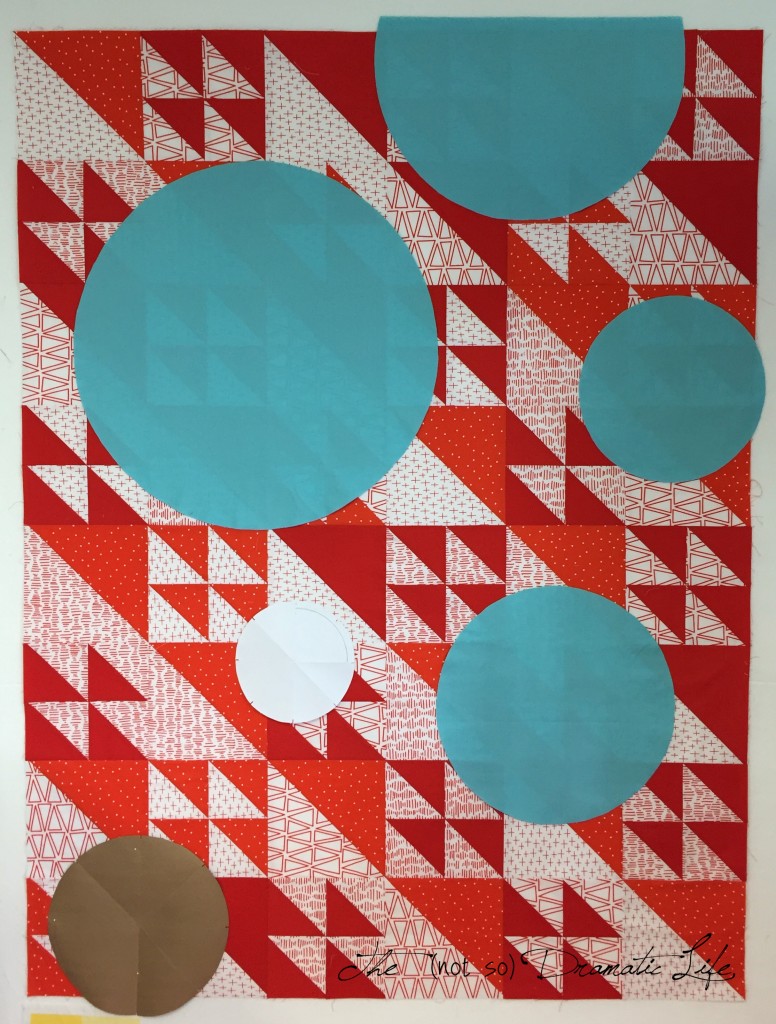 The quilt top had the circles cut from it and the new blue circles were pieced into the quilt top. When it came time to quilt, I kept thinking about how texture can carry through a visual story. When I was in elementary school, we had s cinder block wall by the playground that had been painted with a mural of characters. Even though the figures dominated the color of the wall, the texture of the block still showed beneath the paint. Following this concept of a texture story, I continued the Flock of Geese Pattern in quilting stitches through the pieced circles.
Ultimately this design took the original design, broke up the block pattern with an unexpected element, and then reconstructed the design with a different technique. The color vs. texture elements brings in the question of what is positive or negative space in the composition. You can read more about Overlay here.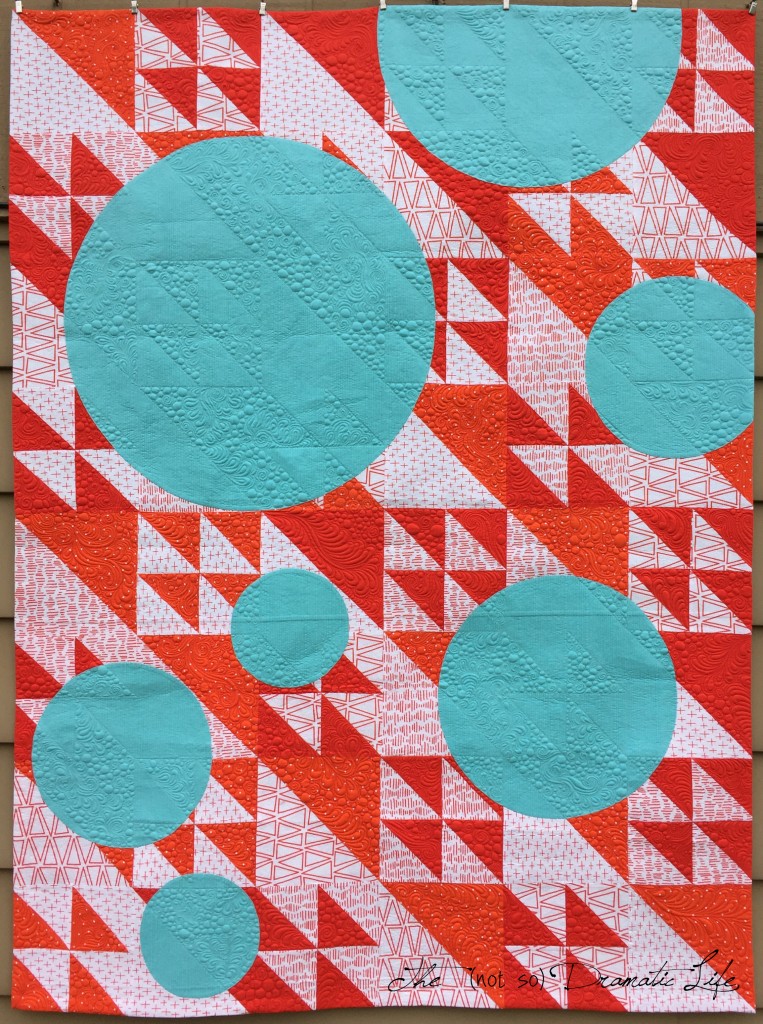 Quilt 2: Taking Flight
When Overlay was in its early stages, one of the first things I noticed was how the value of the quilt created pronounced diagonal lines when the block was repeated. Even before the original quilt was completed, I was already thinking about how I could reimagine the traditional design in a way that would highlight these diagonal lines.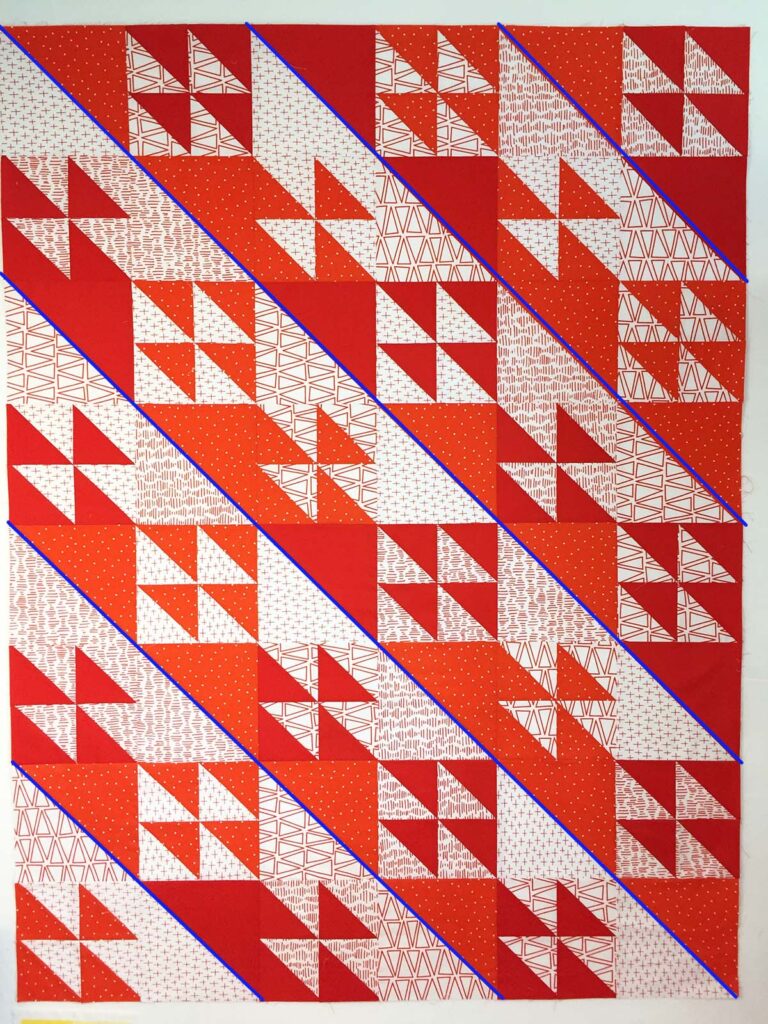 Since the diagonal lines were the key element of the design, I knew I wanted more repeats of the original block. I wanted to maintain a large scale block, so this quilt was done to fit a queen size bed. In this iteration of the design, color is used to emphasize the diagonal lines and asymmetrical borders are broken by the two longest diagonal lines.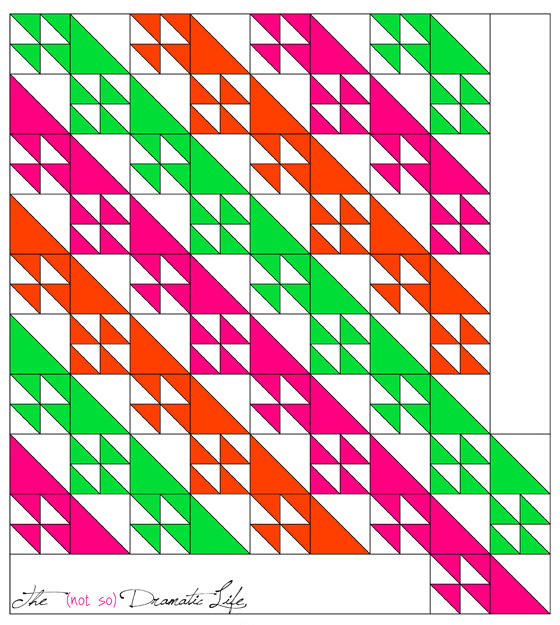 While the first version of Taking Flight used a white background similar to the original block rendering, I decided to try a darker background color option. In this version the background is slightly darker than the contrast colors, but just close enough in value to make the palette hum.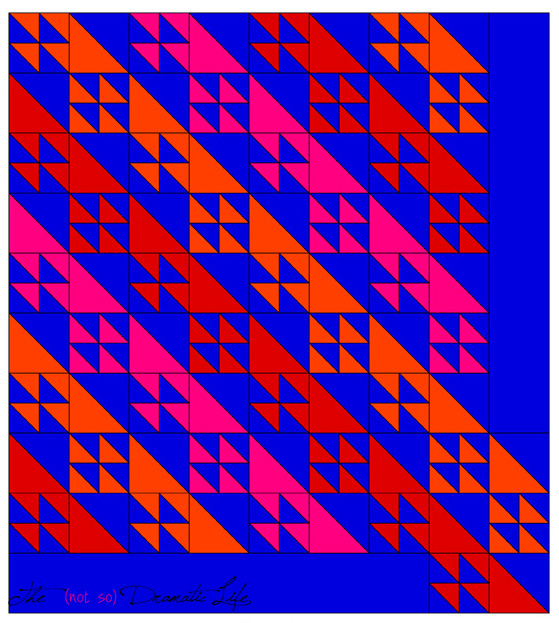 When quilting the final version of the quilt, I continued to explore the use of quilting stitches as a defining element of the design. The blue areas are free motion quilted with feathers and swirls and the contrasting components are quilted with a moderate amount of ruler work with a touch of free motion. The slightly lighter quilting in these areas allow the warm colors to physically pop forward on the quilt just a bit.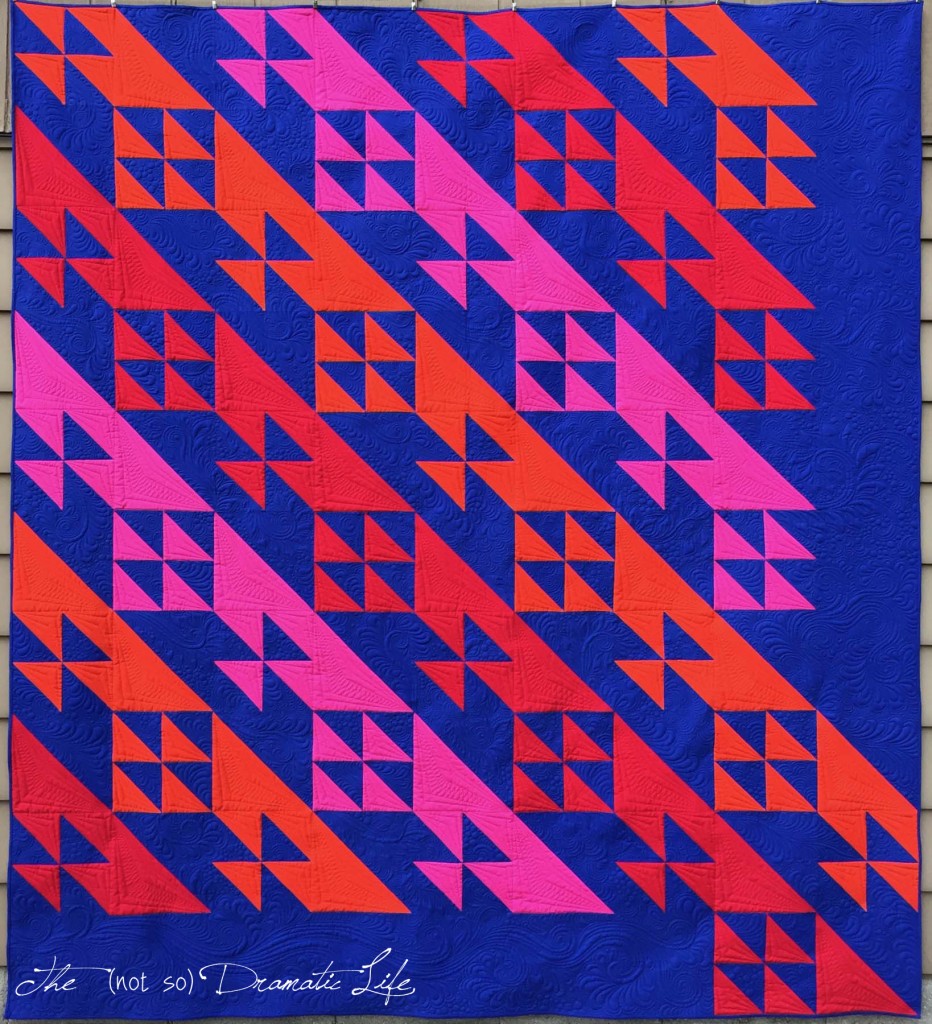 These are two possibilities for the Flock of Geese Block, but I have already though of several more. What would you do to make this block your own?
5Tips for Creating Your Own Design Starting with a Traditional Block
Start with a block that uses simple components you enjoy making
Do a line or value drawing of the block then copy it several times (either digitally or on paper) cut out the blocks and place them together, then try rotating them in different ways. Do you see any appealing patterns emerging?
Consider negative space. Would your new configuration benefit from blocks going edge to edge? Should full blocks or partial blocks be removed to make the composition more interesting?
What does your overall composition look like? Is it symmetrical? What would it look like if you adjusted some elements to make it asymmetrical? Does it make the composition more interesting?
How does scale work with your design? How many times does the block need to repeat in order to make the most of the design? Would larger or smaller scale blocks make the greatest impact?

If you want to learn more about quilt design…
In February of 2023 I'm teaching a class called From Page to Project where we will be taking a deeper dive into creating your own Modern Traditional Quilt Designs. Head to the Quilt Con site to register now!
There is still room in both sessions:
DES013FriPM is Friday, February 24, 2023 from 1:30pm-4:30pm Atlanta time
DES013Sun is Sunday, February 26, 2023 from 9am-Noon Atlanta time
Registration is happening now, and I hope to see you there!