What could be more fun than a mini quilt? Eleven mini quilts! This week I decided to make the fun and games of Mini Quilt Mania into a real game! This mini is a quilted version of tic-tac-toe with a Valentine's Day twist.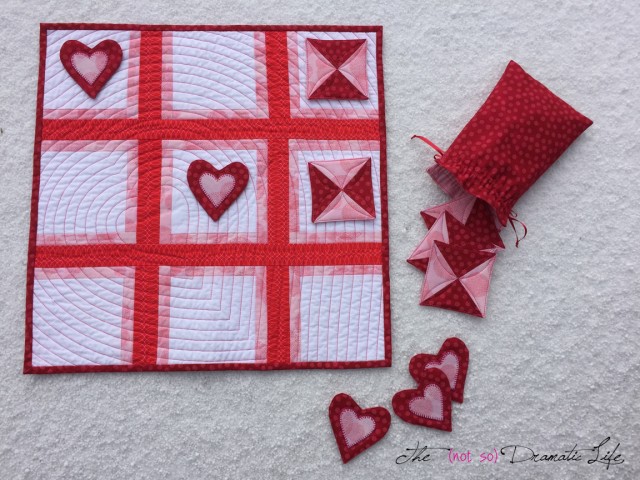 The game board section section of the set is comprised of a grid of red echoed with this fun pink print. The background of white Kona Cotton really shows off the echoing heart spiral quilting.
The backing of the quilt is also white Kona, which shows off the pink quilting thread.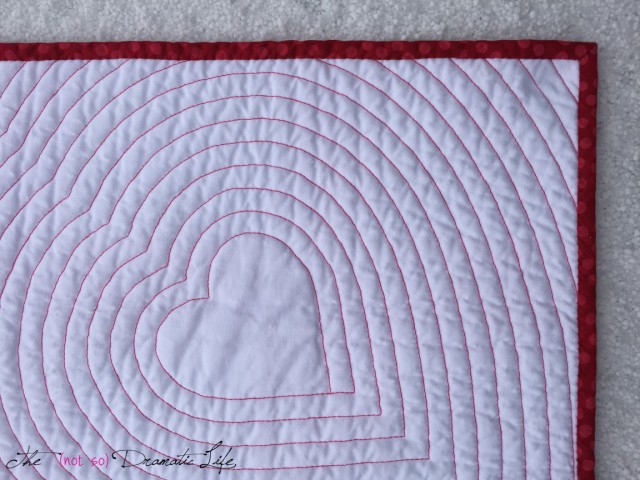 One quilt isn't enough for this week, so I made ten more mini quilts to act as game pieces.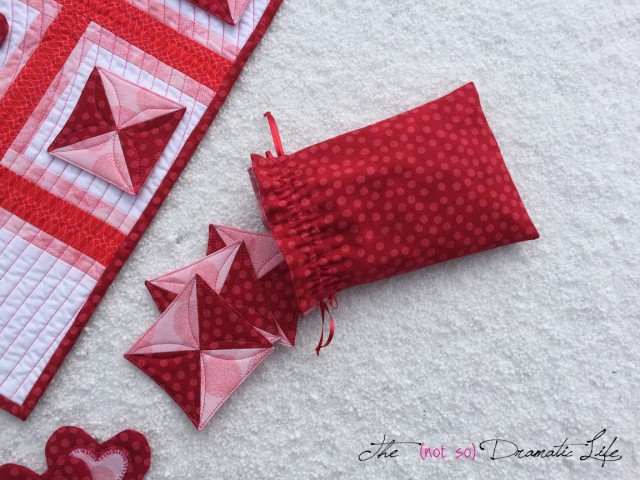 The five X's for this game are square blocks made from half-square-triangles that are paired with one another then stitched and cut again along the opposite diagonal.
I replaced the standard O's of the game with five heart shaped pieces. The inner hearts are fused using Wonder Under before being machine blanket stitched around the edges.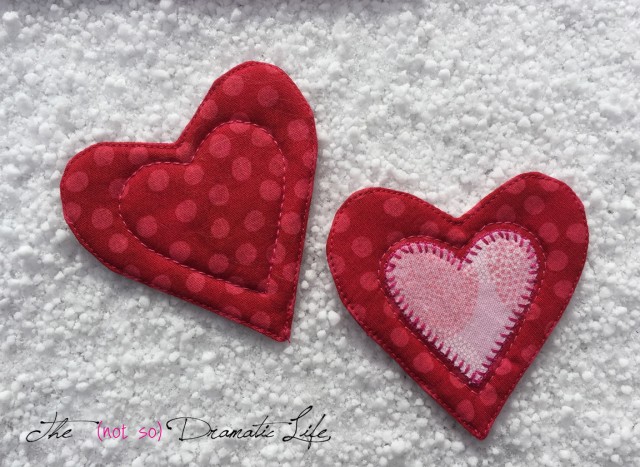 All of the game pieces were "bagged out" (stitched together with right sides of the fabric facing one another and then turned right side out through a small opening in the stitching) with a piece of cotton batting. I had never tried this technique with batting before, and I was a bit concerned about the bulk around the edges of the pieces. Fortunately, a row of edge stitching around each piece allowed them to lay flat. The added bonus was that the edge stitching closed up the openings used to turn the pieces right side out. No hand slip stitching on this project!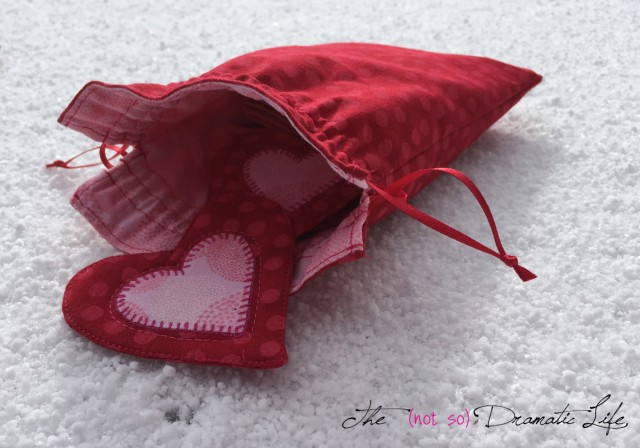 To keep the game pieces together, I whipped up a cute little drawstring bag in matching fabric. It is fully lined in the light pink cotton.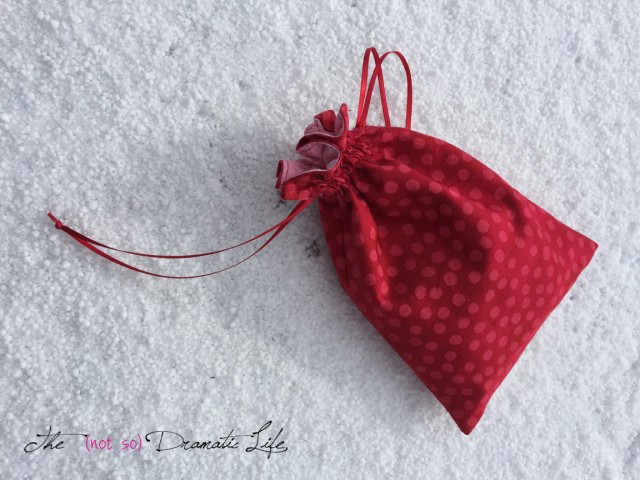 Quilt Stats
Title: Valentine Tic-Tac-Toe
Size: Quilted Game Board- 16.5″x16.5″ Hearts and Squares- 3″x3″ Storage Bag- 5″x7″
Techniques: Machine Piecing, Fusibles, Machine Applique, Bagged-out shapes
Quilting: Machine quilted. Game board- Heart shaped spiral. Heart Pieces- heart shaped ech0. Square Pieces- diagonal orange-peel shapes
Fabrics: 100% Cotton fabrics including Kona Cotton in White, Marble Dot from Moda, a Suzy Ultman print for Robert Kaufman, and a Nancy Halvorsen design for Benartex
Batting: Scraps of Warm and White and Warm and Natural
Thread: Pieced using Gutermann Mara 100 in White and Magenta. Machine embroidery done with Mettler Cotton Machine quilting thread in Magenta. Quilted with Connecting Threads Essential Thread in Magenta.
Binding: Marble Dots from Moda, cut on the bias in 2″ strips. Machine stitched to the front of the quilt, hand stitched to the back
What Was New:
Creating an interactive game in quilt form
Bagging out small quilt pieces with batting included
I am linking this quilt up with Finish It Up Friday at Crazy Mom Quilts, Whoop Whoop Friday at Confessions of a Fabric Addict, Sew Cute Tuesday at Blossom Heart Quilts, Let's Bee Social at Sew Fresh Quilts, Needle and Thread Thursday at My Quilt Infatuation, and Show Off Saturday at Sew Can She. Please stop by to see everyone's lovely work!