Confession: I thoroughly enjoy the hardware store- especially when I can find materials to use in a non-traditional manner. One of the items I like to re-invent is the canvas drop cloth. Canvas is really useful in sewing and craft projects, but tends to be sort of expensive (for what it is) in the big-box craft stores. In the tote bag series I am currently writing, canvas is used to add strength to the project. I thought I would share how I prepare a drop cloth for this type of project.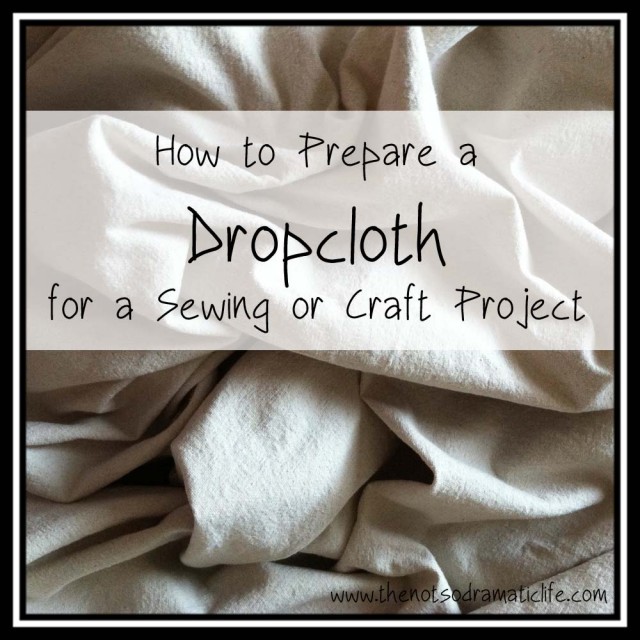 You will find canvas drop cloths in the paint section of most major hardware stores. I selected the 6'x9′ size because this size fits easily into a standard home washing machine and has no internal seams. The amount of canvas in this drop cloth is roughly equivalent to purchasing 5 to 5 and a half yards of canvas off of a bolt at the fabric store. My experience has been that a drop cloth costs about the same as 1 to 2 yards of plain canvas from the fabric store. This is a good deal, especially for projects that you will never see this fabric.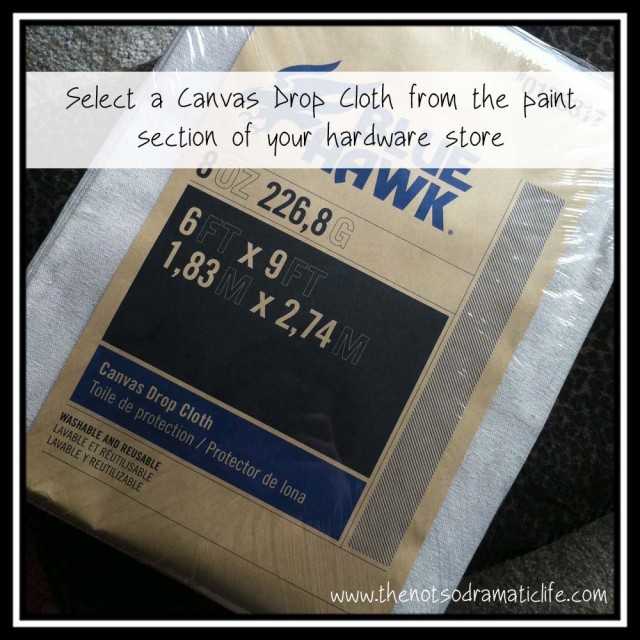 Take a look at the fiber content. You want something that is mostly cotton, but polyester is fine too. The thing you want to watch for in non-traditional sources is spandex- canvas is a no stretch zone! (Unless I change my mind for a specific project that I haven't dreamed up yet) The good news is that a drop cloth should never have spandex, so you shouldn't have to worry too much!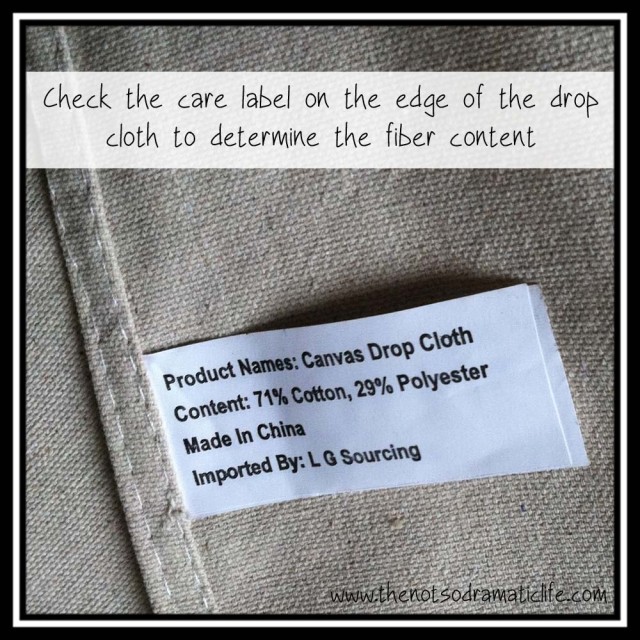 Lay your drop cloth out flat on the floor (or a table if you are lucky enough to have a surface the cloth can lay completely flat without hanging over the edges). Now get out a measuring tape or two. The metal construction kind is great for this type of thing.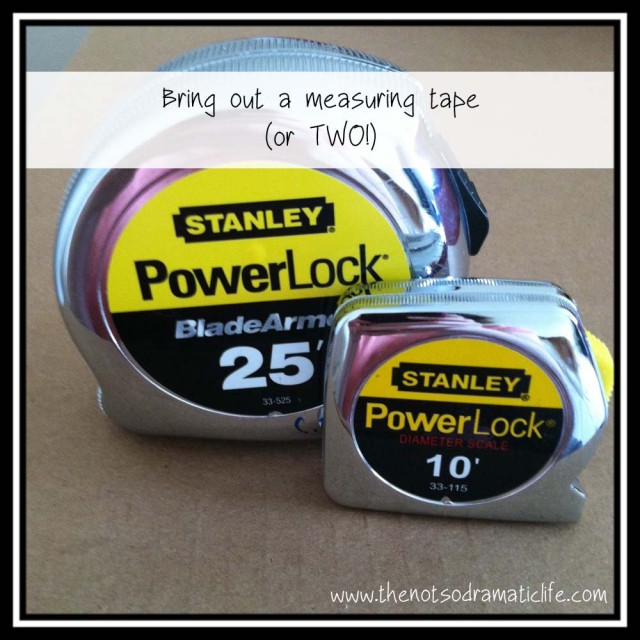 Next, we are going to measure the cloth to determine a starting measurement. I put a permanent marker "X" in the corner, so I will know which corner my measurements are based from. You can see that this drop cloth is about 107″ x 70.25″ to start with. Make note of this measurement- you will need it later!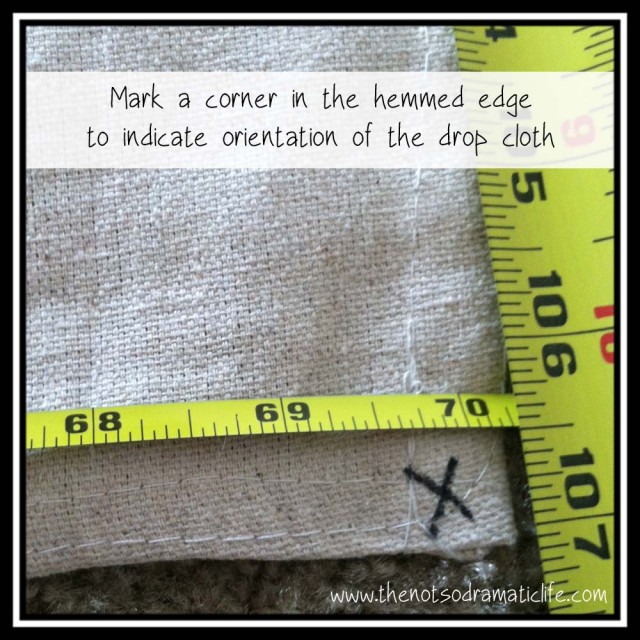 Wash and dry the drop cloth. Use hot water. MAKE IT SHRINK! This is the time you want the cloth to shrink- not when it is inside your super cute tote bag! Lay the cloth out flat and measure it again.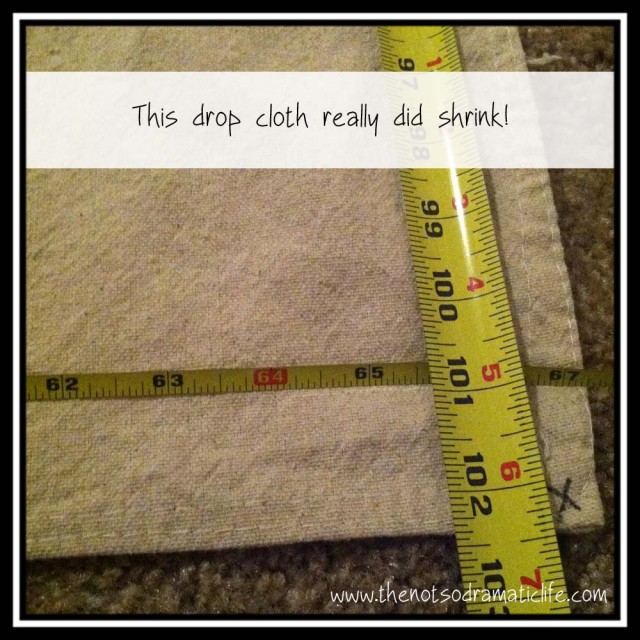 Wow! Now the same cloth measures 102.5″ x 67.25″. That is a big difference. Now wash and dry it again. Use hot water, again. Try to make it shrink again. Measure once more. Did it shrink by more than about a quarter inch? If so repeat the washing/drying process. You want to have two consecutive washings with the measurements not changing. I usually end up doing 2-3 passes through the wash. (Note: Canvas purchased off a bolt at the fabric store will also shrink a lot, so make sure that you prewash that really well, too.)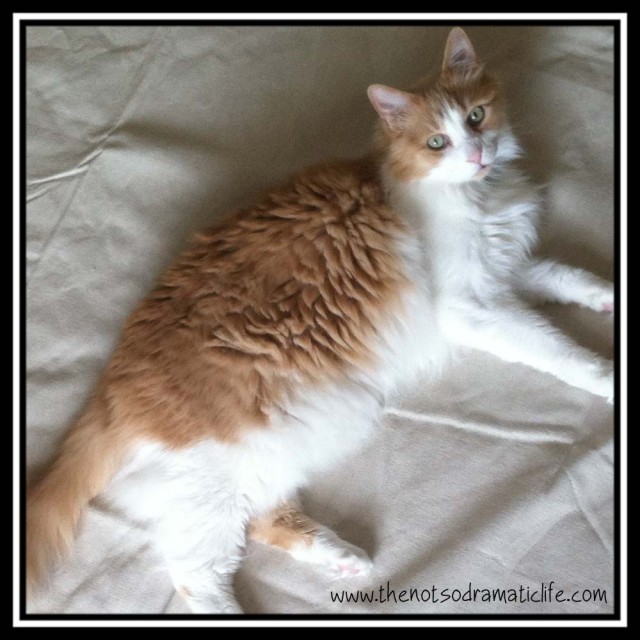 Optional Step: Ask your cat to move off of the drop cloth. This may take awhile.
Once you have shrunk your drop cloth you are ready to get rid of those wonky hems on the edges. We are going to rip the edges to make sure that the final piece of fabric is on the grainline. Clip about 3/4″ into the drop cloth. Make sure you cut through the hem perpendicular to the clip. The cut itself should be about 1 inch.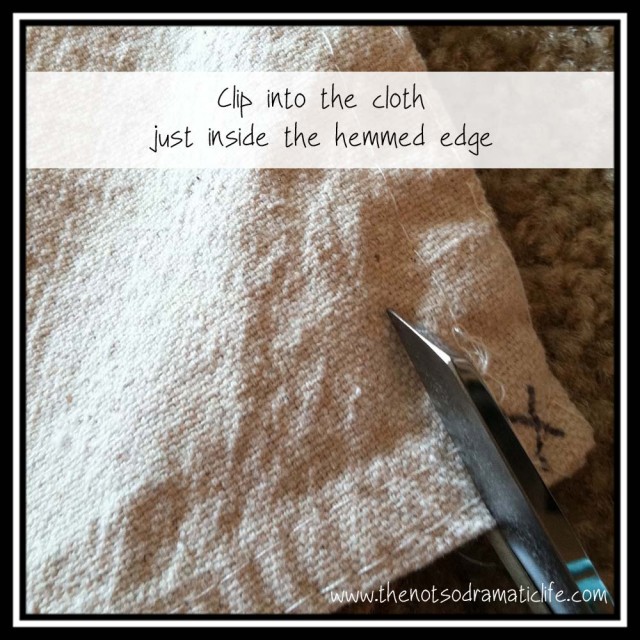 Now rip the fabric, starting with the clip you just made. If the rip runs back into the hem, make another clip 1/2″ to 1″ further in on the edge of the cloth and rip again.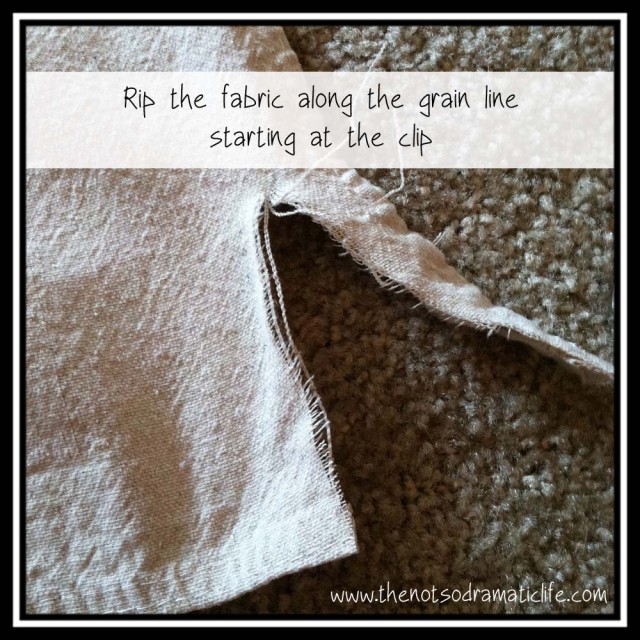 Repeat the clipping and ripping process on all four sides.
Now you are ready to go! I'm excited- Are you?