If you have never entered a major quilt show, one of the most mysterious aspects is the judging scores and comments. Each show is different. Some focus more on design, while others heavily hone in on technique. Most shows attempt to balance these two major components of a quilt.
I had two quilts in this year's show, and below I will share one or two images of the quilt, the description I submitted to go with the quilt, and a screenshot of the judges' comments. Afterward, I have included some of my personal opinions on judging feedback, so keep reading if that interests you!
My Quilts:
Where We Connect
Appliqué Category: 3rd Place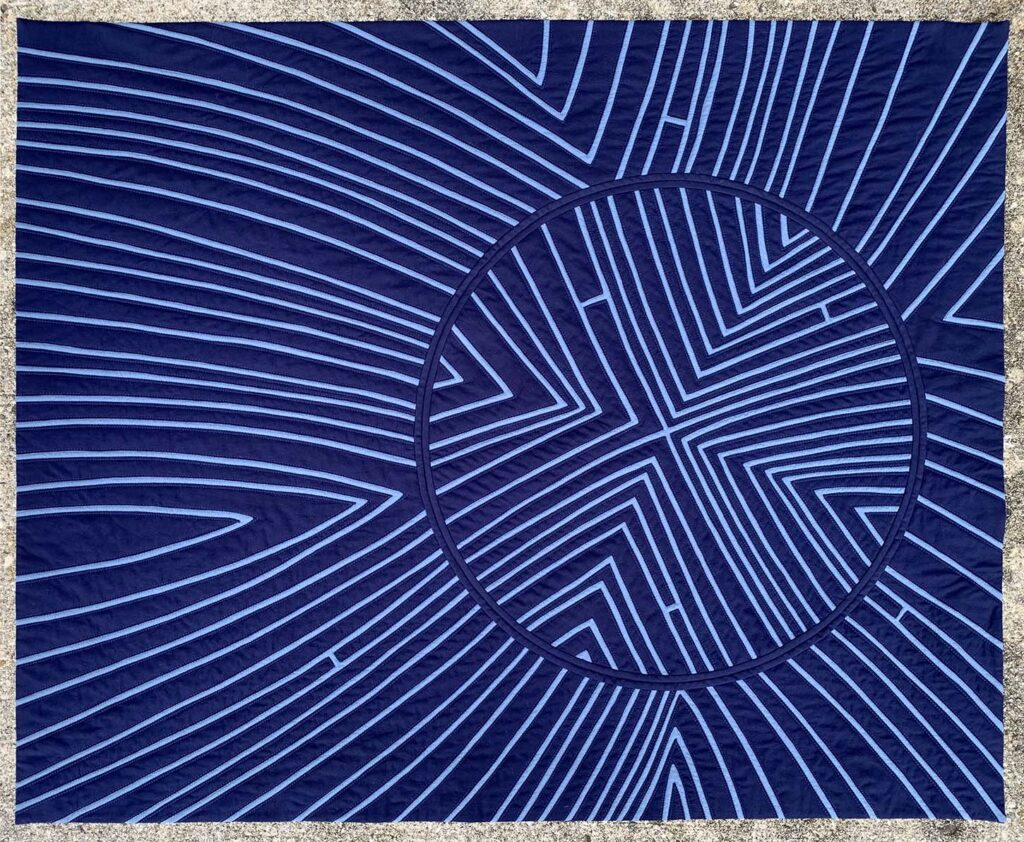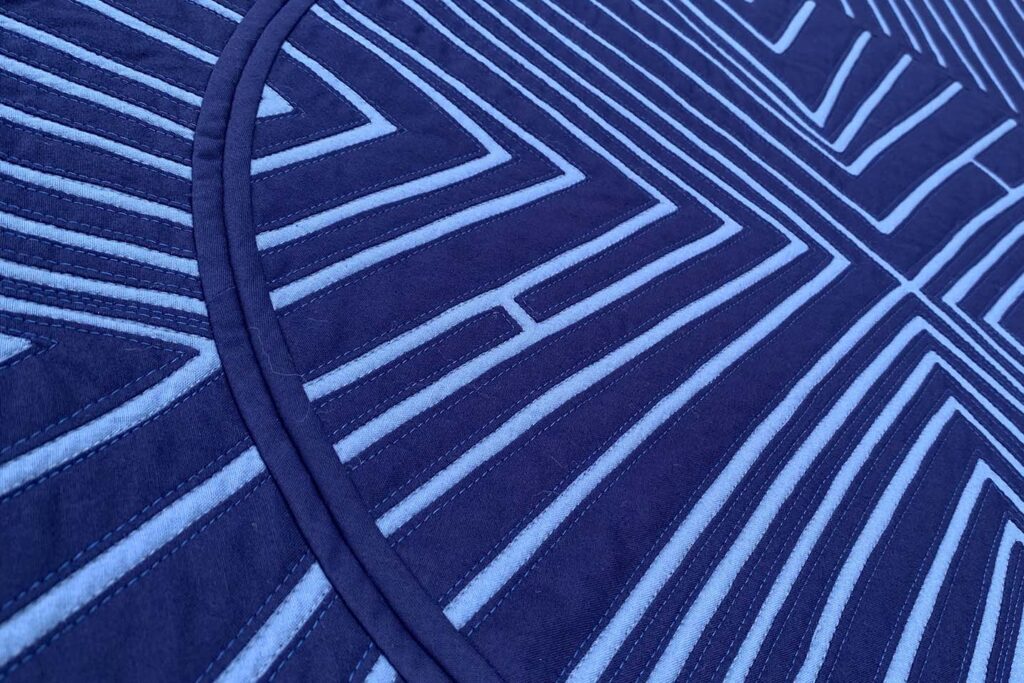 Description:
Where do we connect? The top for this piece started as dark blue fabric basted over the same amount of medium blue fabric with arc-shaped lines that intersect at a single point. Each line is created by cutting a slit in the dark blue fabric and sewing down either edge with needle turn appliqué. Through this process, the personality of the quilt is revealed line by line. Once quilted the piece continues to evolve with the removal of a circular section of the quilt. The revolution of the inner circle breaks previous connections and forms new intersections with its current positioning. Throughout the entire construction process none of the original fabric is removed, only altered, just as we change through our connections and experiences but continue to carry past versions of ourselves forward as we change throughout our lives.
Judges' Comments: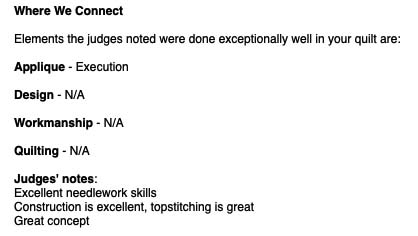 ---
Angled
Small Quilts Category
Note: This quilt was sold during QuiltCon!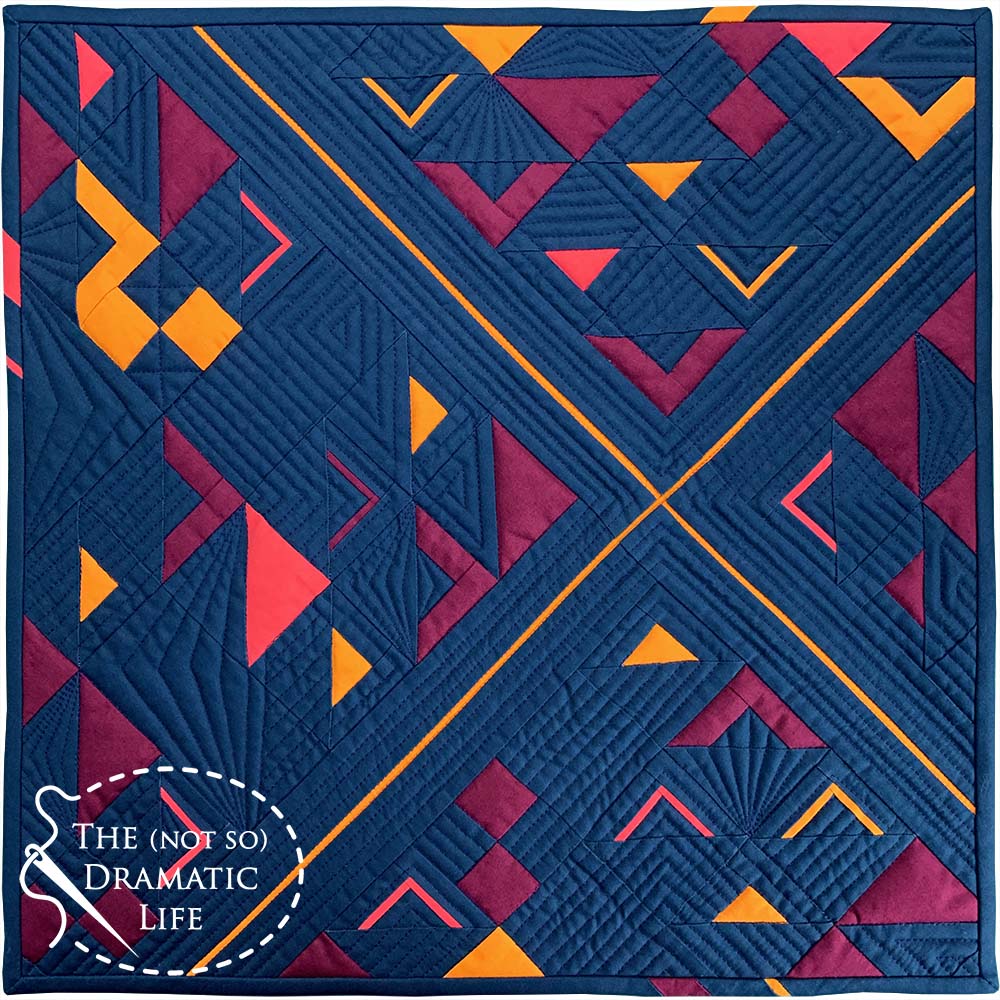 Description
Inspired by the traditional quilting motifs of squares and triangles, this mini turns them on end through the use of scale and alternative grid work. Traditional and foundation paper piecing techniques are used to create a design with piecing as narrow as ⅛ inch.
Judges' Comments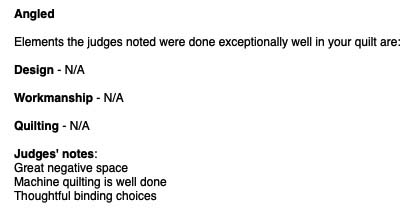 ---
The QuiltCon Criteria
QuiltCon provides a list of criteria used for scoring each category. These are mostly the same between categories, but where you see appliqué in this list, you would see items specific to other categories.
This is a helpful list, but I would like to see a general score/assessment for each criteria as a way to see where the design and workmanship of each quilt stands with the judges. I found the N/A areas in the assessment portion of the scoring sheet confusing. I would rather see a number or general comment (excellent, good, etc). To me N/A should be reserved for something that doesn't apply to a quilt, such as a piecing section for a whole cloth quilt.
---
My Thoughts on Judged Shows in General
Not Just QuiltCon
Here's the deal: Everything I have to say here is my personal opinion. Your experiences may differ. Not everything I have to say applies to all shows or even every year of the same show. Many of my opinions are formed by my experiences getting BFA and MFA degrees in Painting and Theatre. After that, I taught costume and scenic design at the college level, and therefore had to provide constructive assessments to students. I have been in several quilt judging rooms with certified judges, although never at a major show. In other words, I have spent a lot of time having my own work critiqued and critiquing the work of others.
There are relatively few opportunities to receive feedback on our quilts from someone who doesn't know us personally, and getting this type of assessment is one of many reasons I enter quilt shows. The comments I received for this year's QuiltCon are all reasonable and fairly predictable. I have no issues with this type of feedback. There isn't always something amazing or an aspect that needs improvement on every quilt. Since this is a juried show, I would expect most quilts that make it in front of the judges are already remarkably good. But my thoughts go beyond the feedback I personally received- more on that in a minute.
A positive direction
As a community, many modern quilters have decided to create transparency where we can in the often mysterious judging process. The main way of doing this is to share the comments and scores we receive from shows that provide this feedback. I appreciate this transparency because it gives everyone, whether we had quilts in the show or not, to understand what a particular group of judges is looking for in a quilt. Sharing also helps entrants and future entrants know what to expect and how their work may compare to other quilts they admire.
A troubling trend
Since more judging comments are being shared online, it becomes easier to see patterns emerging. The trend that surprises me the most is how often the personal preferences of the judges is included in the comments.
But, quilts are art, and art is subjective, right? Yes and no. When you start to look at the list of judging criteria such as the list QuiltCon provided, a lot of the areas are not particularly subjective. Composition, balance, color, value, contrast, use of line and materials, are all areas of design that can be assessed in a mostly objective manner. Virtually all workmanship considerations are objective. To me, creativity, visual impact, and innovation are typically the only areas that can be strongly, but not entirely subjective.
Judging comments that include likes or dislikes about a color, shape, or general aesthetic/style of a quilt are rarely useful and frequently harmful, particularly to people new to entering quilts into judged shows.
I strongly dislike the use of brown fabric in quilts. I also judge 4-H quilts at the state fair (one of my favorite days of the year!) A few years ago, one of the winning quilts I selected was mostly brown. A few people were surprised that I would make that choice, but it was objectively a project that deserved to win. The maker was knowledgable about the construction process, showed an excellent grasp of the concept of value, balance, and composition, selected appropriate quilting designs, and showed good workmanship and challenge level. Whether I like or dislike the dominant color never entered into the equation.
Anyone who decides to put themselves into a position to judge the work of other quilters should only do so if they can separate personal preferences from the overall design of any given quilt.
If a judge is bored with the use of a particular shape or color, can they set that aside to judge a quilt fairly? If a judge doesn't like modern quilts, can they still assess it using the elements and principles of design? Can they recognize and appreciate the challenges in constructing a modern quilt where even minor flaws can show more visibly than the same flaw on a more traditional quilt?
I once received the comment "this is not a show quilt." Sorry to break it to you, judge, but in a juried show, every quilt there is a show quilt. If you don't like it, take it up with the show organizers or jury. I'm still not entirely sure what that judge meant to convey, but if this was someone's first time entering a show, that could have been an extremely harmful comment. Entering a major show should be an overall uplifting experience, not a devastating one.
If a judge cannot separate their personal preferences from the aspects of design, there is a good chance they should opt out of being a judge.
My thoughts for how we can improve:
Open Judging: My local county fair uses a certified judge and has it open to the public. I want to see this everywhere! Now that we have Zoom, there is no excuse to keep judging rooms sealed. If judges are providing constructive criticism, then the best way for us to improve as quilters is to hear the full discussion about our work. If the judges are not being constructive, then they probably shouldn't be saying it in the first place.
I would understand if the judges or show wouldn't share the discussions surrounding the final selection of winning quilts, but the initial assessment of each quilt should be available for everyone to see and listen to.
A Judge's Statement: I would love to see a brief statement from each judge regarding the show overall. This could be a place where the judge gets to share their opinions on style, color, or trends that they like or don't like. We all have opinions, and just because they don't belong on individual judging sheets doesn't mean that it isn't helpful to hear opinions on trends from people who look at a lot of quilts each year.
Select judges with a range of experience: No single group of people can bring everything to the judging table. By selecting judges with many experience types, a show has a better chance of honoring a wide range of quilt design styles and highlighting innovation and creativity within the community.
Certified Judges come with a wide range of quilting based knowledge including construction techniques, quilting styles, and recent history of quilting movements. However, they frequently, although certainly not always, focus on difficultly and execution of technique to the point of excluding strong, timely, and innovative quilt designs from the winners circle.
Quilters who teach and/or have won major awards often have the deepest understanding of all about the techniques that they frequently employ in their work, but may not fully appreciate a full range of techniques and styles.
Non-Quilting Artists may lock in on the design elements found in a range of styles and understand timeliness in a quilt design, but may not fully appreciate technical aspects of a quilt or artistic movements specific to the quilting community.
Creating a mix of judges isn't necessarily going to make the process perfect, but it does help prevent the creation of an echo chamber where the same type and style of quilts are recognized in nearly every show. QuiltCon is one of the first quilt shows to include a range of creative individuals on the judging panel, and the winning quilts frequently represent a range of styles within each show and from year to year.
What do you want to see?
Do you enter shows? Do you attend shows and wonder how the winners were selected? I'm curious to hear your thoughts!