Transform your lovingly created quilt tops into finished quilts for your loved ones to cherish for years to come with longarm quilting services by Cassandra at The (not so) Dramatic Life
From fabric selection to perfect piecing and detailed appliqué, you have poured yourself into the creation of your quilt top.  Now what do you do?  Choosing to have your top longarm quilted can offer you the opportunity to have your quilt finished carefully and efficiently without the strain of trying to maneuver a large quilt through a domestic sewing machine.
Longarm Quilting
There is a style of quilting to coordinate with every quilt design and budget.  I currently offer three basic types of longarm quilting:
Computerized Edge to Edge:  This automated quilting can be done in a variety of styles and is the most budget friendly quilting option with prices starting at $0.02 per square inch.
All Over Free Motion:  Hand guided free motion quilting adds a unique design element to your quilt and moves across the entire expanse of the quilt without major alterations relating to the design of the quilt top.  This type of work can range from simple to detailed and pricing starts at $0.03 per square inch.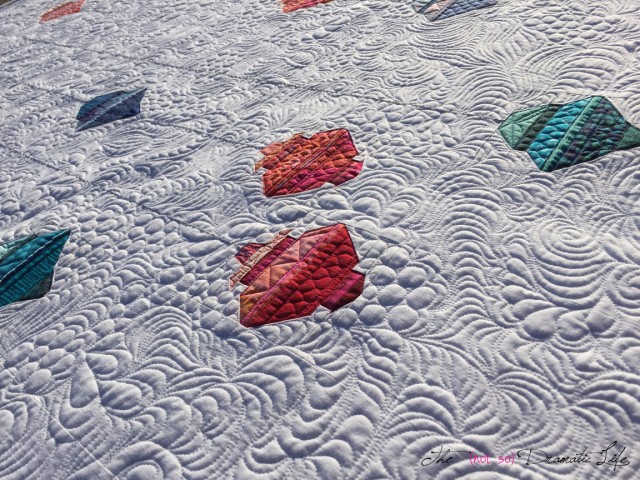 Semi-Custom:  In this type of quilting, a combination of free motion designs, computerized quilting, and ruler work will define and enhance the specific design of your quilt top.  This is the most specialized quilting and prices start at $0.05 per square inch
Other Services
Basting services are also available for $0.01 per square inch.  This is the perfect option for hand quilters or those who quilt on a stationary machine.
Various levels of Binding services are available for finishing your quilt
Pricing
Quilting Prices
The base price for quilting services is calculated by multiplying the length of the quilt top (in inches) by the width of the quilt (in inches).  This number is then multiplied by the price per square inch to determine the quilting cost.
For example, the base cost of a quilt measuring 60″x80″ that is quilted with an edge to edge computerized design costing $0.02 per square inch (psi) would be calculated:
60″ x 80″ = 4,800 square inches
4,800 x .02 = $96.00
Other Costs
Minimum Fee:  There are no loading fees at this time, however due to the time this process takes, there is a minimum overall fee (including quilting and thread) of $35.
Thread:  You have invested a great deal of time and money into creating your quilt, and it deserves to be quilted with a high quality thread.  Aurifil is my standard longarm quilting thread.  This Italian 50wt cotton thread creates lovely texture and color to your quilt without overwhelming the design of your quilt top.  Aurifil will make your quilt look great- front and back.  This premium thread is used for a nominal cost of $1.00 per (M-sized) bobbin used.
One solid color of Aurifil is standard.  Additional colors of thread can be added for a flat fee of $5.00 each, plus applicable bobbin fees.
All thread tails are knotted and buried to enhance the aesthetic of your quilt.  There is no charge for starts/stops due to thread breaks/ends of bobbins/etc. and up to 40 design related thread tail pairs will be knotted and buried free of charge.  Additional thread burying is charged $0.35 per pair (1 top & 1 bobbin thread constitute a pair).
Batting:  You may supply your own batting, or you may purchase 90″ wide Warm and White cotton blend batting from us for $0.25 per linear inch.
Shipping:  I work out of my studio in rural West Central Ohio.  Drop-offs and Pick-ups can often be scheduled in the Greater Miami Valley, and I travel to Columbus several time per month and frequently arrange in person quilt exchanges during those visits.  I welcome quilts from all locations, and I carefully track all shipments headed to me to ensure that there is someone available to receive your quilt top.  I will ship your quilt back to you using your preferred shipping service and charge you only for the exact cost of shipping.
Sample Costs:
You have sent a 50″ x 65″ quilt for all over free motion quilting using two colors of thread.  The all over design will not require additional burying of thread tails.  You are also purchasing batting from our roll, but are planning to square and bind the quilt yourself.  We were able to arrange a local pick-up and drop-off.
50″ x 65″ = 3,250 square inches
Quilting Fee:  3,250 square inches x $0.04 = $130.00
Bobbin Fee:  6 bobbins x $1.00 = $6.00
Additional Thread Color:  $5.00
Batting:  56″ (width of top + 3″ on each side) x $0.25 = $14.00
Total Cost: $130.00 + $6.00 + $5.00 + $14.00 = $155.00