Update: This Giveaway is now closed. Congratulations Lauren!
Sew Mama Sew Giveaway Day rolls around twice a year and today I am thrilled to offer free edge to edge quilting for a lap or twin sized quilt. It is such an honor to be involved in your creative endeavors, and I love to help you bring your quilt tops one step closer to being used and cherished by your loved ones.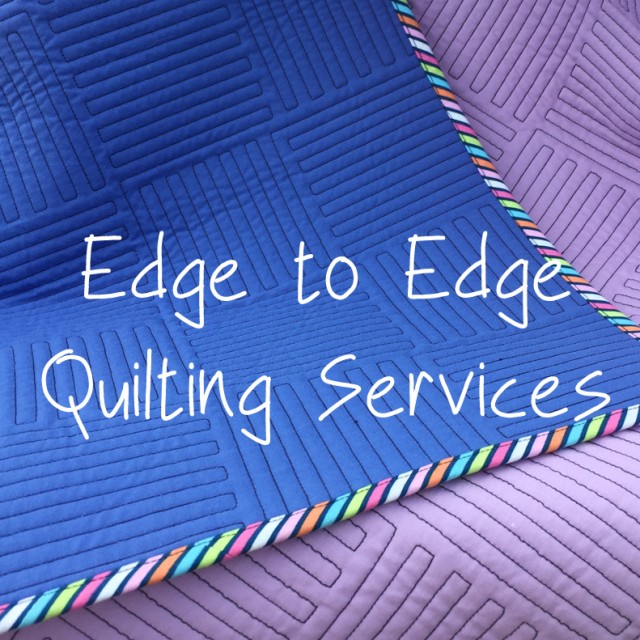 I quilt on a computerized A-1 Elite machine, guaranteeing beautiful, accurate stitches. The edge to edge designs I am currently offering are all quilting patterns that I have created myself using AutoCad.
Interlocking is my most popular design, and it looks great with a variety of contemporary quilt styles. Graphic block based quilts, improvisationally pieced designs, whole cloth quilts, and T-shirt quilts all look great with this quilting design.
Floral Spirals has a whimsical feel and is a lovely way to soften a graphic pieced design or add interest to a simply pieced or whole cloth/panel quilt.
I am adding new designs all the time, and I can also work with you to create a customized edge to edge pattern to coordinate with your fabrics or quilt top.
This giveaway will be for quilting services for one quilt that is up to 6,000 square inches, but I still have plenty of openings available if you would like to have your quilts done for Christmas! My edge to edge quilting rates are 2 cents per square inch. (To calculate the square inches, multiply the quilt top length by the quilt top width. For example a quilt measuring 50″ x 70″ would be 3,500 square inches. Multiply that by .02 to determine the quilting cost. 3,500 x .02 = $70.00 ) Please email me at cassandra(at)thenotsodramaticlife(d0t)com if you would like more information about the quilting services I currently offer.
How to Enter
This giveaway is open from Wednesday, December 9 to 11:59pm Eastern on Sunday, December 13th. I will notify the winner both by email and on the blog by Wednesday, December 16th.
Due to Shipping costs, this giveaway is only open to United States shipping addresses (I do have another giveaway of a PDF pattern that is open internationally, so I hope all of my readers will check it out!)
If you are selected, I will send you a form to fill out and enclose with your quilt top, quilt backing (which should measure at lease 8″ larger than the top in both width and length), and batting of your choice. You are responsible for shipping these items to me.* I do ask that your quilt top arrive between the the winner announcement of this giveaway and March 31, 2016.
Turnover is usually 7-10 days from the time the quilt top is received, although it is sometimes sooner. I will provide a single, solid color, high quality quilting thread for your quilt. Aurifil is my most common thread, but I will occasionally use King Tut or WonderFil. Once the quilting is complete, it will be shipped to you via the USPS in a priority flat rate box at no charge to you.*
In the coming year, I am hoping to include several tutorials of quilting/textile techniques on the blog. You may enter this giveaway by leaving any comment, but I would really love to hear about what kinds of tutorials you would be interested in seeing!
The winner will be determined by a random drawing.
* In the event that the selected person is located in the Central or West Central part of Ohio, an in person pick-up/drop-off may be arranged.
Good Luck! Please be sure to check out all of the other fantastic giveaways going on this week on Sew Mama Sew!